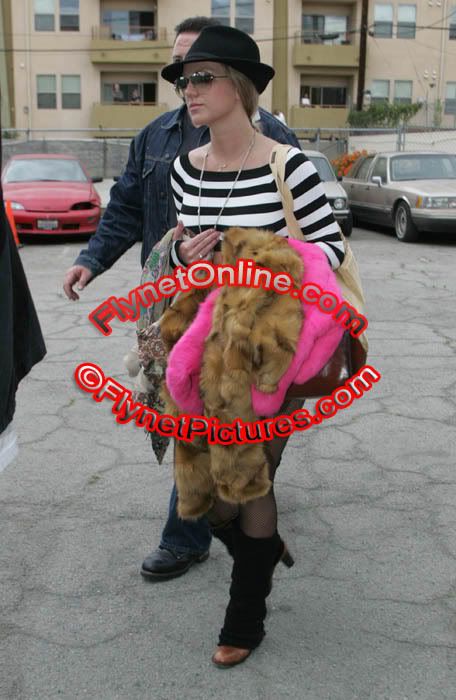 Both The National Enquirer and Star Magazine are running stories this week claiming that Britney Spears plans to spend an enormous amount of money on plastic surgery to help her with her comeback. Britney wants to get back into a size 2 in three months and she's hell bound to do it. They say she had the lipo-dissolve injections as a first step and didn't get surgery right away as she is in recovery and AA discourages addicts from using painkillers.
She wants a breast lift, lower body lift, liposuction, laser removal of varicose veins, and a brachioplasty, which is a tightening of the upper arms.
The good news is that she is said to have ordered some decent wigs made from real human hair:
"Britney wants to reduce the size of her arms, thighs, butt, stomach, love handles, back and chin," the insider tells Star…

To get her ideal body, "Brit plans to have conventional plastic surgery once the Lipo-Dissolve treatments are completed," says the source, who reveals the singer's other drastic self-improvements will likely include an $8,000 breast lift; a $12,000 lower-body lift for the thighs and buttocks; standard liposuction for her upper back, stomach and love handles costing $16,000; $5,500 worth of laser therapy to remove varicose veins cause by her two pregnancies; and a $6,000 brachioplasty to tighten her upper arms.

But Brit's not stopping there! While in Las Vegas, Britney also ordered two new wigs made from real hair to cover up her shaved head until her own hair grows back. And she also wants to make over her famous face! "Britney has always been self-conscious about her node," says the source. "She doesn't want to completely change it, but she does want it to be a little smaller."
[From Star Magazine print edition, April 23, 2007]
The article goes on to mention that Britney plans on consulting the guy who did Aniston's second nosejob, which she is said to be dissatisfied with, for some rhinoplasty. And of course she's going to see a dermatologist too in order to try and smooth out her acne scars.
National Enquirer has the same plastic surgery shopping list for Britney and says that she wants to spend $65,000 on a new wardrobe for her expected size 2 figure.
MSNBC's The Scoop reports that Britney has spent over $60k shopping for non-necessities since the beginning of April. They say that it's a sign of her addictive personality and she needs to watch it, especially considering the terrible results.
It looks like someone is going to be addicted to a little nip/tuck soon. Do you think she'll know when to stop?
Also, isn't a size two extreme? A two sounds extremely small to me. Britney is 5'4″ though, so maybe she can do it.
I'm not sure why I give a shit about her anymore after that stupid video rant she just put out. She's low-hanging fruit in the gossip world, though.
Pictures of Britney outside Millenium Dance studios from FlyNet Online.