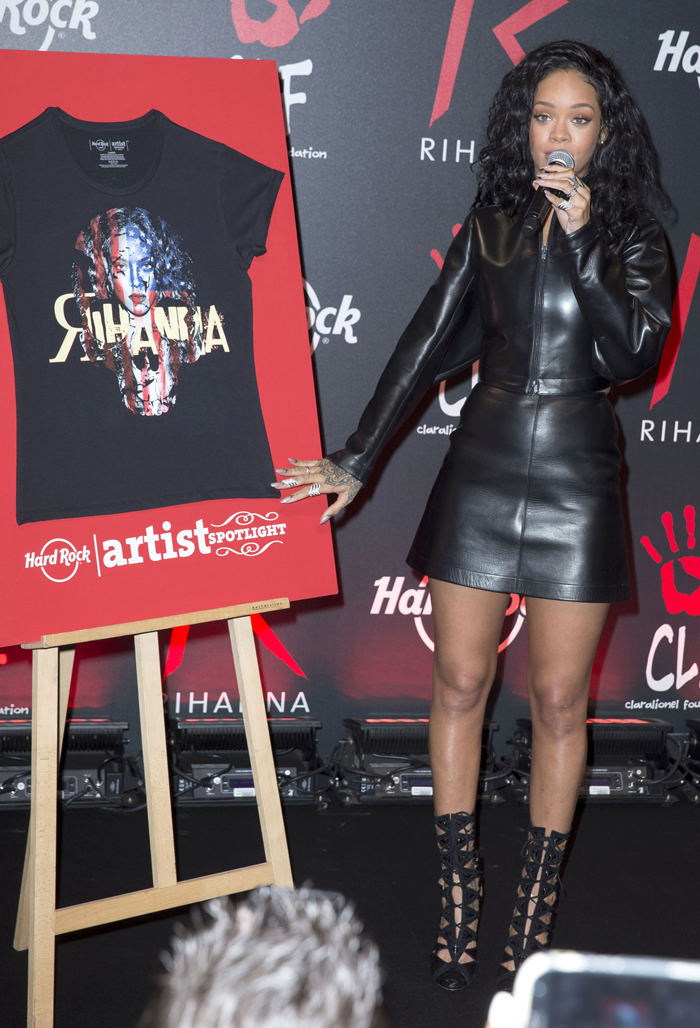 These are photos of Rihanna yesterday at the Hard Rock Cafe in Paris. RiRi was on hand to show off her charity t-shirt and present a check for $200,000 to the Clara Lionel Foundation. Rihanna started the charity in 2012 in honor of her grandparents and to help fund cancer treatment in her native Barbados. You may have noticed that Rihanna is wearing plenty of clothing for this event. This is an Azzeline Alaia ensemble in all-leather. I'm sweating just looking at it, but RiRi looks comfy in the jacket and A-line skirt. She can wear absolutely anything and own it.
Some people think that Rihanna needs to start covering up more often. There's a funny story circulating about how Jay-Z was upset about Rihanna showing up naked at the CFDAs earlier this week. You can read the tale at Bossip, but the gist is that Jay wants Rih to "clean up her act." He wants Rihanna to act more like Beyonce. To stop drinking, smoking pot, and wear more demure clothing. The story says Beyonce went through Rihanna's wardrobes and is giving Rih "tips on speaking more eloquently." I don't buy this story for a second. Jay has profited nicely from Rihanna's sexual image, and you don't fix what isn't broken.
Here's a story that IS true. Rihanna's in the midst of another Twitter feud. I'm starting to enjoy it when she takes Twitter digs at other celebs (not when she picks on civilians). It started when the two surviving members of TLC, Tionne "T-Boz" Watkins and Rozonda "Chilli" Thomas, called out Rihanna on an Aussie radio show. The two ladies are doing a reunion tour. I don't know how they're performing without Lisa "Left Eye" Lopez's raps, but I guess they make it work. Here's what T-Boz & Chilli had to say about Rihanna:
"Every time I see you you don't have to be naked," T-Boz said.

"It's easy to sell sex," the duo, who have five Grammy and MTV awards under their belts, said.

"It's hard for us to say anything because any time we do, they say, 'Oh TLC must be jealous', but I call a spade a spade," T-Boz added.

"We became the biggest girl selling group of all time with our clothes on and that says a lot," Chilli chimed in.

"We could go around too with booby cakes [breasts] out all day long," she said referring to Rihanna's choice of see-through dress for Monday's Council of Fashion Designers of America Awards.

"TLC is my favourite girl group, even though I'm in the group. I love our group. I love what we stand for," Chilli said giving a dig to current girl groups. "The blessing out of all of this is that we are able to sustain and that's the hard thing to do in this business is to have longevity," she added. "It's almost 22 years that we've been in the business."
[From Sunrise]
Is TLC really the best selling female band of all time? Weird. I remember them wearing some provocative clothing in the 1990s, and one of their hit songs was "Red Light Special." That was a song about acting like a hooker for your man, right? Anyway. Rihanna has fired back on Twitter. She changed her header background to a photo of a very topless TLC and tweeted the following message:
When there's no changing the fact that I'm me, and they're well…they're them. pic.twitter.com/RCF4TqxN69

— Rihanna (@rihanna) June 6, 2014
Here's a picture of T-Boz and Chilli at last year's AMAs with Lil Mama. RIP, Left Eye.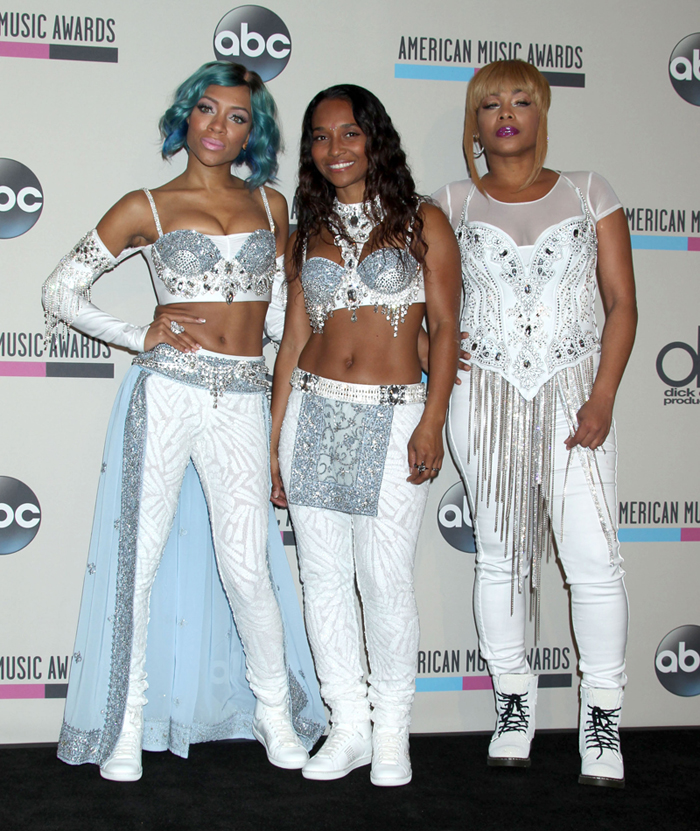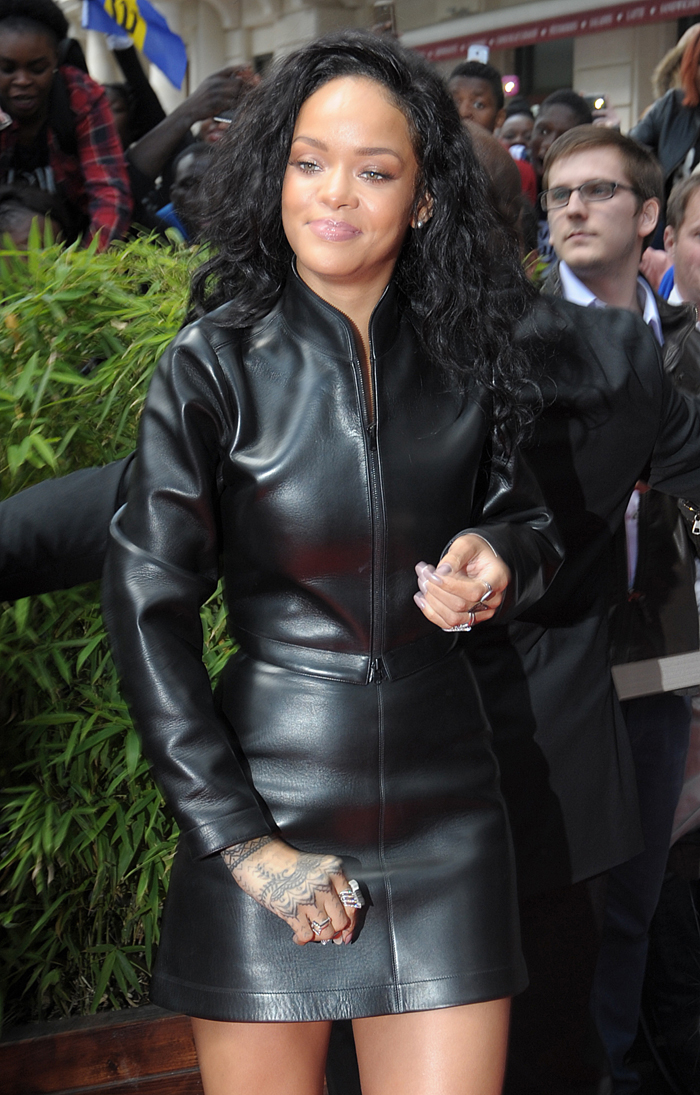 Photos courtesy of Fame/Flynet & WENN