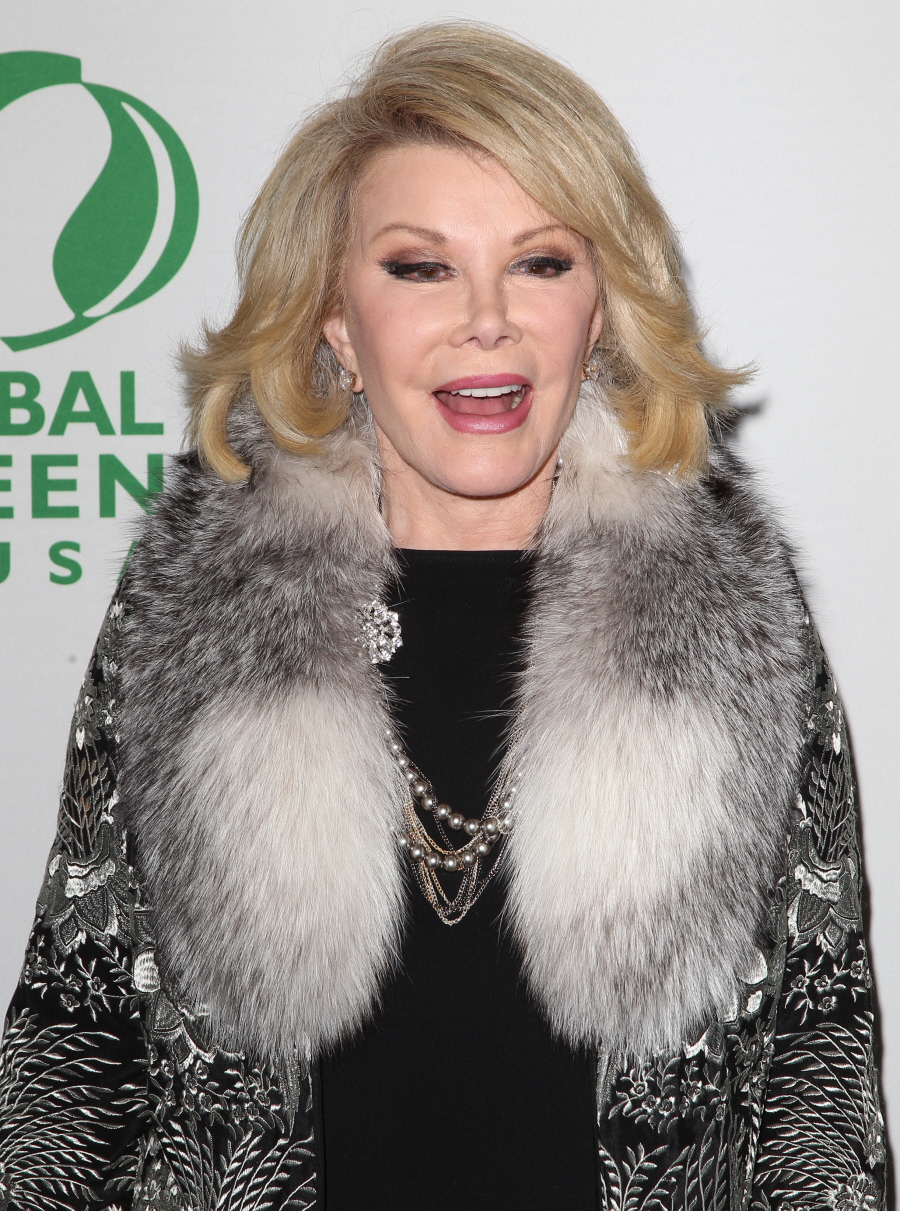 Over the weekend, Joan Rivers walked off a satellite interview with CNN after she claimed the weekend anchor was going after her like it was Nuremberg. What I didn't realize at the time was that Joan had already pissed off a lot of people just one day before, when she "joked" about Michelle Obama being a "tranny" and that Pres. Obama was "gay." Just jokes. Of course. She refused to apologize for it afterwards as well. Anyway, Joan is still hustling her book and she gave an interview to Access Hollywood this week. Jesus take the wheel!!
On why she walked off that interview: "You know me, I'm 50 years in the business first time I've walked off. You've got to understand when you interview someone, it's not an interrogation, you know it's not the Nuremberg trials… you don't say to the Olsen Twins 'what's your favorite place to vomit?'…I'm sorry for her because she shouldn't be doing a comedy interview. You don't say to Oscar Pistorius 'when you killed your girlfriend were you hopping mad?' The questions were coming out so negatively I found myself defending myself."

On people being sensitive: "You can't say anything. I have a friend who's an Indian, I'm not making a joke.. She's a dot not a feather, but I don't know what you call her. Just say 'you're a friend of Ghandi?' What do you say?"

On Kanye West: "Kanye West quote 'I am the proud non-reader of books.' So I said in my dedication I dedicated this book to Kanye because I know no effing way would he read it"

On Rosa Parks: "Rosa Parks was a very good friend of mine. She sat in front because she had bad ankles. She's Jewish too."

Criticism: "I don't need a journalist to tell me I stink. My gynecologist does that."
I was out as soon as she said "She's a dot not a feather…" Are you for real? And it bugs me that Billy Bush and WhatsHerFace are laughing throughout the interview. I think what bugged some people (me) about Joan walking out of that CNN interview is that she's been in the business for 50 years (as she always says), that she makes tasteless, crass and insensitive jokes ALL THE TIME and when someone even mildly questions her about it, she freaks out.
On a personal level, let me just say: I have a very Indian-sounding name and I get annoyed when people (innocently) ask me my name origin and when I say, "It's an Indian name" they reply with something along the lines of "oh, what tribe?" I don't know how many times I've said, "Not Native American. Indian. From India." Most of the time it's an innocent mistake but it does get… tedious.
Photos courtesy of WENN.