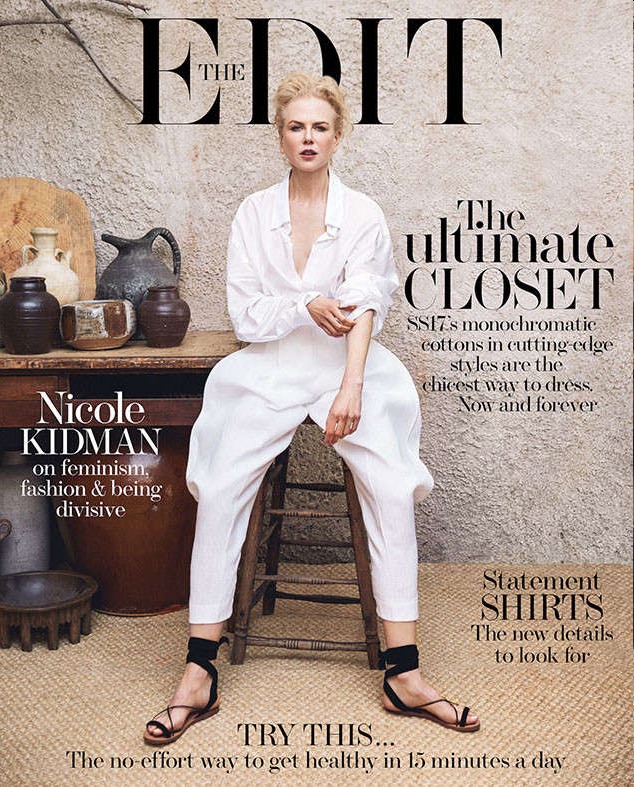 Nicole Kidman covers the new issue of The Edit. She's promoting Big Little Lies, the HBO miniseries which Nicole produced and stars in. She's also still campaigning for an Oscar too, of course. She's nominated this year for Lion, although I think she knows she's not going to win, right? I think everyone in that category knows that the Oscar is going to Viola Davis (at long f–king last). Interestingly enough, I liked this interview because Nicole directly addressed her increasingly wacky red carpet style. What I've always said about Nicole is that she cares very deeply about fashion and she cares about making a huge statement on the red carpet. Which is why I don't understand her current style phase, which all too often defaults to "Miss Havisham nonsense." Of course, she also turned up at the SAGs with two birds on her shoulders, so who knows? You can read the full Edit piece here. Some highlights:
Figuring out what she'll wear to this year's Oscars: "I have a sense of what I want to wear, I want it to have a real flavor of the film, but I haven't found it."

She just figured out she can take off her shoes at awards shows: "My feet were killing me. It was a long dress, so I said to Keith, 'Do you think anyone will notice?' And I just took them off. It was so much more comfortable. I love the way that a high heel looks, but the actual wearing of it is a whole different thing."

Her red carpet style these days: "I have no problem being divisive. My eight-year-old [Sunday Rose] said, 'You're wearing that?' My six-year-old [Faith Margaret] was like, 'What's on your shoulder?!' I'm not a fan of 'Worst Dressed' things because I don't believe in crucifying people for their individual [taste]. It just seems nasty and misogynistic, so that needs to go away. I have worked with directors who are divisive, so I'm used to [criticism], and as my husband says, 'You don't want to have a thick skin; that's not a compliment'… Oh well, sticks and stones can break your bones, but names will never hurt you, right?"

Working on Big Little Lies: "One of the craziest things happened after we'd done a lot of violent scenes. When you see them in the show they're flashes, but we needed to re-shoot them and re-shoot them so [director Jean-Marc Vallée] could get grabs of stuff. I couldn't sleep and the next morning I went for a run to try and get some of Celeste's energy out. I came back and I'd left my key, I couldn't get in the door. It's a glass door, so I got a rock and I threw the rock through the door. I'd never done anything like that before. And then I realized, 'Oh my gosh, that's how much I'm holding all this in, the anger, the pain.'"

Her connection to costar Zoe Kravitz: "Well, I knew Zoë because I was engaged to her father. It's all in the family! I love Lenny; he's a great guy."

She is political, she swears: "My mother was part of the Women's Electoral Lobby and would take me to hand out pamphlets when there was voting on behalf of feminism. That's how I was raised; we'd sit in the back rooms of the WEL while they were all talking. I remember listening, sort of not understanding but understanding there was a movement happening, that as women we were powerful together, that we needed to have equality. I was teased at school for my mum being a feminist. I just said, 'OK, it doesn't matter. I'll stand up for what I believe in.'"
I wish she would have used this interview to discuss her personal politics in greater detail. Like, I know she considers herself a feminist. I know she supports women within the industry and I know she supports organizations like Planned Parenthood. But there's still a weird taint on her since she said that we need to "support" Donald Trump because he's president. She shouldn't be afraid to speak about how she really feels.
What else? Worst-dressed lists are misogynistic, maybe. I'm all for people letting their freak flags fly, but I think Nicole is mostly just mad that she's no longer considered the best dressed woman on every red carpet.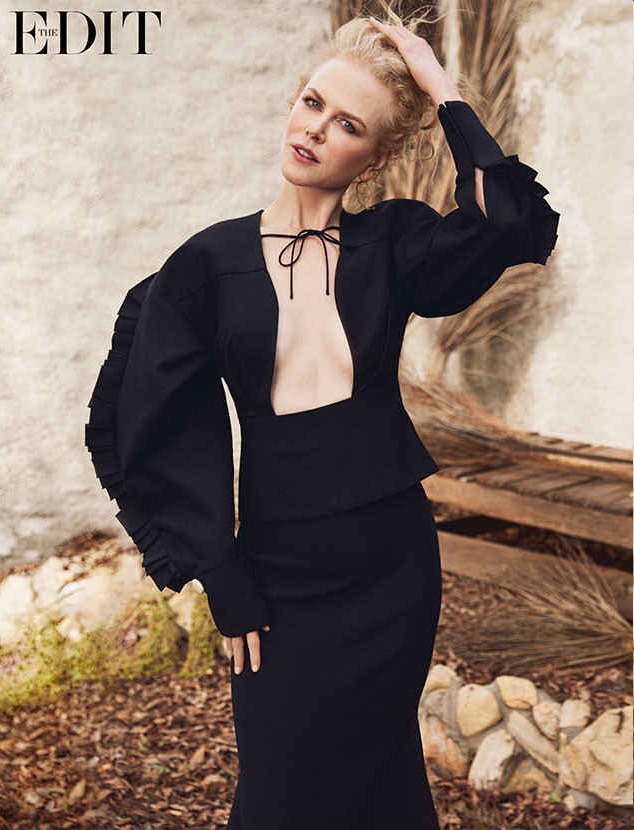 Photos courtesy of The Edit.