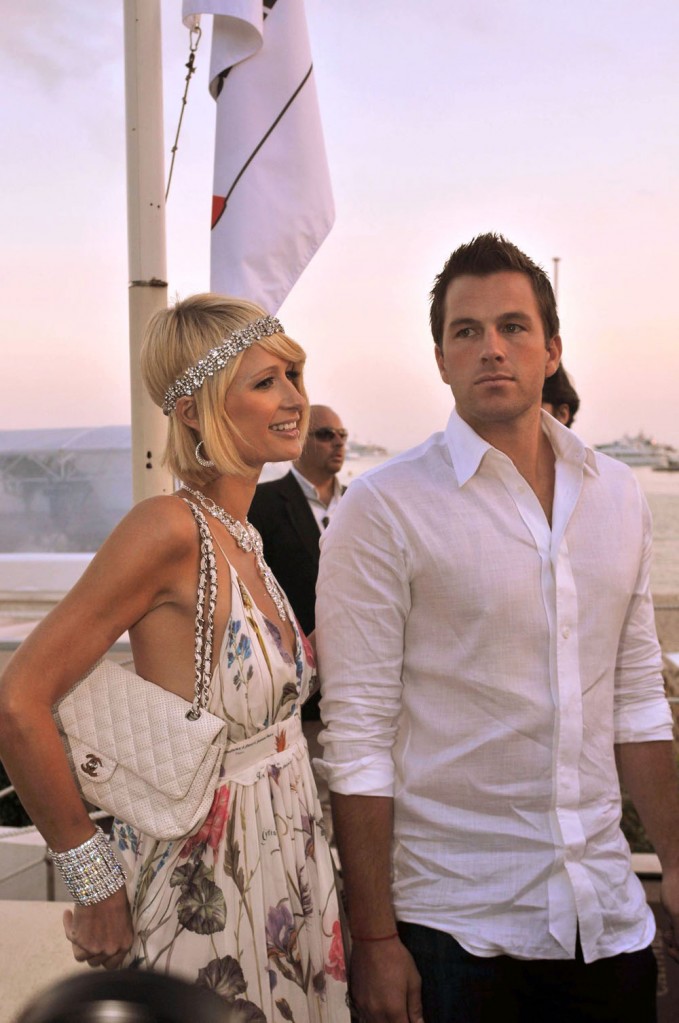 Why do men still want to date and/or sleep with Paris Hilton? I've never really gotten her appeal, but lately she just seems particularly gross to me. Anyway, Paris was in Cannes to promote… herself? To go to parties? To be internationally gross? Paris brought her latest boyfriend, Doug Reinhardt, who really looks like a budget version of Ryan Reynolds, doesn't he? Only Doug literally looks like he has tumbleweeds rolling through the dark, cavernous space in between his ears.
Paris's Cannes trip isn't going as planned, though. It seems no one wants to pay $100,000 to party with her, and she somehow lost her phone. But all's not lost yet! After most likely losing the digits of every partying famewhore in Hollywood, it seems Paris somehow met David Furnish, Elton John's husband. David liked the look of Paris (seriously?) and invited her to a private party on a yacht in the South of France. Paris and Doug came on board the yacht, and all hell broke loose. Something about Paris being gross. Shocking:
PARIS Hilton has been giving Cannes the benefit of her singular style – being evicted from a private yacht party after being caught in a toilet entanglement.

Hilton and her boyfriend were kicked off the private yacht party at the Cannes Film Festival after they were caught toilet pashing.

Elton John's husband David Furnish met Hilton at the hotel and thought it would be a good idea to invite her to a friend's yacht party.

But Hollyscoop.com reports that things didn't go as planned. The two were reportedly kicked off a boat after they were caught in the toilets together.

"David met Paris at the Hotel du Cap and invited her to a party on his friend's yacht," a source said.

"As soon as Paris arrived she had her tongue down Doug's throat. Everyone kept saying how inappropriate they were being but Paris didn't care who was looking…They got so worked up she dragged Doug below deck so they could have some private time. But as they were closing the cubicle door so they could tear into each other, they were caught out. David spotted them and the captain was furious. He kicked them off for unsociable behaviour. Everyone congratulated the captain."
[From The Melbourne Herald Sun]
So Paris Hilton and Doug Reinhardt were kicked off a boat for trying to have sex in a bathroom. So, so classy. But, really, what the hell was David Furnish thinking? You invite Paris Hilton and the low-rent Ryan Reynolds onto a yacht, and of course they're going to act like a**holes. This Cannes trip has probably been one of the bigger disasters of Paris's international grossness… but we're still talking about her, aren't we? And that's where Paris wins every time. We're all suckers.
Update: Paris has denied this story is true.
Here are Paris and Doug in Cannes on April 20th. Images thanks to INF Photo.