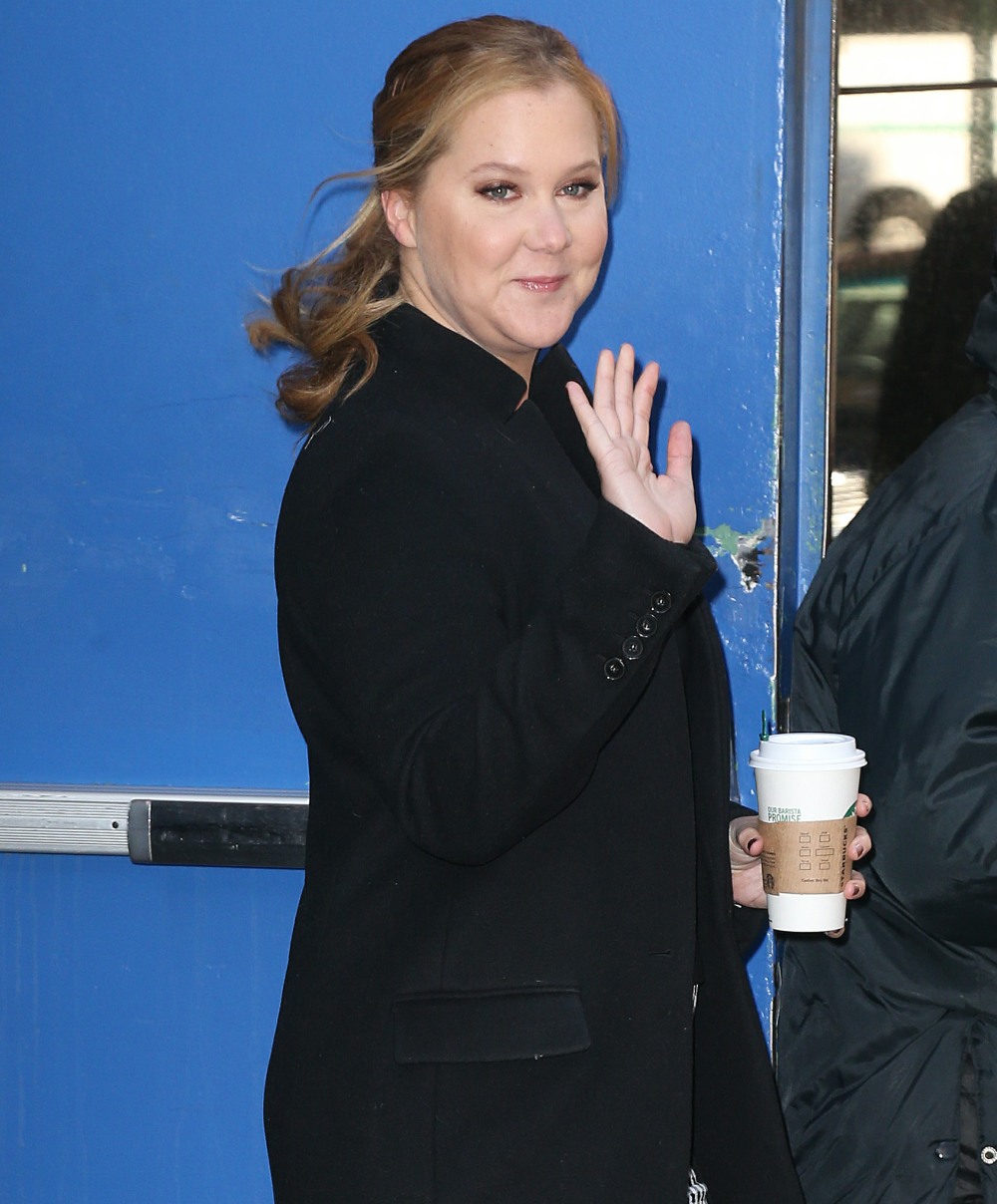 God knows, I'm not an Amy Schumer fan. But much like my general dislike of Lena Dunham, I pick my battles and I will occasionally defend them (Amy and Lena). Weirdly, this is one of those times. So, Amy Schumer has a new Netflix special called The Leather Special. It's one hour long, and it's just a standup show. I think Schumer's last standup special was on HBO, and HBO doesn't really GAF about reviews in general – they have a built-in premium subscriber audience that pays for the programming, good or bad. But Netflix is different (except not really). Reviews matter for Netflix, because… ?? I mean, Netflix is a subscriber-based model too, so I don't know why anyone gives a crap about reviews, but here we are.
In any case, The Leather Special got terrible viewer reviews. Like, notably bad reviews. The reviews online were so terrible that media outlets devoted articles to how scathing the viewer-reviews were. So did the special suck that badly? Or was something else afoot? Schumer posted this message to her Instagram (I made a few minor edits for readability):
I am so proud of my special and grateful to all the people spreading love on line about it. I am the first female comic who is selling out arenas all over the world and so grateful for that. I am embarrassed for the "journalists" who report on trolls activities as if it's news. It's indicative of administration right now.

Anyone who reported that "viewers aren't happy" with my special, it would have been cool if you did a moment of research before posting. The alt right organized trolls attack everything I do. Read the @splitsider article. They organize to get my ratings down. Meeting in sub Reddit rooms. They tried on my book and movies and tv show. And I want to thank them. It makes me feel so powerful and dangerous and brave. It reminds me what I'm saying is effective and bring more interest to my work and their obsession with me keeps me going.

I am only alarmed by the people printing their organized trolling as "news" this is what the current administration wants. So this post has nothing against the trolls. I thank you trolls so much. It fills me with hope and power to see you all furiously posting so as always accuse me of whatever lies you want. Call me a whale. Call me a thief and I will continue to rise and fight and lead. I know who I am. I am strong and beautiful and will use my voice my whole time on this earth. Journalists do better, it's embarrassing. Trolls see you on the next one! 😘😘😘
Is it a situation where Schumer's show was trashed simply because she's Amy Schumer, a white feminist who openly campaigned for Hillary Clinton? Or is it because Amy Schumer actually isn't as funny as she thinks she is? I say it's a little of Column A, a little of Column B. I have no doubt that Alt-Right Redditors "organized" something against Schumer. I also have no doubt that some people checked out her special and hated it without even checking out the reviews. I watched part of her last HBO special and I was surprised by how bad it was. Props to her for being a female standup in a man's world, but she makes the mistake of thinking that "dirty/gross = funny." Of course she has every right to say whatever she wants, and every person has the right to love it, hate it or be ambivalent about it.
Also: her repetition of the "I want to thank the trolls" thing reminds me a lot of her weirdness around that plus-sized Glamour issue. She tries to put up a front like she's thick-skinned about all of this, but she's not. Being sensitive and a little bit insecure isn't a crime, but don't let those Alt-Right douchebags see it.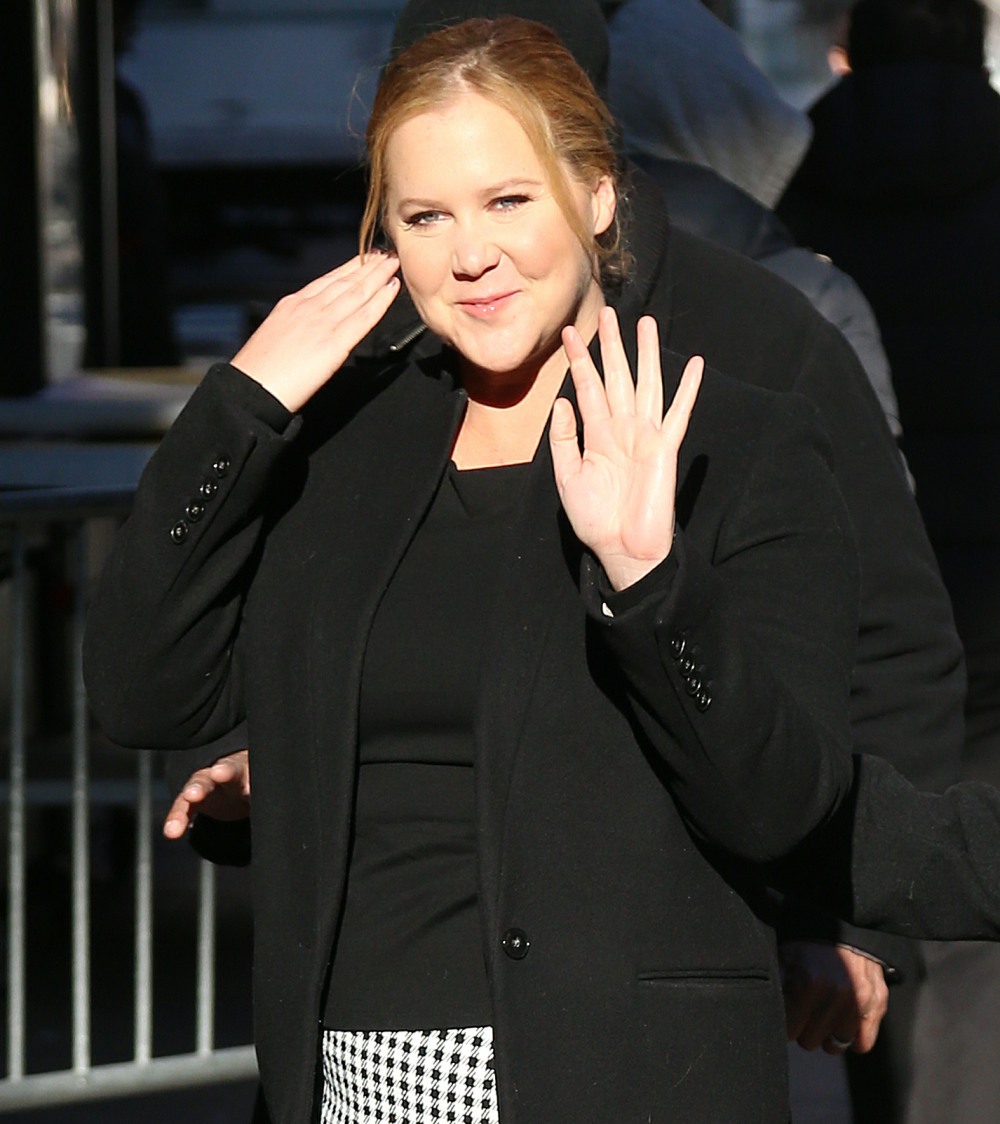 Photos courtesy of Fame/Flynet.