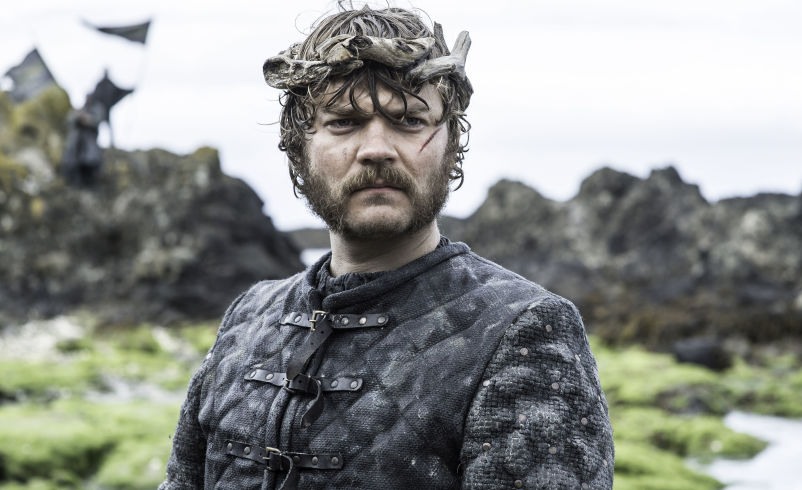 This is Danish actor Pilou Asbæk, who is now best known by many people as Euron Greyjoy on Game of Thrones. He's a well-known, popular and beloved actor in Denmark though, best known for playing heroes and well-meaning protagonists rather than Westerosi psychos. We first encountered Euron Greyjoy last season – was it? – when he killed his brother and manipulated his way onto the Salt Throne, then threatened to kill his niece and nephew, Yara and Theon. Yara and Theon escaped with all of the Greyjoy boats and set sail to meet up with Daenerys. So, Euron is looking to make some allies, and he thinks marrying Cersei is the ticket.
I discussed in the recap post that Euron's proposal to Cersei was possibly one of the funniest things on Game of Thrones of all time. While Euron has been around, that one scene made him a rock star. And Pilou played it brilliantly. So, now I have a problem. Joffrey was a psycho but you knew that at the very beginning. Ramsay was terrible and I never had any doubt. But Euron is sexy, you guys. He's the kind of psycho who could reasonably seduce most of the women and men in the seven kingdoms. He won my heart and now I'm worried about what will come next. Pilou already told Empire last month that Euron is, without a doubt, a psycho and "The psychos I've encountered have so many different sides to them. So each scene I've done with Euron, I pick a new thing I wanna show. 'This scene I want to be charming.' 'This scene I wanna be a molester.' 'This scene I wanna kill someone.' After this season, Ramsay's gonna look like a little kid." Oh God. After the premiere, Entertainment Weekly published a new interview with Pilou too, which you can read here. Some highlights:
What it's like joining the cast of GoT: "It's weird to be a fan of something and then to be a part of it. It's like seeing a beautiful girl in class and you've been seeing her for five years and you just want to go, "You're the most beautiful girl I've seen." Then one day you talk to her and you end up kissing her and then all of a sudden you're like, "All right, the magic is gone a tiny bit." And then you get married and then you're an old relationship and you try to make it work as best you can.

He no longer watches the show now that he's on it: "I saw every single second of it the first five seasons. But now that I'm a part of it, I don't want to ruin the universe with my presence, wondering, "Why is the stupid f—ing Dane in there?" So when people are referring to things like The Battle of the Bastards I'm all, "That sounds interesting." I'm gonna do all my work and then I'll watch it.

What Euron is up to: "He's kind of a joker type. He doesn't take anyone too seriously. He doesn't take himself too seriously. You have a character in the books but you also have to make it personal. So where he's much more like a demon in the books, he's much more f—ing enjoying himself here. I want to show a guy who just loves it. Those psychopathic sociopaths I've met in my life are smiley and well-mannered and they're the biggest pricks in the world. It's fun to do a character who's a fun ride.

He's not the New Ramsay: "Ramsay was the new Joffrey. I think Ramsay was a great character and played by a great actor [Iwan Rheon]. But for me, Ramsay is 100 percent evil. I think Euron is not, which makes things a bit more conflicted within him. I'm more like a hooligan. Every scene he's a new guy. The guy you met on the bridge is not the guy at the Kingsmoot, and is not the guy you see with Cersei and is not the guy you see on the ship. He's different he's different with different people. This season he's more charming. He's much more f—ing enjoying himself. He's such a f—ing idiot douchebag, an impolite selfish child.

What Euron really thinks of Cersei: "The thing with Cersei is maybe she's more man than a woman. She's smart and intellectual and bloody sexy. But for Euron, the question is: "How can I become king of the Iron Throne?" Who gives him the best odds? Is it the dragon mother? No. Is it with Cersei? I think it is. Dany is still trying to be a good, decent, honest person. Cersei sold her soul many ago. Maybe that's why Euron likes her. I think he considers her to be a worthy wife. Euron's not a Lannister, he's an Ironborn, she's something better. There's just one guy in the way…
Oh God. He's going to be making mischief and trying to seduce Cersei constantly? I'm going to have such a problem. A Euron Problem. This guy is so sexy and such a beast. He's going to break my heart.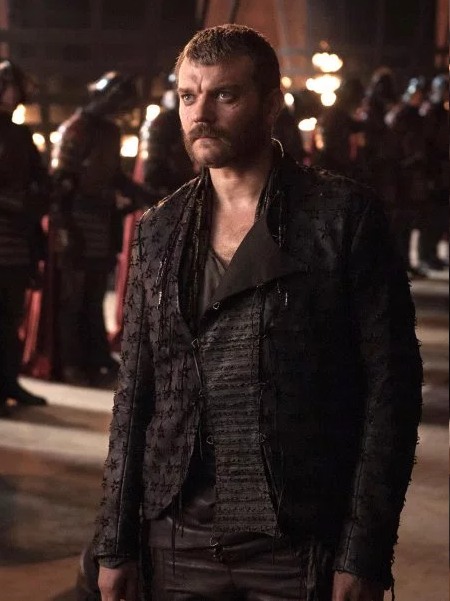 Photos courtesy of WENN, HBO.