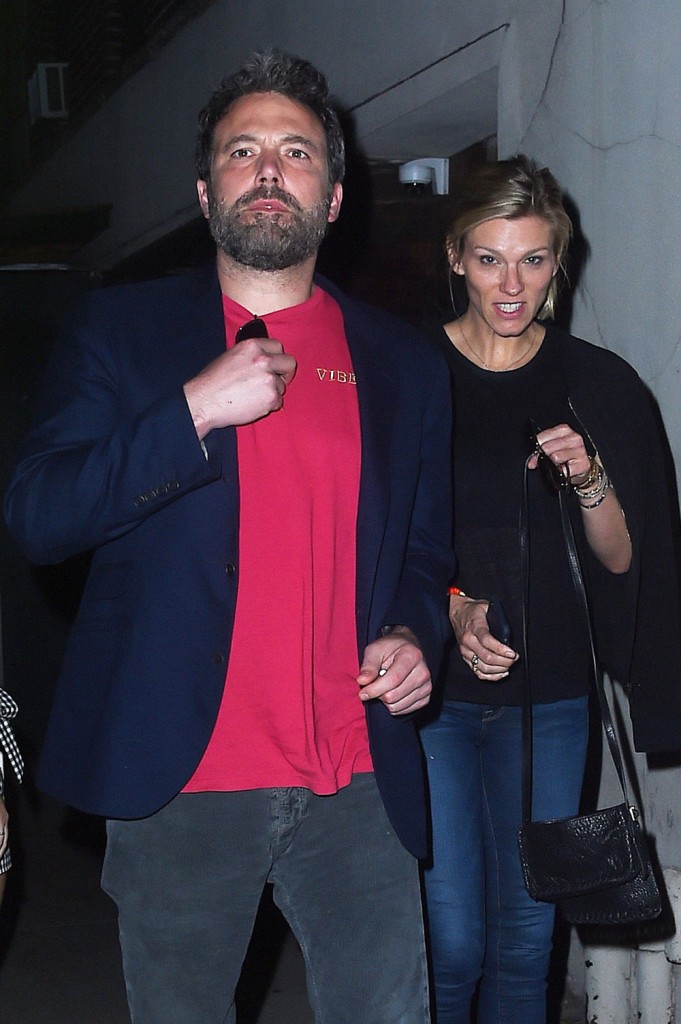 These are photos of Ben Affleck and Lindsay Shookus outside of Barneys in New York City yesterday where they did a spot of shopping and then out to dinner later that night, to a place called Mas (farmhouse) in the village. Kaiser loves to read about food so here's a link to their menu. The entrees are $42 – $45 and include plates like "Charred Eggplant & Smoked Ricotta Agnolotti with Miso Foam & Walnut Gremolata." You can also get a four course seasonal tasting meal for $92 per person. Options include "Flying Pigs Farm Pork Crepinette with Fingerling Potato Puree Honey Roasted Carrots, Mint, Chives & Golden Enoki Mushrooms" or "Violet Hill Farm Chicken Breast Stuffed with Apricot Sausage Smoked Cheddar Braised Beans, Glazed Broccoli, & Woodear Mushrooms." Fancy! If you want six courses it's $140. In these pics it looks like he might be reaching for her hand at one point but of course he's not doing that. At least Affleck looks sober-ish. Lindsay looks good and I think she lost a little weight, right? (She didn't need to, I'm just observing.)
At Barneys the two were seen shopping for jewelry. That's Ben's go-to present for the women in his life – jewelry. When we first heard about these two earlier this summer there was a rumor that Jennifer Garner learned of the affair about three years ago when a high end jewelry store called her home to inquire about a purchase she knew was not for her.
So Ben and Lindsay spent some cash, had a good time and got papped. Note that during the day Lindsay was wearing a little bomber jacket that was very similar to Ben's. I do like her casual style but I could never wear shorts that short. The Daily Mail points out that her little short sleeve striped shirt with pom pom tassels and an embroidered star retails for $88. This is why I need to learn/master basic sewing. The little details on this shirt are what make it expensive.
Remember how Affleck celebrated his 45th birthday with his kids last week? At that point we hadn't seen him with Lindsay for a couple of weeks and now here he is with her in NY, right on time. I wonder if that's their pattern, 3-4 weeks off, one weekend on.
In related news, there's new-ish video that is just being notice of Affleck walking around Comic-Con in an Oscar the Grouch shirt and mask. You can see that here. Lupita Nyong'o still wins Comic-Con.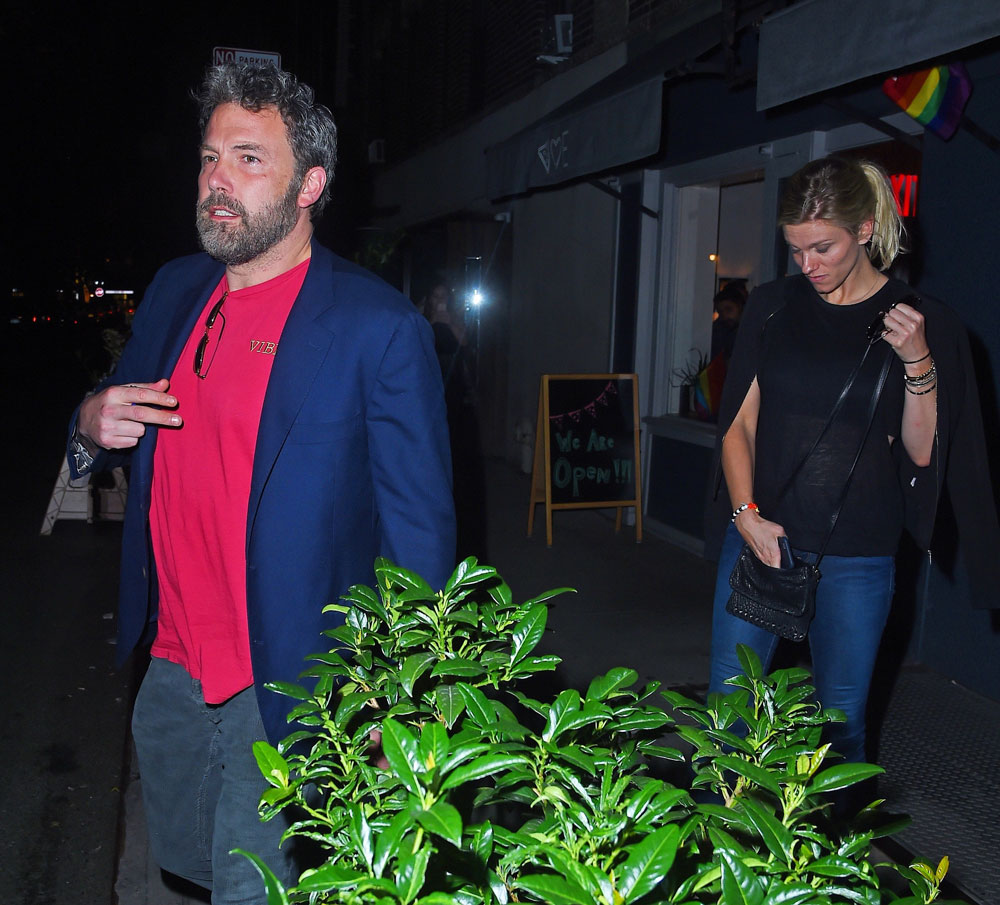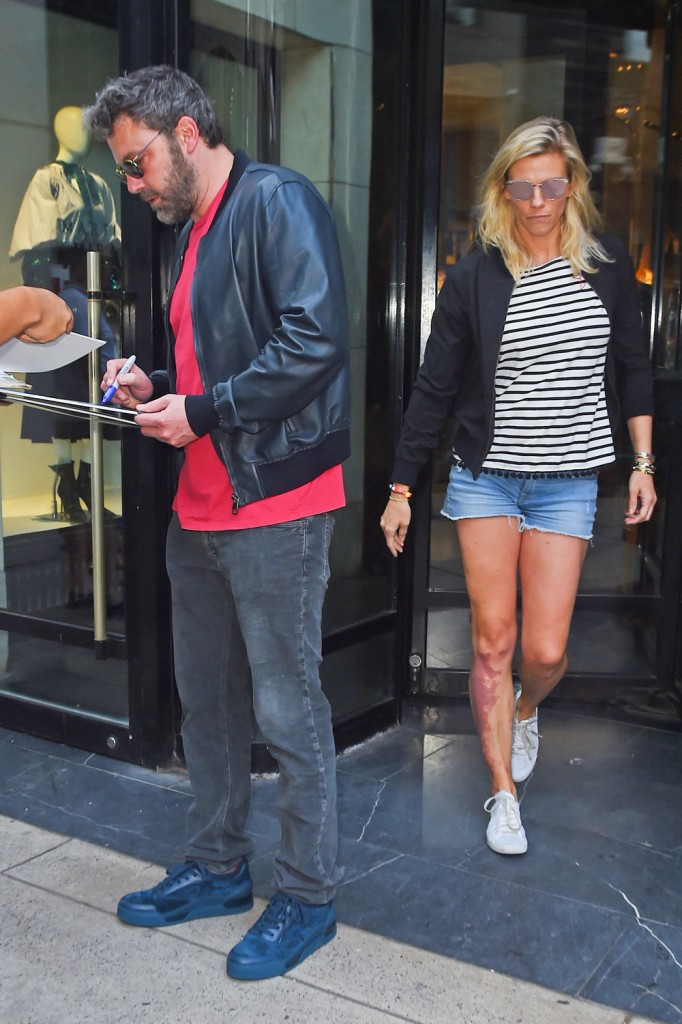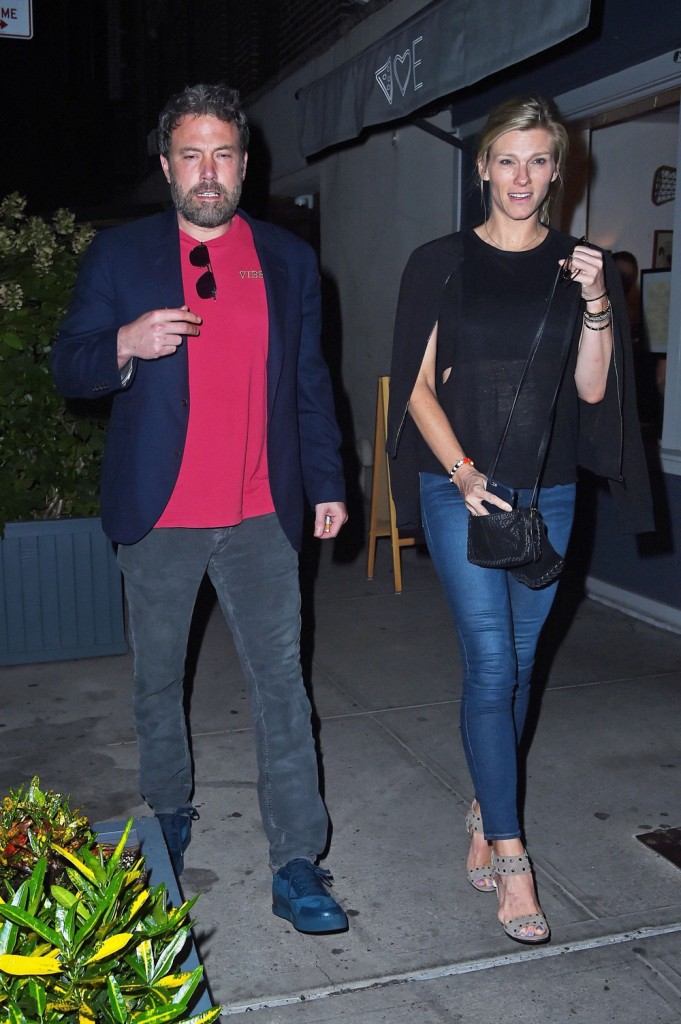 photos credit: Backgrid