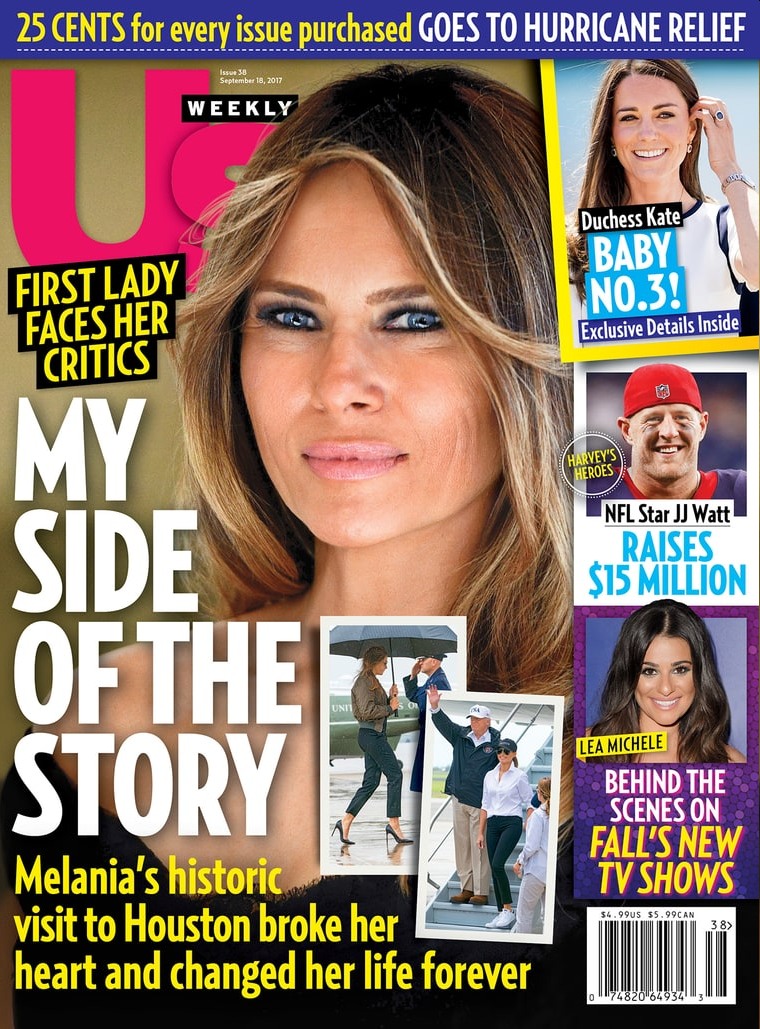 This week's Us Weekly cover is "Melania Trump: My Side of the Story." You might think to yourself, "did Melania really give her side of 'the story' to Us Weekly?" The answer is no, she did not. Melania was not interviewed for this cover story. Unnamed "insiders" are quoted. So what is Melania's "story" even about? Well, I guess people are still talking about how Melania looked like Lady Top Gun in her cigarette pants and three-inch heels as she was heading to Texas last week. Us Weekly is obviously super-sympathetic to The Plight of the Former Model Who Wore Heels. Melania is a survivor, y'all.
In the two years since Donald, 71, threw his red hat in the presidential ring, the 47-year-old businesswoman has been knocked for everything from her racy modeling shots to her European accept. Her latest perceived misstep: wearing four-inch Manolo Blahnik stilettos when she boarded a Texas-bound Air Force One August 29 to join Donald on a visit with those affected by Hurricane Harvey. Though she changed into sneakers mid-flight, Twitter users railed against her choice of footwear, deeming the $595 heels insensitive to those who just lost everything. Even Vogue, which featured Melania on a 2005 cover, asked, "What kind of message does a fly-in visit from a first lady in sky-high stilettos send to those suffering?"

But those close to Melania insist the only real takeaway is that FLOTUS favors a pointy-toe.

"She just wore them out of the house," an insider says exclusively in the new issue of Us Weekly. The mom of 11-year-old Barron, continues the insider, "wouldn't have worn heels on the ground in Texas. No one in the White House thinks this is a big deal; the know there's a million more important things going on."

Melania is focusing on the big picture. During their trip to Corpus Christi, Texas — 200 miles southwest of Houston — the sneaker-clad star joined her husband in briefings with Texas Governor Greg Abbot, FEMA administrator William Long and representatives from the U.S. Coast Guard the the Red Cross.

"This has been a really eye-opening experience for her as first lady," her communications director Stephanie Grisham tells Us. One she was eager to repeat. Four days after her heel hubbub, Melania returned to Texas to talk with storm survivors.

"She's really focused on meeting with people who lived through it and speaking with them and getting a real handle on how people can best be helped," explains Grisham. "She recognizes that this is a long-term process so she's committed to helping people and seeing that through."
I agree that this is not the most important issue, this fact that Melania gets little sh-t like footwear so wrong. It's part of a larger narrative about her, and Us Weekly isn't doing her any favors, and neither is the insider or Stephanie Grisham. The fact that it took a visit to Corpus Christi for Melania to have a Come-To-Jesus moment that people are suffering says more about Melania and her bubble of trophy-wife privilege more than anything else. You know what I thought of? Superstorm Sandy was just five years ago. Melania was living in New York at the time. Did she not realize back then, "Oh, right, people in this area are really suffering because of a natural disaster"? I guess not. She was too busy shopping for shoes.
Photos courtesy of Getty, cover courtesy of Us Weekly.