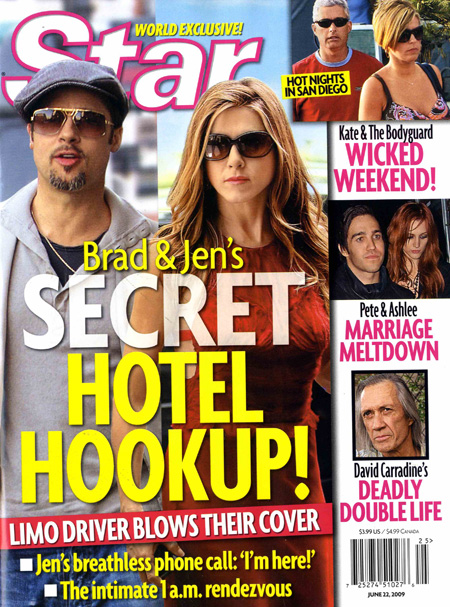 Oh, if only walls could talk. But for tabloids, walls do talk. Not just walls – nannies, housekeepers, sycophantic handlers, friends, hairdressers, stylists, and of course, random unnamed sources will always talk to the tabloids. For Star Magazine's cover story this week, it's a limo driver. Specifically, the limo driver who drove Jennifer Aniston to a secret rendezvous with Brad Pitt at the Gramercy Park Hotel in Manhattan. If the limo driver was driving just Jennifer, how did he know who she was meeting at the hotel? Unless she told him. Unless Jennifer climbed into the limo and was all "Oh my God, dude, I'm totally going to nail my ex-husband at the hotel once we get there! Make sure you tell Star Magazine!" But Jennifer would never do that, right? Here's Star's version:
After making secret plans for a 1 a.m. rendezvous, Brad Pitt and Jennifer Aniston met at a New York City hotel and spent more than two hours together — alone!

In a blockbuster exclusive in our June 22 issue, Star reveals that the driver who brought Jen to the chic Gramercy Park Hotel in Manhattan for a late-night get-together with her ex-husband says the former couple went to great lengths not to get caught.

"It was well planned so no one would see them," says the driver, who explains that the pair spent more than two hours together in the back of the Gramercy's nearly deserted 18th floor Private Roof Club and Garden. "They were really careful not to be spotted."

And this wasn't the first time Jen and Brad — who have been phoning and texting with more frequency in recent weeks — have hooked up. They were shuttled around New York City in a black SUV on April 23, sipping Starbucks coffee and chatting.

Knowing how Angelina reacted when she first caught Brad talking to Jen on the phone recently, insiders say she's not going to be happy about the latest development. "When Angelina finds out about this reunion, she'll go ballistic," says a source.
[From Star Magazine]
Star Magazine lost touch a while ago, no doubt. But what makes it worse is that the stories they're referencing often originated in In Touch Weekly. In olden days, Star Magazine would work really hard to come up with the most original Brangelina bullsh-t out there – now they're picking up In Touch's scraps. Last week's Brangelina story – about how Brad kept calling Jennifer to discuss what they would do about the six Jolie-Pitt children – was just gross and desperate.
Here's the thing – I would actually buy that Jennifer would do some kind of undercover hotel assignation, but why does it have to be with Brad? Why not Bradley Cooper? Or just somebody else? I don't begrudge Aniston the fundamental need to have hot hotel hookups… but mix it up!
Thanks to Cover Awards for the Star cover.