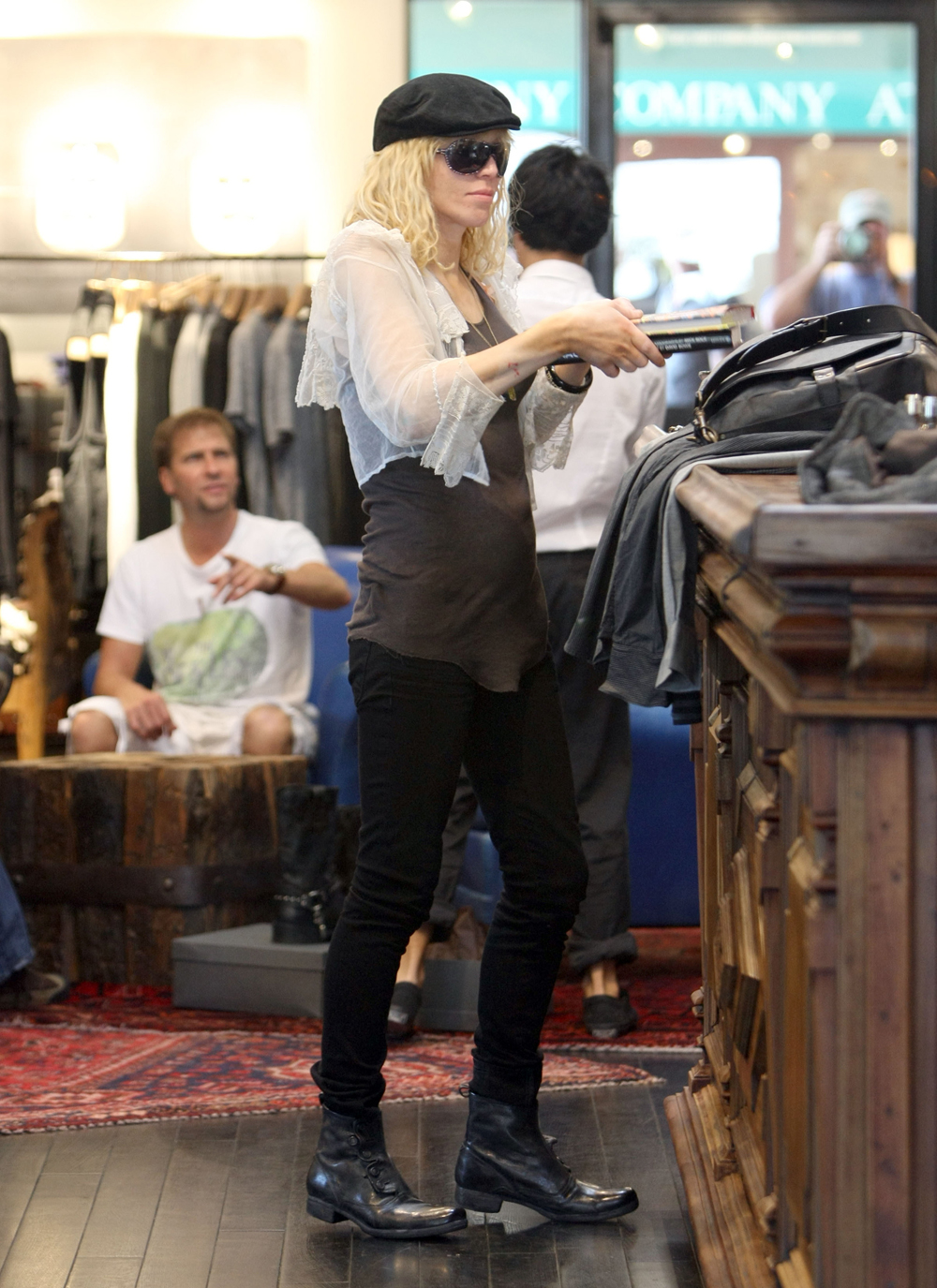 Twitter is a strange beast. It gives us access to all sorts of personal celebrity thoughts. Which – to be fair – aren't all that deep, or often all that personal. It's not like Twitter somehow lets us into celebrities' brains without their knowing. Yet many of them seem to feel the compulsive urge not just to share useless, mundane crap, but occasionally interesting – albeit strange – bits here and there.
Example: for the last few weeks it's been rumored that Courtney Love is starting her own fashion line. This is upsetting for a lot of reasons. First off, anything involving Courtney is inherently upsetting. Never has her name been involved with good news. But secondly is that Courtney is easily the worst dresser in the entire world, regardless of her sobriety or mental state. In fact her wardrobe might improve slightly when she's high. It certainly can't get worse.
Before Courtney's people finally made it official that she's working on her own line, the news leaked via the natural outlet, Peaches Geldof's Twitter. Because she just had to update the world about how she was having a sleepover with Courtney, eating chocolate cake, and having a fashion show of her new clothes. Alright…
Well we never! Sounds like the rumours Courtney Love is going to be designing a clothing range might indeed be spot on, according to Peaches Geldof that is. Peaches tweeted last night that she was having a sleepover with Ms Love and said that not only were they eating chocolate cake – but also having a 'hotel-room fashion show' of her new designs. (Could Ms Geldof be the face of the range?). So now we can exclusively reveal some details of Ms Love's ideas for the collection. According to the lady herself some ideas include, 'cotton ribbed body suits', 'cashmere harem pants' and 'stitching a ruby into every outfit'. Hmm could be a bit pricey there, Court! We'll keep you posted with any more updates…

UPDATE: Courtney Love's people have confirmed her clothing line is official. We can't wait!
[From Grazia Fashion]
I believe the rule of thumb in fashion is: when in doubt, sew rubies onto something. Whenever I just can't figure out how to bring an outfit together, I slap a ruby on it's just one of those quintessential "Bam!" moments. This will not be a disaster.
Courtney's done a lot of public complaining about how husband Kurt Cobain's estate has been raided of hundreds of millions of dollars (up to $530 by some estimates), which took Love a shockingly long time to notice – even for someone s out of it as Courtney. What better way to blow whatever cash is left than gem-encrusted fashion?
Courtney Love eating chocolate cake in her ruby-lined cashmere harem pants… what would we do without Twitter to give us such uninhibited access to celebrities personal lives?
Here's Courtney shopping away t Cross Creek in Malibu on September 16th. Images thanks to Fame.