Enquirer: Jennifer Aniston hates Courteney Cox's guts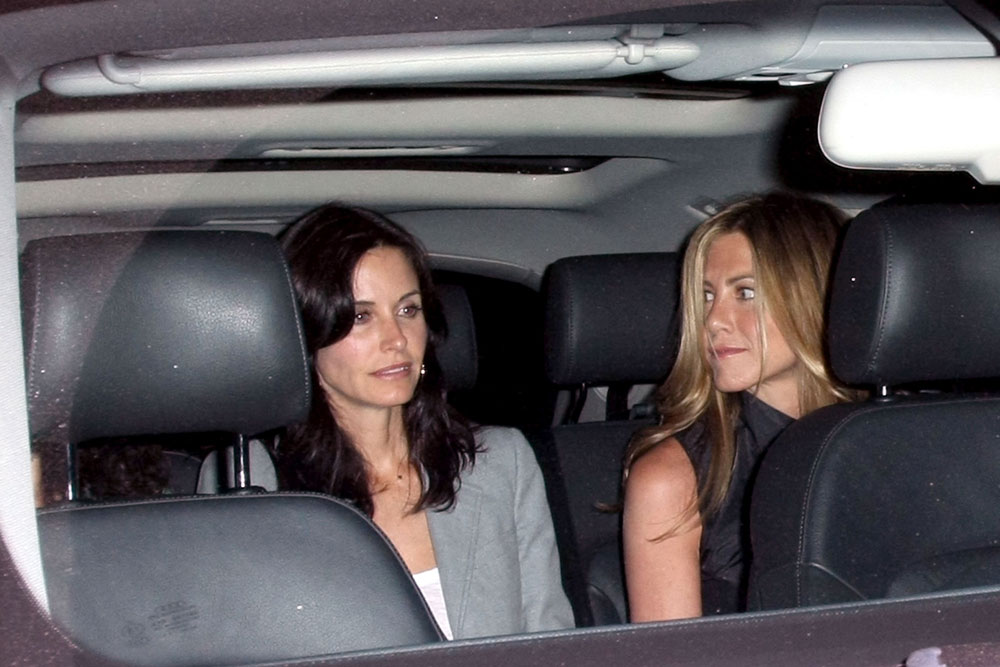 With Jennifer Aniston's hectic schedule of filming back-to-back films and enjoying hot "revenge sex" with random Scotsmen, you may have started to wonder how Jennifer has time to be a good Goddess Circle friend. Turns out, she doesn't have time for those bitches anymore. Too much? I thought so. The National Enquirer has a story up called "Why Jen Aniston Hates Courteney Cox's Guts". Juicy, right? Like, maybe it's drug related or maybe some huge fight over chicken salad, perchance? Turns out, there is no "hating" of anyone's "guts". They're just two women in their forties with different stuff going on, and they haven't had time to hang out face-to-face in a little while. That's why the first Goddess Circle invented phones. Or Skyping, for that matter.
Courteney Cox has ditched her longtime BFF Jennifer Aniston!

"It seems like Courteney and Jen's close friendship has chilled in recent months, and it comes down to their lifestyles not gelling anymore," an insider told The ENQUIRER.

"Jen is almost a workaholic who spends her free time dating and hunting for Mr. Right, while Courteney is happily married and busy juggling work and motherhood."

Courteney's husband David Arquette "can't be thrilled with the idea of Courteney developing a roving eye as she cruises parties and restaurants as Jen's wing girl."

So Courteney and David – whose daughter Coco is 5 – are spending more time with couples who share their interests, like kids' play dates and family dinners, said the source. That includes actress Laura Dern and rocker-husband Ben Harper, and Spider-Man Tobey Maguire and jewelry designer-wife Jen Meyer, as well as single mom Sheryl Crow, said the source.

Jennifer was noticeably absent from Courteney's 45th birthday celebration at Nobu in L.A. on June 15.

"Courteney and Jen will always be friends," said the source, "but right now they've drifted apart because they're at different stages in their lives, with different priorities."
[From National Enquirer]
We have just witnessed the not-so-popular "Jennifer Dumped Again… by her best friend" story. It comes around every so often (like two or three times a year) when tabloids get tired of running the standard configuration of Jennifer Aniston + Random Dude + Brad Pitt = Confusion/Jealousy/Lust/Revenge/Babies. The last time this story was recycled was when Courteney and Brad Pitt alleged ran into each other and talked like normal adults. Apparently, Jen hates that kind of thing.
Jennifer Aniston, Courteney Cox and David Arquette are shown out after seeing a Fleetwood Mac concert in LA on 5/28/09. Credit: WENN.com
Written by Kaiser

Posted in Courteney Cox, Fights, Jennifer Aniston

- Mariah Carey lip synced on American Idol [CDAN]
- Colin Firth is looking good [Lainey Gossip]
- Internet celebrity charged with murder! [D-Listed]
- What is Paz Vega wearing? [Go Fug Yourself]
- New bachelors on The Bachelorette [Reality Tea]
- Goodbye to The Office [Pajiba]
- Bachelor Sean's fiance cheats on him [Evil Beet]
- Britney Spears out with her man [Popsugar]
- Nina Dobrev works it [Popoholic]
- Cindy Crawford needs to lay off the 'tox [Celebslam]
- Who said it: Carrie Bradshaw or The Dalai Lama? [Buzzfeed]
9 Responses to "Enquirer: Jennifer Aniston hates Courteney Cox's guts"