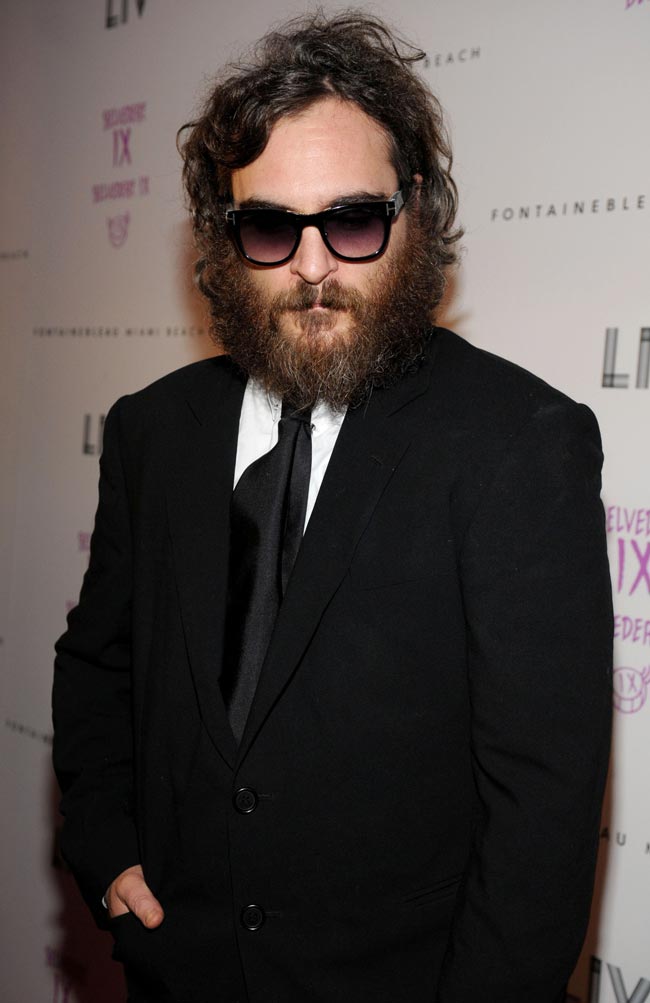 It's been five months since there was any kind of news about Joaquin Phoenix. Once one of the most promising and talented actors in Hollywood, Joaquin sort of went crazy this past winter. He claimed he was giving up acting to focus on his music career. Not just music – Joaquin was going to be a rapper. There was some debate about whether Joaquin was truly crazy, or if this was all some sort of "meta" performance art about the nature of celebrity or whatever. Word was that Joaquin's friend Casey Affleck was making a documentary about Joaquin's crazy/art.
CB covered some of the last news we had of Joaquin, back in May. At the time, CB seemed worried about him, because he genuinely seemed to be going off the rails and we hadn't heard from him in a while. But at the time, the story was still that Casey Affleck was making this damn documentary. I'm totally clueless at this point – I think it's 50/50 chance on whether this is an act versus genuine insanity. This week's National Enquirer has an interesting little story about Joaquin, and what he's been up to recently. On Joaquin's agenda this particular day was buying a mesh shirt and… a cape!
It's no hoax, folks – Joaquin Phoenix is one nutty fruitcake! The looney-toony star, dressed like a homeless derelict and muttering to himself nonstop, was spotted pawing through racks of clothes at Red Balls on Melrose, where he finally grabbed a black velvet cape, black trousers and mesh top, ducked into a dressing room – and began belting rap songs.

Emerging in his new outfit, he told the salesgirl he'd be wearing it home. Nervous, she asked: "What form of payment will you be using today, sir?"… then nearly jumped out of her skin when Phoenix banged down a wad of cash and yelled: "MONEY!"

Said an eyewitness: "He mumbled madly while the girl counted out his change and offered him a bag for his own clothes. Joaquin never said a word, rushed out of the store wearing his velvet cape – and dumped his old clothes in the nearest trash can!"
[From the National Enquirer, print edition, Mike Walker's column, August 17 2009]
Dude, a cape? I think the secret of people with genuine mental/emotional problems is that they think there's nothing wrong with them. This explains someone like Lindsay Lohan. Lindsay obviously has mental and emotional (and drug abuse) problems all over the place, but she still believes she's normal and dealing with it. She hasn't gone out and bought a cape. She hasn't thrown away her clothes in a public trash can. Thus, by trying to act sane, I'm convinced of her insanity.
When Joaquin goes into a store (on Melrose) and buys a cape, I grow weary. Are you for real, Joaquin? Was Casey Affleck furtively filming in the dressing room? Or am I totally reading this the wrong way? Should I feel sympathy for Joaquin? Is he mentally ill? If he is, then I apologize. But I'm still not sure.
You know who doesn't think Joaquin has issues? Gwyneth Paltrow. A few months ago when she was asked about him, Gwyneth snotted: "I think that there might be some other explanation or something going on. I'm not quite sure what, but I can't believe that he's really going to quit [acting] forever to become a rapper… It seems odd… maybe [he needs] to go live in the projects for a few years to get some authenticity, maybe." Maybe Dame Goopy had a point – Joaquin was lacking some authenticity, and he's been out on the mean streets (on Melrose) to find out what's "authentic".
Joaquin Phoenix is shown on 3/11/09 before a rap gig at the Fountainbleau, which I think was his last public appearance. Credit: Johnny Louis/WENN.com