Jon Gosselin shopping own reality show that will feature girlfriend Hailey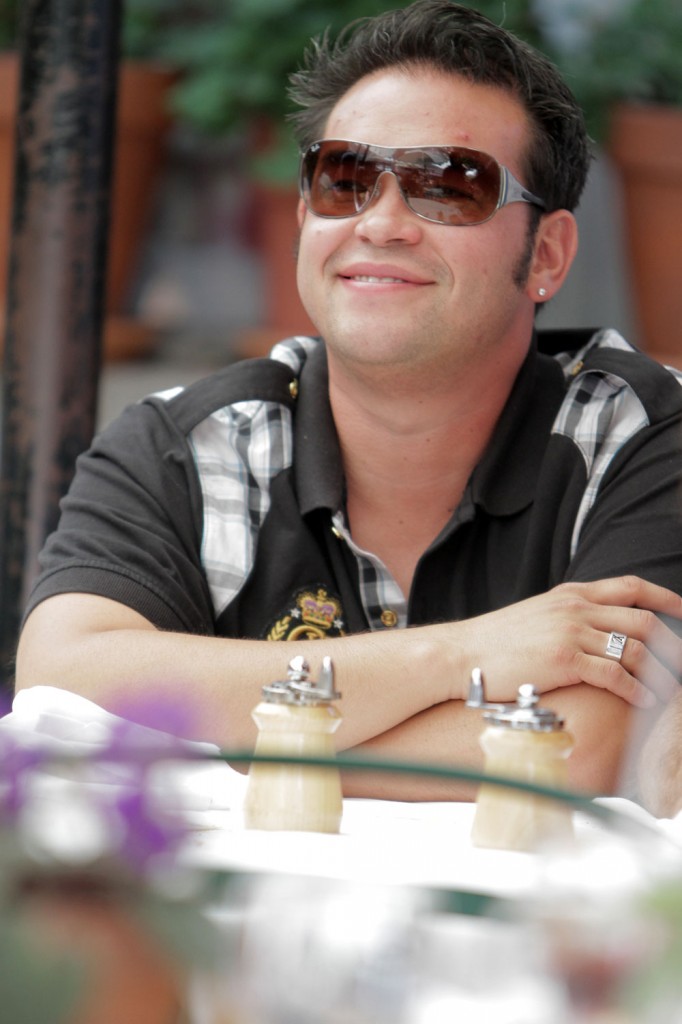 The small amount of goodwill that Jon Gosselin earned by asking that his children no longer be filmed during their parents' divorce has all but dried up. Daddy douche can afford to shut out TLC because he emptied the family bank account, as we'll cover shortly, and is probably counting on his own stream of reality revenue coming in with that "Divorced Dads Club" show with Michael Lohan. According to Radar Online, Jon plans to feature his "soulmate" Hailey Glassman heavily on the show, and it was allegedly Jon's idea to include the girlfriends. It seems only logical, since those two idiots are only so interesting on their own:
While his war with estranged wife Kate and the TLC network is raging, Jon is determined to push ahead with his new reality TV project, The Divorced Dads' Club.

The show, which would likely include Michael Lohan, is Jon's new focus and RadarOnline.com has learned exclusively that he intends to make girlfriend Hailey Glassman a regular.

"Jon wants the show to feature the guys' girlfriends," a source familiar with the project told RadarOnline.com. "He's promised Hailey that she will be a big part of the show. The show will focus on each dad's life and Jon's life with Hailey will be a big part of it."

Jon has said he doesn't want TLC filming his children anymore and believes it is detrimental to them while he and Kate are divorcing. But the source familiar with the situation told RadarOnline.com that Jon wants to have his children on his new show!

Hailey, who just underwent breast surgery as reported by RadarOnline.com, has always wanted to be famous, sources tell RadarOnline.com. She tried out for MTV's Real World and enjoys the notoriety of being with Jon, despite sometimes public protestations. (On Friday she tweeted: "Its time 2 move on

But Hailey is actually enjoying her pseudo celebrity, the sources say, and very much wants to be on Jon's new show. And while she certainly doesn't have a weight problem, she's even talked about losing a few pounds to look thinner on camera!

Of course, before any of this happens there's the matter that Jon signed an exclusive deal with TLC and the network is not letting him out of it, even though they are changing the show name to Kate Plus 8.
[From Radar Online]
So is this why Jon told Hailey he was "sorry" on Larry King and claimed to have some kind of epiphany about how he needed to change? Was it all for the sake of this show? Sadly, I think that if this does go forward it will get high ratings at least for the premiere episode. Octomom is universally despised but everyone watched her reality special. We haven't heard that this show has been picked up by a network yet, so maybe it won't get optioned and Jon will have to get by doing event appearances. MSNBC's The Scoop reports that he asks from between $20,000 to $30,000 for just a two hour appearance. He made a paid appearance at Millions of Milkshakes over the weekend and presumably took home a healthy five figures to add to that couple hundred grand he stole from his family.
I hope that TLC manages to somehow bar Jon from filming another show. TLC did remind him that he's under an exclusive contract with them in that annoyed-sounding statement they released responding to his cease and desist. Jon may have screwed himself out of any potential deals for this reality show by stealing from his wife. It's not like the networks that run reality shows are known for their scruples, though.
Here's Jon having lunch at the Ivy and at Millions of Milkshakes on Saturday. He loves the attention. Credit: WENN.com
Written by Celebitchy

Posted in Hailey Glassman, Jon Gosselin, Reality Shows

- Harry Styles & Kimberly Stewart going strong [Lainey]
- Demi Moore's new man is gross [D-Listed]
- Fug or fab: Emma Stone [Go Fug Yourself]
- Arrest warrant issued for Jenelle Evans [Reality Tea]
- Only God Forgives review [Pajiba]
- Hugh Jackman, scooter master [Buzzfeed]
- Who does Drew Barrymore call her sister? [Evil Beet]
- Cannes couples past and present [Popsugar]
- Arrested Development supercut [CDAN]
- Lea Michele's see through skirt [Celebslam]
- Cheating wife's lover escapes out of window [Movin925]
- Joe Francis is crazy [Starcasm]
14 Responses to "Jon Gosselin shopping own reality show that will feature girlfriend Hailey"