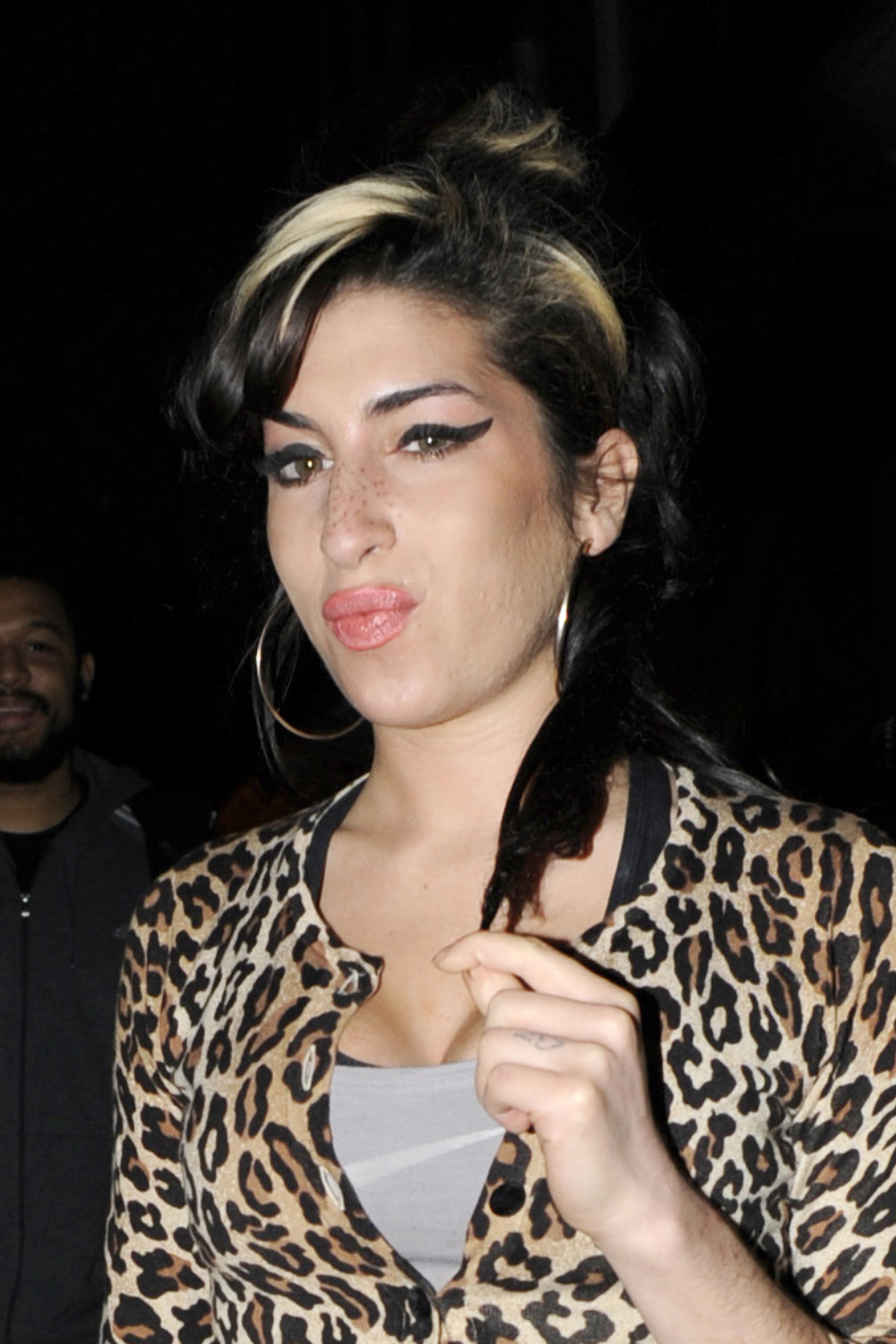 These are photos from last week, as Amy Winehouse was leaving a doctor's office. Many sites theorized that Amy had gone in for lip injections, and I could see it. Her lips are usually pretty full, but they look a lot bigger in these photos. Add to that her recent breast implants (which her dad confirmed, and which she drunkenly "showed off" at the Q Awards a few weekends ago). Add to that the consideration of some of our eagle-eyed commenters who think that Amy might have also had a nose job. Now, tell me: would it beyond the realm of possibility that Amy would go in for butt implants? That's what her friends are telling The Sun. Apparently, Amy wants a classic "pin-up" look. Oh… Amy. Girl. Get it together.
AMY WINEHOUSE may have beaten her drug addiction but it's left her wide open for another obsession – surgery.

The troubled star is so pleased with her new £35,000 boobs, enhanced from a 32B to a 32D just last month, she is thinking of having them enlarged again.

And Wino has told pals she is also considering BUM implants.

A source said: "Amy loves her boobs. She can't stop touching them and showing them off to friends. She says she feels womanly again and wants to be more curvy like she used to be. She thinks by having another op and bum implants that she will achieve her dream pin-up look."

Isn't that how she used to look before she hit the drugs?

Even her dad MITCH has said how good her new pair are. But I bet he won't support her going under the knife again.
[From The Sun]
Of course, people are now saying that Amy might be addicted to plastic surgery. I don't know about that. Maybe she just likes her new boobs. And the lip injection thing isn't so strange – especially if it was just one of those temporary things that deflates after a week or so. I've always been curious about those injections, honestly. If they were cheap and I had the money laying around, I might try them. I do worry that Amy might actually get the butt implants, though. And if she does, it's going to be terrible. You know what will happen? We'll get twenty bajillion reports out of Britian about Amy's ass problems. The headlines will read "Wino drunkenly takes broken beer bottle to ass implant, chaos ensues". Oh, Lord. It's happening, isn't it?
Here's Amy leaving the doctor's office in London on November 5, 2009. I tried to include one profile picture where you can see how flat Amy's ass is. Girl doesn't have much of a booty. Credit: Luke Mills/WENN.com.