Jessica Simpson offers Nick Lachey an insulting $1.5 million divorce settlement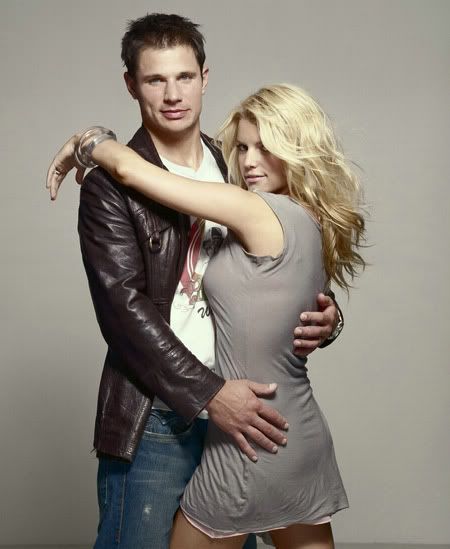 Jessica Simpson has reportedly offered Nick Lachey a laughable $1.5 million to settle their divorce amicably. She is said to have made $30 million last year alone, and Nick is legally entitled to half of her earnings during their marriage of over three years. It sounds like Jessica's father is pressuring her to try to get Nick to settle cheaply:
Multiple sources connected with the former couple tell TMZ that Simpson has offered Lachey less than $1.5 million to settle the division of property. Under California law, Lachey would be entitled to half of what the couple earned during their marriage. The Associated Press reports that in 2004 alone, Simpson raked in $30 million.
We're told that Simpson's reps believe that Lachey will fold because he does not want to make it appear that he is after her money. They also know that Lachey is still in love with his estranged wife and believe he does not have the stomach to square off with her in court.
Indeed, sources have confirmed to TMZ that Joe Simpson, Jessica's dad, has called Nick, urging him to take the settlement so the two can "end as friends." And other friends and reps of Jessica have contacted Nick, trying to pressure him into a settlement.
Sources say Nick will not ask for spousal support, but that he's not stupid enough to settle for such a low amount. Two weeks ago he was said to be seeking a relatively low $8 million settlement in an effort to get his hands on some quick cash and avoid losing his property. The National Enquirer reported that Nick lowered his settlement request to $5 million hoping that would be a reasonable sum for Jessica.
It seems like Nick is being reasonable and Jessica is being pressured by her family as usual to low-ball the settlement. TMZ quotes Jessica:
In 2004 Jessica said, "If anything were to happen to me and Nick, I've had a great life with him and he would deserve half of everything I have."
Her daddy must not agree.
Meanwhile Jessica may have lost her best friend, hairdresser Ken Paves, to her scheming sister. She lost her other best friend, her assistant Cacee Cobb, less than a month ago. She has been seen out shopping unkempt and alone, and bought up a bunch of "Team Jessica" shirts at an LA Boutique. She is also said to be seeing a therapist to help cope wtih the depression from her divorce and to come to terms with her identity.
Nick, however, has a hot new girlfriend and a successful new album.
Here's Jessica wearing Ugg-ly boots on a hot day in Hollywood. [via]
Written by Celebitchy

Posted in Divorces, Jessica Simpson, Nick Lachey

- Mariah Carey lip synced on American Idol [CDAN]
- Colin Firth is looking good [Lainey Gossip]
- Internet celebrity charged with murder! [D-Listed]
- What is Paz Vega wearing? [Go Fug Yourself]
- New bachelors on The Bachelorette [Reality Tea]
- Goodbye to The Office [Pajiba]
- Bachelor Sean's fiance cheats on him [Evil Beet]
- Britney Spears out with her man [Popsugar]
- Nina Dobrev works it [Popoholic]
- Cindy Crawford needs to lay off the 'tox [Celebslam]
- Who said it: Carrie Bradshaw or The Dalai Lama? [Buzzfeed]
3 Responses to "Jessica Simpson offers Nick Lachey an insulting $1.5 million divorce settlement"