Anna Nicole Smith Saga Update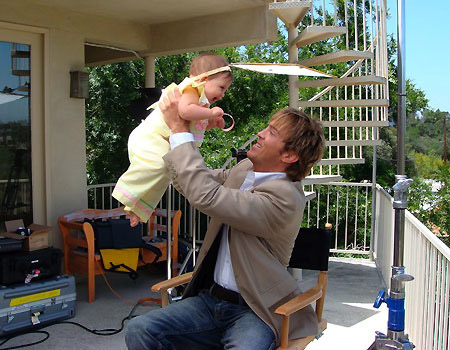 Larry Birkhead is going to star with baby daughter Dannielynn in a reality TV show about their day to day life.
Larry Birkhead and his daughter with late Anna Nicole Smith will reportedly star in a reality show about 1-year-old Dannielynn being raised without her mother.

According to reports Birkhead was flooded with TV offers after Smith died and he gained custody of Dannielynn. "I don't want to give away something yet. It's basically the 'day in the life of duties,'" Birkhead was quoted as saying.

"My daughter is my focus now. I'm being a great dad. She's teething. She's got about eight teeth. Everything is great with her. She comps on me every day. All she has to worry about is her Barney video," Birkhead says.
Howard K. Stern has also been busy, serving legal papers to Rita Cosby at a Manhattan party for her book Blonde Ambition: The Untold Story Behind Anna Nicole Smith's Death. The papers are suing her for libel, mostly focused around the allegations that Larry Birkhead and Howard K. Stern were gay lovers. Rita's evidence of this is a supposed tape of their encounter. In this video, Rita says she stands by her claims '120%', but quickly leaves when reporters ask her to reveal her sources. The link is NSFW as it has Anna Nicole's 'death photos'. Obviously someone who stands by her claims 120% doesn't have maths as their strong suit – I wonder if she's worked out how many copies of her book she gonna need to shift to pay $US60 million to Howard K. Stern?
Virgie Arthur has also been seen out and about – at Rita Cosby's book launch! Who would want to see that book published about their daughter?
I'm not a big fan of Anna Nicole Smith, her mother, either of her former male companions or Rita Cosby, all of them seem mostly interested in cashing in on her notoriety. At least Larry Birkhead has an excuse – to a point – in that he is a single father raising her baby.
The pictures of Anna Nicole dead (that we know were fakes) are now being claimed as Anna Nicole having a bit of fun. Rather than her being intoxicated, Howard K. Stern told Entertainment Tonight that the pictures were just of Anna Nicole eating a fish sandwich and having fun with the camera when she got tartar sauce on her face.
You know, there are some really unflattering pictures of me out there, but none this bad. At least I'm not naked, eating KFC, and missing my mouth.
Posted in
Anna Nicole Smith
,
Howard K. Stern
,
Larry Birkhead
,
Lawsuits
,
Rita Cosby