Kim Cattrall negotiatied "Sex and the City" deal to be just as good as SJPs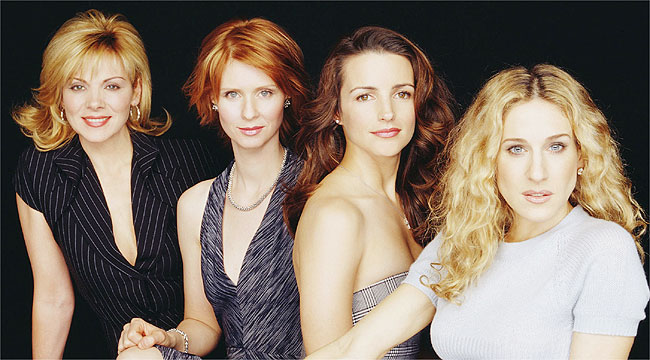 Playing hard to get for once worked for Samantha. Kim Cattrall, long-rumored to be the sole holdout on the upcoming "Sex and the City" movie, signed up for the film now confirmed to be in the works only after her demands were met.
She's now getting equal pay and equal screen time with lead star Sarah Jessica Parker. She'll also get the same treatment on set:
After repeatedly refusing to sign on the dotted line since the TV series ended in 2004, Cattrall stubbornly held out and won what seemed like her impossible dream when producers finally caved and gave her 1) equal salary, 2) equal billing and 3) the same onscreen time as star Sarah Jessica Parker! Kick-ass Kim even negotiated an "equal perks" rider – insisting on a top-of-the-line dressing trailer identical to Sarah Jessica's, plus an exclusive dream team of hair and makeup artists!
[From The National Enquirer, print edition, Mike Walker's column, July 30, 2007]
It has also been reported that Cattrall even worked out a deal with HBO for a new series!
This was a decent show, but when it finally comes out is it going to do well at the box office? According to IMDB it doesn't start filming until the fall of this year so it will be some time before it finally comes out.
Will any of you guys go see it? I enjoyed the show occassionally, and could relate to it when I was single and lived near NY. To me it got kind of old though, and at this point I don't really care what happens to these characters. I don't know if this show has the kind of cult following needed to give it a decent draw in theaters four or five years after it wrapped, but maybe that's just because it didn't resonate with me.
Good for Cattrall for getting equal pay and perks with Parker, though. I hope that Kristin Davis and Cynthia Nixon aren't too far behind, because without either of them it wouldn't be the same, either. Woman can probably identify more with their characters' normalcy than either sexaholic Samantha or shopaholic Carrie.
Posted in
Cynthia Nixon
,
Kim Cattrall
,
Kristin Davis
,
Sarah Jessica Parker
,
Sex and the City