Victoria Beckham: Balancing work & parenthood makes me 'constantly guilty'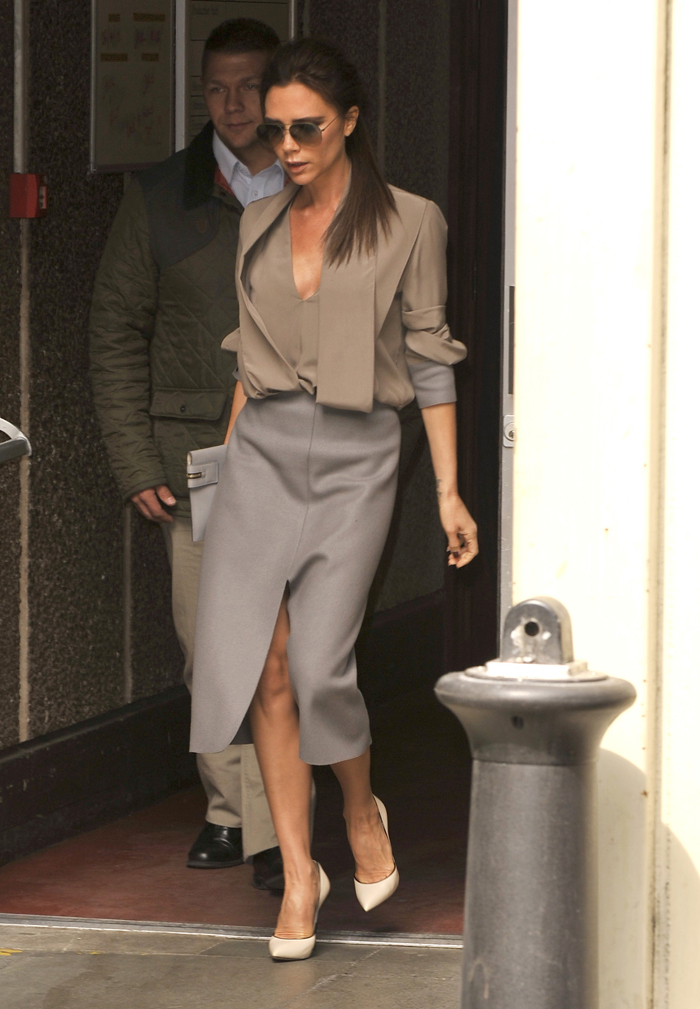 These are photos of Victoria Beckham at Vogue festival in London with eldest son Brooklyn in tow, which is nice because I'm sure Brooklyn appreciates some one-on-one mommy time. He may not get much of that since he has three younger siblings. I'm guessing that Victoria is wearing one of her VB creations here, and oddly enough, she appears to be drowning in her own skirt. Perhaps that's an intentional look. I hope so because Victoria's obsession with her waistline couldn't possibly take her down to a lower weight without severe health consequences in the long run.
Miss Posh gave a delightful talk at this event, and she spoke of her difficulties as an up-and-coming designer while struggling to fulfill her duties as a mother to four children. She admits that trying to "do it all" often leaves her feeling "constantly guilty." Here are some excerpts of her speech: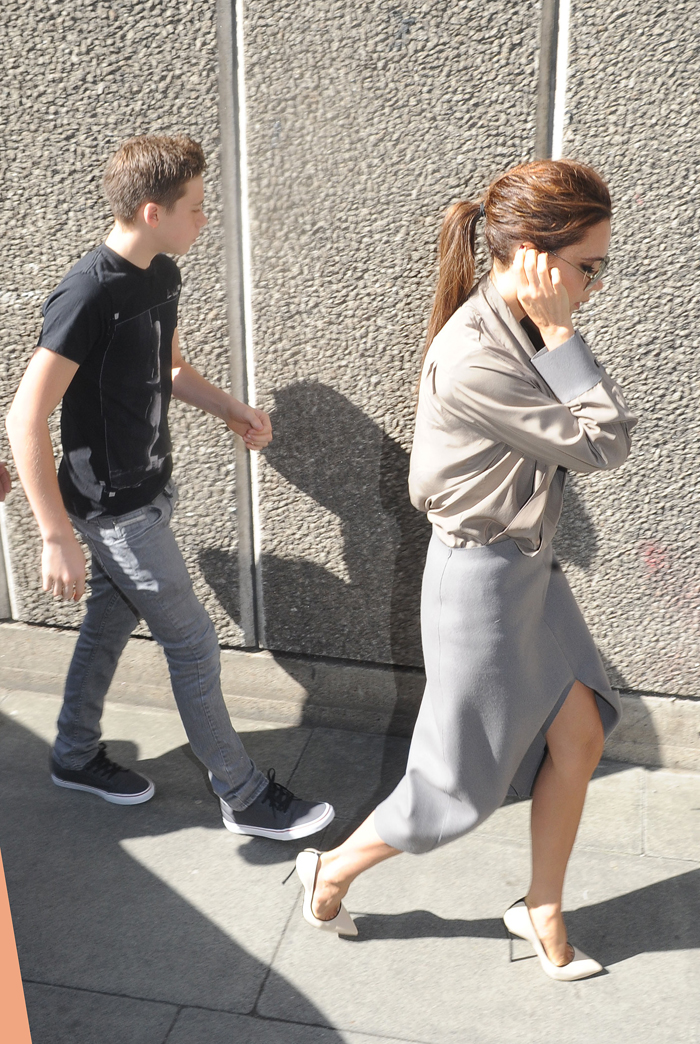 She feels so guilty juggling work & motherhood: "I think you feel so torn, don't you? But I've got great people who handle my schedule and everything does revolve around the children. So, if there's a parents' night or an Easter bonnet parade or a nativity play, whatever it might be, then I plan everything around that so I can always be there."

She thinks she's a nightmare bosss: "I'm a perfectionist, I like everything to be right. I'm probably a complete pain in the neck to work with because it is really important to me because I've grown this brand from nothing to where it is now."

Fashion is her passion: "There's a lot of people here, I hope I'm going to say something good now. I've always wanted to be involved in the fashion industry, I felt it in my tummy. At the beginning there was a lot of raised eyebrows, or those that could raise their eyebrows. When I started, i did one-on-one presentations, I'd talk for hours to people who didn't even speak English. I think a lot of people probably thought, 'Shut up, stop going on about a bloody grosgrain waistband!'"

Will she ever do London fashion week? "I'd never say never to showing in London, but I've got a great thing going in New York. Maybe one day."
[From Daily Mail]
I giggled a bit at the thought of Posh saying the word, "tummy" — she's so funny. Also, I appreciate Victoria admitting that she feels guilty while "doing it all" but being unable to stop (even though surely Isla Fisher and Drew Barrymore would say that Posh should just give up). Certainly, VB has a pretty high work ethic if she can force herself to work long hours even though David clearly makes enough money to support the entire family plus a small country full of orphans as well. At the same time, the Beckham children do seem rather well adjusted, and they're often spotted with their parents. Posh is just fine, and so is her family. Guilt is a wonderful means of checking balances though.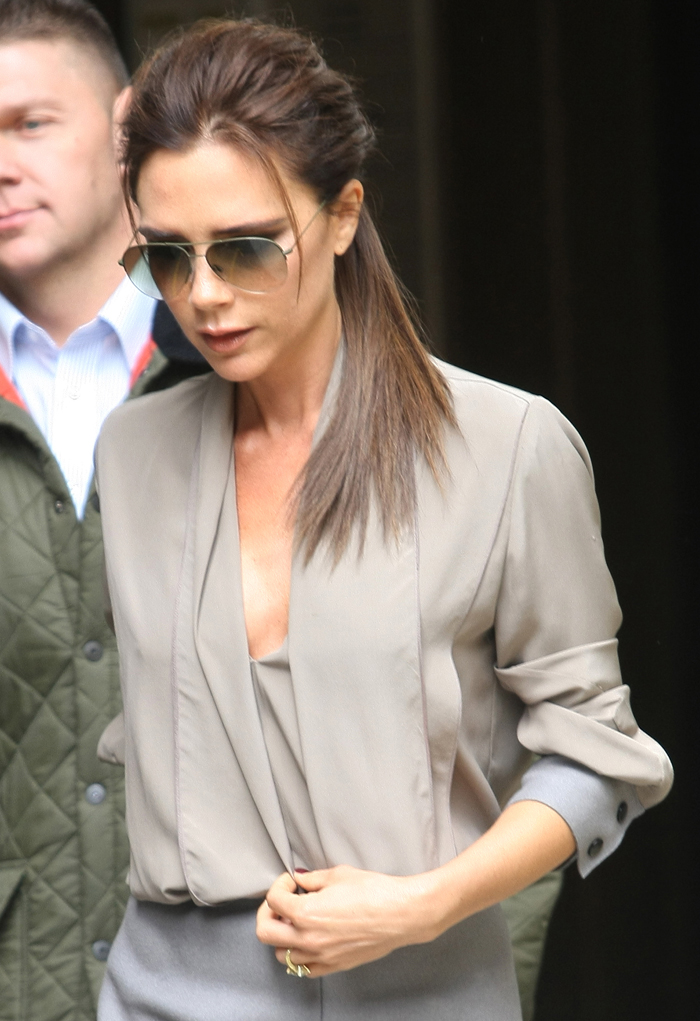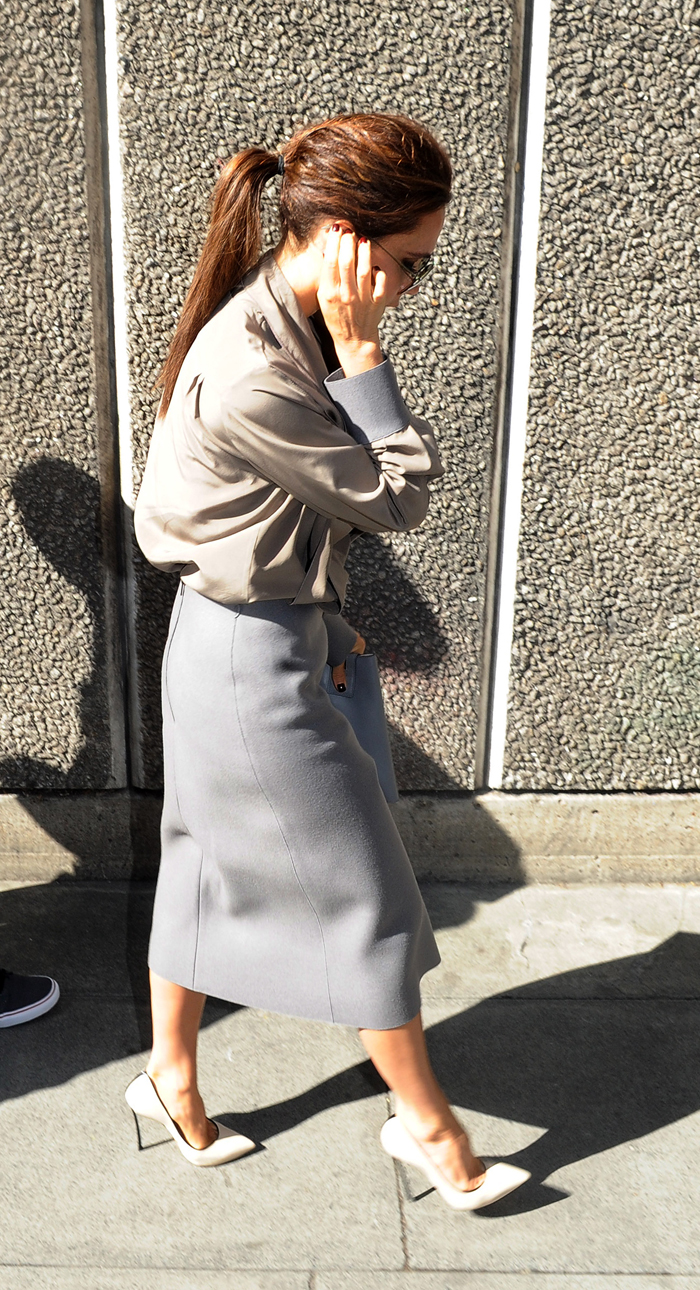 Photos courtesy of Fame/Flynet and WENN
Posted in
Parenthood
,
Victoria Beckham