Pamela Anderson barefoot and pregnant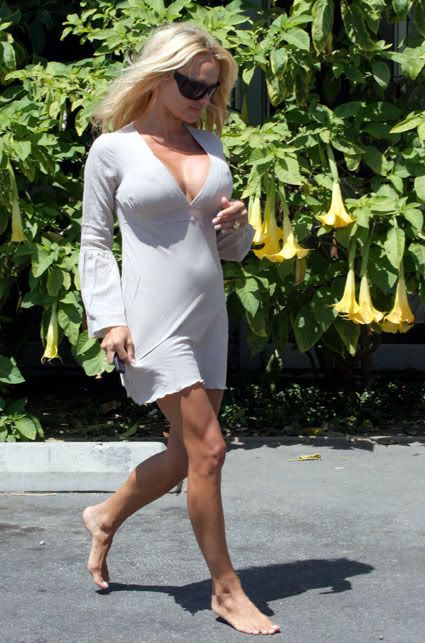 Pamela Anderson has made it clear that she wants to have more kids. Now that she's married to Kid Rock, she's even dropped hints that they're either trying or that she's already pregnant. When asked after the wedding by Ryan Seacrest if she wanted kids, she said "You never know there might be one in there now."
It looks like there is one in there - check out how her stomach is poking out. She even forgot to wear shoes, which may be a secret signal to the paparrazi that she's barefoot and pregnant.
Pam has two children by her ex, rocker Tommy Lee, Dylan, 8 and Brandon, 10. Kid Rock has a son, Robert James Ritchie Jr., 13, with a Detroit auto worker.
Pam is seen outside a veterinarian's office, but where's her pet? Check out the LA chick in the background with the bemused look.
Pictures found at Hollywoods Best, and taken by X17, who pointed out the bump.
Babies
|
Kid Rock
|
Pamela Anderson
|
Photos
Kid Rock broke up with his last girlfriend by text message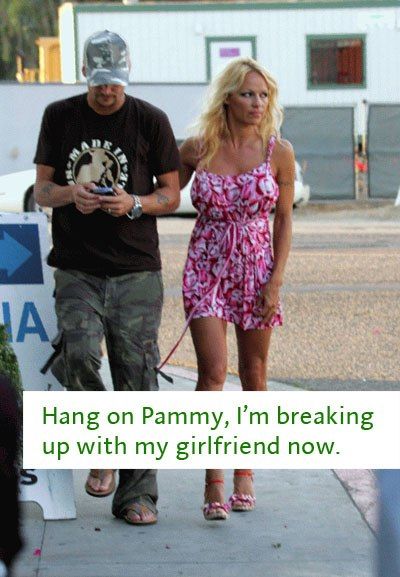 The model Kid Rock was dating right before he reconciled with Pamela Anderson is heartbroken by how quickly he moved on - and how coldly he dumped her. Jill Marie Gulseth, 22, tells In Touch that Kid Rock broke up with her unexpectedly via text message:
Sexy brunette Jill Marie Gulseth dated the rocker for three months earlier this year until he ditched her to focus on winning former fiancée Anderson back...
Gulseth tells In Touch magazine, "To be broken up with in a text was just so shocking and upsetting. I cried a lot to friends and family."
The 22-year-old beauty adds, "It's not easy seeing it in the news every day. I mean, I was just with him at his house a few weeks ago. When we were together, we never spoke about Pam. I honestly wasn't focused on his history - I was focused on our future."
The future's kind of hazy with Kid Rock, and this naive chick is much better off without him.
It seems to be kind of popular among rock stars to dump their girlfriends via SMS. Maroon 5 frontman Adam Levine told Jessica Simpson he was "really busy" and "needed space" in a text message. The poor girl never saw him again.
Picture from x17online.
Posted to
Arrogant
|
Breakups
|
Kid Rock
|
Pamela Anderson
Pamela Anderson Kid Rock wedding photos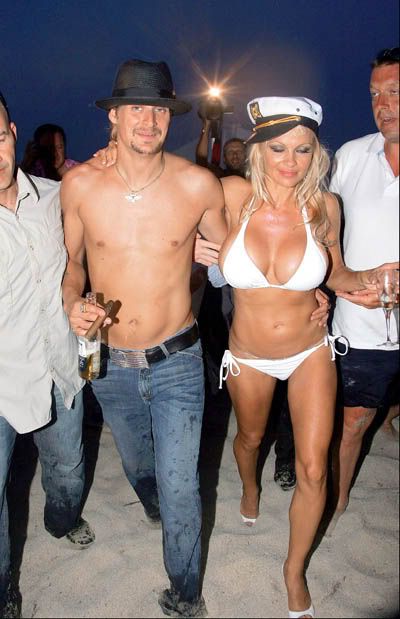 Pamela Anderson and Kid Rock got married in the first of the four weddings they're planning. They were wed on a yacht on Saturday in Saint Tropez, France. Pam wore a white bikini and captain's cap, and Kid Rock looked even less presentable shirtless in jeans and a fedora.
This is the second union for Anderson and the first for Rock (real name: Robert Ritchie) – and, apparently, there are more to come. "I'm going to get married a few times this month to the same guy," Anderson, 39, said July 26 during a news conference in Las Vegas. "We had to do Malibu, we've got to do Detroit, and we've got to do Nashville."
Anderson and Rock, 35, began dating in spring 2001. They became engaged on April 11, 2002, in the Las Vegas desert, but split the following year. Still, when they ran into each other early this month in Saint-Tropez on a mutual friend's yacht, the feelings were still there.
"It was like we'd never been apart," Rock told PEOPLE on July 11. "(I) love her to death." Anderson announced their engagement on her Web site on July 18.
So why the whirlwind nuptials? "It's just timing," Anderson told PEOPLE on Wednesday. "It's being in love, obviously, and it's time for me to move on with my life and get on with the rest of it with my kids."
These two are not going to last three months.
Like Eminem, Kid Rock reveals his misogynistic personality in his lyrics. Here's a preview of what these two did on their wedding night: (Warning, this is freaking gross.)
Now if you think the story is over just listen to this
I thought my mission was complete so I gave her a kiss
Then I was searchin for a towel to clean off my dickie
Cuz it was kinda wet all bloody and sticky
And to talk about gross heres something sicker than sick
The bitch dropped to her knees and licked the tip of my dick
I started trippin cause this was something I've never seen
The girl was more than a freak she was a sexual fiend
And when I thought that was as gross as one girl could get
She stuck her finger in her booty and then she licked it
Oh now this girl was much more to me than a freak
In my opinion she was plain nasty
But never the less I completed my duty
I got this freak and co-waxed the booty
Sorry for that, I could not resist posting those lyrics.
Here are Pam Anderson and Kid Rock on their wedding day. The woman got married to two different guys, wearing a bikini each time. So classy. [via]
Kid Rock
|
Pamela Anderson
|
Photos
|
Weddings
Kid Rock put in Swiss jail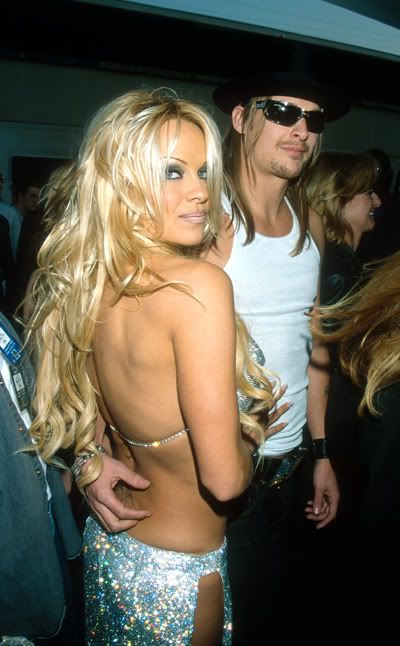 Kid Rock was temporarily placed in jail in Switzerland after a man was injured in a fight in his hotel room. It is assumed that he was involved:
Rock – real name Robert Ritchie – had been in the country to perform at the Montreux Jazz Festival on 30 June but was thrown into the clink after a brawl in his room left a man injured.
However, Rock, who has just got engaged to his longtime on/off girlfriend Pamela Anderson, was released without charge and is looking on the bright side of the incident – he's going to write a new song about it.
He chortles, "I just gotta figure out what rhymes with Switzerland!"
I live in Switzerland, and am continually amazed at how clean and well run everything is. The public pool near my house is nice enough for a four star resort, and I was at a rest stop by a clear lake with views of the alps last week. If Kid Rock was in jail, it was probably clean and totally adequate, if not comfortable.
Meanwhile Rock is engaged to buxom has-been Pamela Anderson, and there's a pretty believable rumor that they may get married next weekend:
Kid Rock and his new fiancée, Pamela Anderson, could be man and wife as early as next weekend, according to US reports.
The couple, who renewed their romance in St Tropez, France just two weeks ago before announcing their engagement, are reportedly planning a July 29 wedding.
According to American magazine Us Weekly, the couple is planning to exchange vows onboard the yacht where they fell in love all over again in St Tropez.
They are said to be planning a medium-sized wedding with 50-100 of their friends. I read on a bulletin board that they were already married, but I haven't seen that news anywhere else and don't think it's true.
Here is Pam Anderson on the beach in St. Tropez, because who really wants to look at pictures of Kid Rock? [via] It must be hard to find a colorist in the south of France. Kid Rock and Anderson are also shown at random older events.
Fights
|
Kid Rock
|
Pamela Anderson
|
Weddings
Scott Stapp gets sued

First Stapp's career was ruined forever by the timely release of a sex tape, and now he's getting sued by one of the female stars in the video:
The woman, identified as "Jane Doe" in a lawsuit filed in Miami on Thursday, said she believed the video would remain in Stapp's private possession. But a clip from the video turned up on the Internet.
The lawsuit seeks to prevent sale of the video and asks for unspecified damages, alleging the woman suffered emotional distress.
"For all purposes, she is the star of the females in the video," the lawsuit said.
The tape is now in limbo after Stapp and Rock won a temporary court order to prevent its distribution. I really hope that it comes out that Stapp released the video for self-promotion and is only whining about it to hide his involvement. Kid Rock says that Stapp's an idiot and that the video will only help sales of his new album.
Posted to
Kid Rock
|
Lawsuits
|
Scott Stapp
|
Sex Tapes