Naomi Campbell goes apeshit on her lover's yacht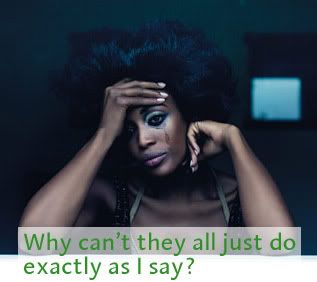 I wouldn't mind having a $1,000 purse or some frivolous jeans, but I usually don't envy the very rich or famous - except when it comes to travelling. They don't have to go through the incredible bullshit that the rest of us endure just to get from point A to B.
After flying from NY to London with a three hour delay, then waiting 45 minutes in line to get my flight changed since I missed my connection, then flying another two hours and being made to wait standing outside a locked baggage claim office for ten minutes while the receptionists looked at me without a nod of acknowledgment, I almost started freaking out. Did I mention that I was alone with a two year-old toddler and had been travelling for 13 hours? I understood air rage at that moment.
When my husband told me that Naomi Campbell trashed her lover's yacht, I thought "Well maybe she had a hard day." Her days never approach the level of difficulty an average person faces, and she was on a chi-chi yacht with space and air, not some cramped commercial airline with overperfumed stewardesses.
While the rest of us get pissy and bitchy, Naomi Campbell takes dramatic, violent action.
Bitch caused $55,000 worth of damage after she got in a tiff with the chef over the plain mozarella and dried ham appetizer that he served. It seems she doesn't understand simple Italian fare, and she coped by busting up the place:
The supermodel wrecked £30,000 of furniture and fittings — because she did not like his starters or the wine.
Fiery Naomi, 36, clashed with the chef aboard £1.5million yacht Nasma on Italy's Tuscan riviera.
Naomi asked him to create a memorable, romantic meal for her and new lover Badr Jafar, a Dubai-born prince.
But his simple tomato, mozzarella and dried ham starter with a local white wine failed to impress.
Reports say Naomi — already fired up after a row with a photographer — told him where to shove it, and he hit back in "colourful Tuscan dialect".
Staff on the 100ft yacht ducked as she lashed out at antiques, light fittings, china plates and glasses.
A man in Viareggio harbour said: "All hell seemed to break loose. All you could hear was shouting and screaming in English. There was the sound of plates being broken.
"Some of the crew later said the kitchen was a complete mess and the curtains and cushions had all been ripped apart."
The chef, called Andrea, works at Viareggio restaurant il Porto.
A colleague said last night: "He wouldn't have taken insults from Naomi."
She needs to get medicated and go into therapy. I think she also should get dropped from all her current ad campaigns, because she's not going to change unless it hits her where it hurts. Hopefully one of the libel suits against her will also stick - hard.
Here she is looking like the victim for once. (Why do magazines do this to women? I usually don't complain about objectification, but this is ridiculous. It's Naomi, though, so that's ok.) These are from Style magazine and are low resolution.
Abusive
|
Arrogant
|
Fights
|
Naomi Campbell
Costume Institute Gala over 100 photos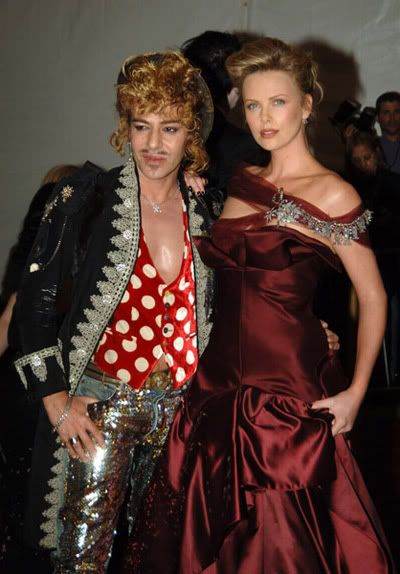 The Costume Institute Gala at the Metropolitan Museum of Art held a ball last night to celebrate the opening of an exhibit on British design. Sienna Miller, wearing an awful gold sequined minidress and black tights, served as co-chair for the event.
The star-studded Costume Institute Gala was the opening event for a new exhibition celebrating British design at New York's prestigious Metropolitan Museum of Art.
The flamboyant show, made up of themed rooms including a Hunt Ball and a Gentleman's Club, is the latest example of the city's growing obsession with all things from across the pond.
Celebrities from the UK including Liz Hurley, Kate Moss and Naomi Campbell put on their glad rags for the lavish event.
The Americans were represented by A-listers including Jennifer Lopez, Sarah Jessica Parker and Richard Gere.
The British-born editor of American Vogue, Anna Wintour, swept in first.
Miller, who teamed her glittering frock with opaque black tights and wore her hair tied back in a simple ponytail, shared the limelight with Christopher Bailey, the creative director of Burberry.
He and Wintour were the starlet's fellow co-chairs. The fashion house and Vogue publisher Condé Nast have sponsored the exhibition.
The guy dressed like a cabaret pirate posing with Charlize Theron is Dior designer John Galiano. He's responsible for her monstrosity of an Oscar gown with the giant shoulder bow. Sienna Miller is shown with Christopher Bailey, Burberry's creative director.
We have over 100 pictures from the event. Stars and designers attending include Alexander McQueen, Sarah Jessica Parker, Jennifer Lopez, Marc Anthony, John Galliano, Charlize Theron, Lindsay Lohan, Victoria Beckham, Emmy Rossum, Eva Mendes, Gisele Bundchen, Gretchen Mol, Jessica Alba, Josh Hartnett, Lenny Kravitz, Donatella Versace, Rupert Everett, Linda Evangelista and Amber Valetta, Jessica Alba, Marcia Gay Harden, Mary-Kate Olsen, Ashley Olsen, Melania Trump, Donald Trump, Molly Sims, Rosario Dawson, Scarlett Johansson, Stella McCartney, Amanda Peet, Andre Leon Talley, Naomi Campbell, Angela Lindvall, Angie Harmon, Billie Joe Armstrong of Green Day, Bridget Moynahan, Tom Brady, Chloe Sevigny, Ciara, Dita Von Teese and Marliyn Manson, Drew Barrymore, Elizabeth Hurley, Erin O'Connor, Matthew Williamson, Eve, Gina Gershon, Ginnifer Goodwin, Ivana Trump, Jacquetta Wheeler, Jason Lewis, Jessica Stam, John Legend, Johnny Rotten, Josh Lucas, Joy Bryant, Julia Stegner, Iselin Steiro, Karolina Kurkova, Lily Cole, Lauren Bush, Lily Donaldson, Gemma Ward, Liv Tyler, Francisco Costa, Lydia Hearst, Mandy Moore, Minnie Driver, Nick Cannon, Petra Nemcova, Rachel Roy, Damon Dash, Ralph Fiennes, Richard Gere, Cary Lowell, Thandie Newton, Selma Blair, Shalom Harlow, Sienna Miller, Christopher Bailey, designer for Burberry, Zooey Deschanel, Sophie Dahl, Ivanka Trump, Mark Ruffalo, Taye Diggs, Idima Menzel, and Sarah Wynter.






Beckham
|
Charlize Theron
|
Chloe Sevigny
|
Drew Barrymore
|
Elizabeth Hurley
|
Eva Mendes
|
Fashion
|
Gisele Bundchen
|
J.Lo
|
Jennifer Lopez
|
Jessica Alba
|
Josh Hartnett
|
Linda Evangelista
|
Liv Tyler
|
Mandy Moore
|
Marc Anthony
|
Mary-Kate Olsen
|
Naomi Campbell
|
Parties
|
Petra Nemcova
|
Photos
|
Rosario Dawson
|
Sarah Jessica Parker
|
Scarlett Johansson
|
Sienna Miller
|
Victoria Beckham
Page Six is so over; Naomi Campbell to appear on Oprah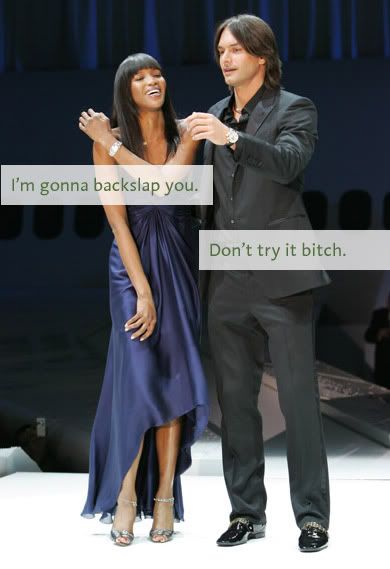 The NY Post is embroiled in a scandal involving a senior editor of Page Six, Jared Paul Stern, asking for huge bribes in exchange for positive reporting. The news on Page Six seems to be going downhill fast. Although it is Monday and gossip is harder to find, we can't help looking at the NY rag with an overly-critical eye. It seems like they could make up anything at this point.
Of course that's true about most newspapers lately. Scandals involving plaguarizing journalists rocked USA Today, The New York Times, and The New Republic in the last few years.
Page Six is seriously lame today, and leads with a story of "dueling dwarf bands." They did have this gem, though: evil bitch Naomi Campbell may appear on Oprah to cleanse her soul. She's also said to be fighting with Diddy after she pulled out of his cooking show. Now why would he still want her to come? She must be fabulous at tenderizing:
We hear
Campbell will sit down with Oprah Winfrey to talk about her anger-management issues...
Embattled supermodel Naomi Campbell is feuding with her old pal, Sean "Puffy" Combs. The two - who until recently would travel the world together and party till dawn - are not talking after Campbell unexpectedly pulled out of the new NBC show Combs is producing, "Cooking Showdown," which pairs celebrities with superchefs. "Naomi found out Puff was the producer and dropped out," said our spy. Combs, who will have to do with just Ja Rule on his show, is mystified as to why she's so mad at him.
You know Oprah is not going to be as hard on Naomi as she was on James Fry. Maybe Jared Paul Stern should go on Oprah to redeem himself too. He can sit there looking at his hands and act as if he's sorry that Page Six made up all those stories to try to embezzle money out of innocent billionaries and socialites.
The NY Daily News says that Page Six's positive coverage of "Girls Gone Wild" mogul Joe Francis was totally influenced by Francis' star treatment of another Daily News coumnist, Richard Johnson. Francis held a lavish bachelor party for Johnson at his resort in Mexico and flew in all of Johnson's friends on his private jet. Page Six had a glowing report on Francis that ran afterwards, saying that he wanted to get into publishing to become "the next Hugh Hefner."
Page Six is also said to have a chummy relationship with richie Ron Perelman, who recently jilted his wife Ellen Barkin.
Buh-bye to that shitty rag.
Posted to
Abusive
|
Naomi Campbell
|
Oprah
|
Scandals
Naomi Campbell is still getting work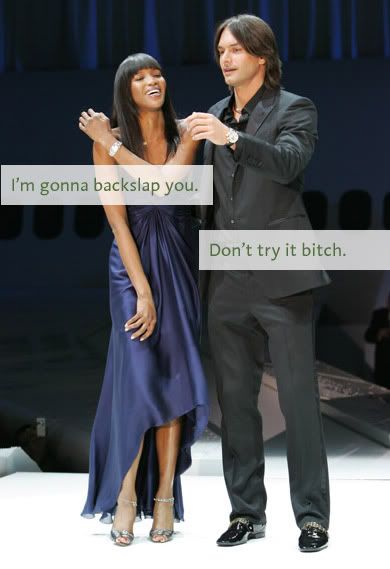 Naomi Campbell is still working as a model after hitting her maid so hard with a cell phone that she couldn't see straight and required stitches.
Campbell was in Geneva, Switzerland yesterday working for Mont Blanc. She wore the most expensive and dangerous watch Mont Blanc has ever made. Also present was model Marcus Schenkenberg, who looked bemused. Johnny Depp and his French wife Vanessa Paradis attended the show. We will publish pictures of Depp and Paradis shortly.
Campbell's scheduled appearance on P. Diddy's celebrity cooking show has been canceled, which may or may not be related to the abuse charges against her.
Campbell also made an ironic peacekeeping visit to South Africa to meet with Netson Mandela after the incident. The press was not allowed to be present at the event.
Here is Campbell modeling for Mont Blanc. The company should have hired a better spokesmodel.
Abusive
|
Arrogant
|
Fashion
|
Naomi Campbell
|
Photos
Naomi Campbell is way worse than Pumkin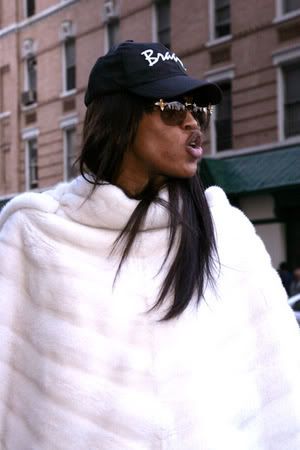 Naomi Campbell doesn't just hit, bite, headbutt and throw objects at people, she also spits. Campbell spat in a security guard's face at a U2 concert a few months ago::
The famously short-fused hottie hurled abuse at a security guard during a U2 concert last October after being told to stop sitting on a barrier, the source told the Daily News.
"Campbell told the security officer that she was not going to get down and that he was a f------ a------," the source revealed.
"She told him to go f--- himself and to get the f--- away from her. She then spat in the officer's face."
The source said the abuse was witnessed by two other security guards and a senior Garden official was called in to intervene.
Campbell was not even removed from the concert and was characteristically rude when officers gave her a verbal warning. The abused guard's harrassment complaint to police was closed because "Campbell's actions were considered more rude than harassing."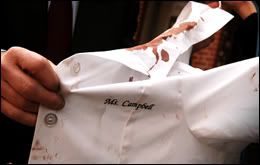 Meanwhile the maid that Campbell struck with a crystal-encrusted Blackberry on Thursday said that she suffered from blurred vision and extreme blood loss after the attack.
Cops have also recovered a mobile phone from Campbell's house that may be the one she used to hit the maid from behind. Campbell faces up to 7 years in jail if she's convicted.
If Campbell wasn't famous she would have been hauled away for spitting at a security guard at a concert. Let's hope she has severe legal and monetary consequences for this latest episode.
Posted to
Abusive
|
Arrests
|
Naomi Campbell
Naomi Campbell smacked her housekeeper with a bejeweled Blackberry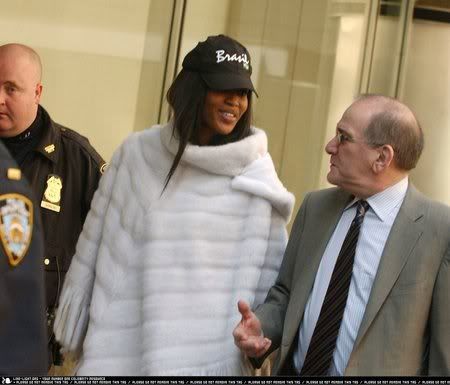 Naomi Campbell hid her handcuffs under a white poncho yesterday morning when the cops hauled her away for hitting her housekeeper in the head with a crystal-encrusted Blackberry.
Campbell claimed the housekeeper stole a pair of jeans, provoking the attack. Campbell hit the poor woman so hard she required four stitches. She then is asked her staff to say that the woman fell and hit her head.
"You f------ b----!" the cantankerous catwalker shrieked yesterday inside her Park Ave. penthouse apartment, accusing her maid, Ana Scolavino, of stealing a pair of $200 Chip & Pepper jeans, sources said.
Raging, Campbell cracked the BlackBerry against her housekeeper's head at 8 a.m. - and then demanded her staff tell cops the 42-year-old maid had hurt herself falling, sources said.
But the sinewy supermodel's servant alerted officials at Lenox Hill Hospital, and soon cops arrived at Campbell's $3.5 million apartment to haul her away.
Campbell, 35, insisted she had no idea what cops were talking about and showed them a flip-phone, not the BlackBerry, as supposed proof, sources said.
But the cops cuffed her - disappointing an Oprah Winfrey camera crew waiting to film her for a cooking segment.
Ever the diva, Campbell hid the handcuffs under a white fur poncho. Sources said she also asked to ride in her own car to the police stationhouse and then paused as her minions begged cops to let them fix her bangs before she was escorted outside. The requests were denied.
Campbell is known for her violent outbursts, and has a long record of abusing her help. Glitterati has a good overview of Campbell's history, which spans at least eight years and includes guilty pleas for past abuse charges.
We hope Campbell gets more than a slap on the wrist for this latest incident, and that her housekeeper successfully sues her for a huge sum.
Pictures [via]
Abusive
|
Arrests
|
Arrogant
|
Naomi Campbell
|
Photos