Natalie Portman's pokies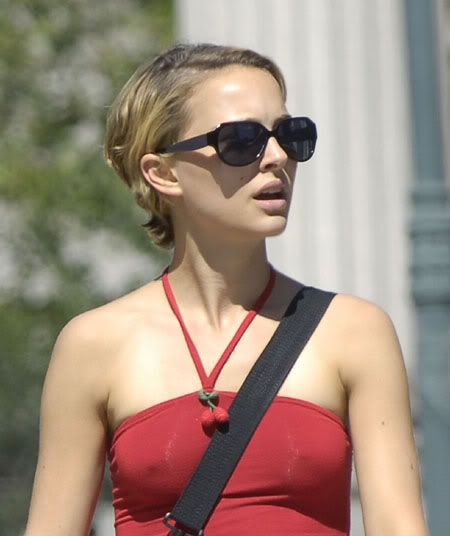 Natalie Portman is going to appear nude in the upcoming "Goya's Ghost," and she's auditioning to play a hooker in another movie so she probably doesn't care that you can see her nipples through this top she's wearing. She also shot some nude scenes for "Closer" in 2004 which were cut from the film.
Paris Hilton shows up for every event, has a sex video out and has had scores of nip and vag slips yet she refuses to appear nude on screen. Who do you think people have more respect for, Paris or Natalie?
Natalie Portman
|
Nude
|
Photos
Paris Hilton lookalike in Playboy (NSFW)

Canadian Natalie Reid has perfected the vacant stare and flat affect of Paris Hilton, and one of the commentors on Oh No They Didn't! points out that she even has a wonky eye like Paris. Natalie's bad eye seems to be her right one, while Paris' lazy eye is her left, though. Natalie's jaw is also a bit wider, but the resemblance is uncanny. Reid says that she hung out once with Paris at her Hollywood home, and said that Paris was "totally in shock" to be face to face with her doppleganger.
It doesn't really matter if Paris refuses to do Playboy. We've all seen her goodies, and as Natalie shows she's pretty interchangeable.
Pictures [via]
Magazines
|
Nude
|
Paris Hilton
Jennifer Aniston's Male Crew Took off Their Shirts for Her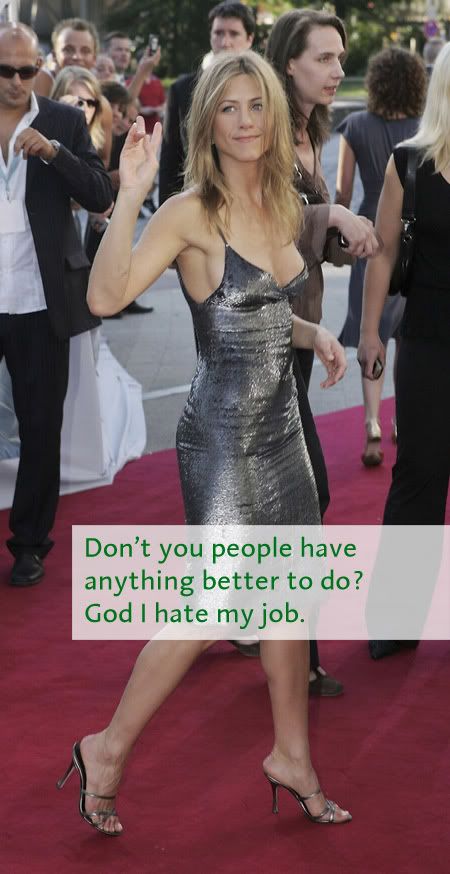 'Friends' star Jennifer Aniston revealed it lately that she was feeling a bit uncomfortable while filming a naked scene in her movie 'The Break Up' with her current beau Vince Vaughn. Jen says that she is comfortable with her body and don't have much problems with being naked but not in front of everybody. She had to walk around naked for an entire day while filming the sex scene.
Her crew really supported her in that. She told Elle magazine that every time she used to come back to her room after a shot, her wardrobe assistants and make-up guys used to take off their shirts.
Is Jen sure that was a supporting gesture? That seems like an inviting signal to me. You never know with guys, as sex takes the topmost place in their mind.
This article was originally published on Celebguru and is used under a content share agreement while Celebitchy is on vacation.
Posted to
Jennifer Aniston
|
Movies
|
Nude
Paris Hilton crotch shot (NSFW)

Paris Hilton says that her dumb public personae is all a put-on, and that she invented herself for the cameras:
"The Simple Life is a reality show," she said, "and people might assume it's real. But it's fake. All reality shows are fake basically. When you have a camera on you, you are not going to act yourself.
"So before I started the show I thought I'd make a character like the movies Legally Blonde and Clueless mixed together... The public think they know me but they really don't."
Paris doesn't have the brains to be Elle Woods or Cher Horowitz, and she's flattering herself if she thinks people perceive her as fashionably ditzy but smart and well organized.
Paris also says she's uh, naturally shy, but that she has to live it up when she's out at an event because she's getting paid to be there.
Here is some evidence that Paris is either really forgetful, not shy at all, or a bit of both. She went commando in a red polka-dot dress recently. NSFW
Thanks to James at BlogNYC for finding the pics.
Have a great weekend everyone! Sorry posting was light today. I got a lot of spam from crazed Marissa Cooper fans. Blame them.
Update: Upon further close inspection, it looks like Paris was wearing underwear, but that they were the tiny string bikini type and were pushed to the side.
Nude
|
Paris Hilton
|
Photos
|
Sluts
Courteney Cox nipple slip

Coco Cox pulled her mom's top down while they were swimming. Courtney seems to think it's funny, and these pictures are pretty cute. My husband appreciated them too.
Jennifer Aniston sent Courteney Cox a bizarre present for her 42nd birthday on June 15th - a transexual performer that looked like her character Rachel Green from "Friends":
According to WENN since Aniston missed Cox's 42nd birthday celebrations Thursday to promote her new film, "The Break-Up," in the UK she was desperate to show the actress she hadn't forgotten the special date.
So - as described above Aniston thought up a gift to surprise Cox Arquette on her big day.
Aniston reportedly said, "I made it up to her by sending a tranny impersonator of Rachel. He can cheer anyone up."
Too bad there aren't any pictures of the tranny with Courteney. That would have been much better than Tori Spelling and her tranny inpersonator.
Courteney has a great beach body and hasn't succumbed to the super-thin look of some celebrity mothers. There's a picture of her power walking with weights in the latest Us Weekly.
Pictures from Egotastic via Mollygood.
Babies
|
Courteney Cox
|
Nude
|
Photos
Pamela Anderson nude in a shop window (no nips, so it's SFW)

Pamela Anderson is on an European tour to raise money and awareness for animal rights and AIDS. She appeared at Stella McCartney's boutique in London yesterday to speak out for PETA against fur. Anderson held a party and awards show for celebrities who have worked with PETA. Gillian Anderson and Sadie Frost, Jude Law's ex, were in attendance. She promised that if she raised enough money for PETA she would strip naked in the shop window, and she didn't dissapoint - except for the thong.
At the event Pammy said: "My message would be to please start using fake fur.
It's terrible because people see stars like J.Lo and Beyonce wearing fur and they don't think about the cruelty that goes into it.
"I'm here to hopefully raise a lot of money and if we raise enough I'll strip naked in the shop window.
Frost added: "I've always been an animal lover. People should be made aware of all the issues. Some people think that the whole wearing fur thing is glamorous but you can look good without it. Hopefully people will stop wearing it."
Redknapp also showed her support for PETA saying: "It's something I feel very strongly about. If you can put a fur jacket on you should be able to watch the animal being slaughtered so I'm really behind Peta's work."
I do eat meat but I feel the same way about fur. I would like to talk smack to people wearing fur, but the only people I see wearing it are really old ladies who don't seem to know better.
Along with Beyonce and J.Lo, another "celebrity" who wears fur with false pride is Sharon Stone. PETA would attack her, but she's such a has-been that she's under their radar.
Here is Anderson in the shop window of Stella McCartney's London boutique on 6/28 [via] and in Greece for MAC's AIDS fund on 6/26. [via]
What's wrong with Anderson's left arm? She has red marks on it that don't look healthy. Is that related to hepatitis or just a weird bruise?
The poster of these pictures from Greece at Saving Face, dexterangelo7, notes that they're an "amazing comparison of airbrushed vs. real life pam."
Good Causes
|
Nude