Mariah Carey premieres "Say Something" on TRL - with video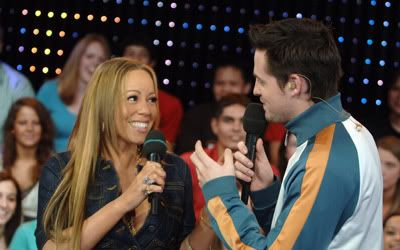 Mariah Carey appeared on MTV's Total Request Live yesterday to premiere her new video with Snoop Dogg and Pharrell, "Say Something." It's not that catchy of a song, and the background track is too repetitive. The video jumps around to different luxurious scenes in Paris and in high end shops, and although it's interesting it's not fabulous.
Here is Mariah at Total Request Live and outside the MTV studios yesterday. Sure she looks good now that she's lost weight, but why does she continue to dress like she's 14?
Pictures [via]
Here's the video for "Say Something"

Mariah Carey
|
Music
|
Snoop Dogg
|
Video
Mariah Carey: Snoop is a bigger diva than me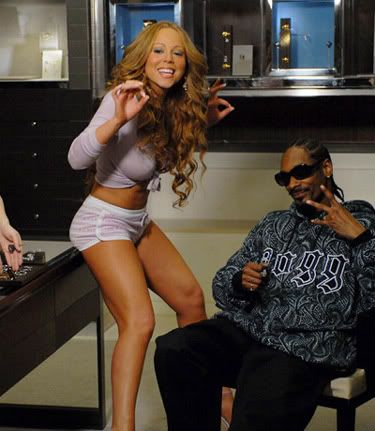 Now we know the reason why only Pharrell came to Paris to film his part in the Say Something video - Snoop would have been too expensive:
MARIAH CAREY insists rapper SNOOP DOGG is such a diva she decided it would be best he filmed his contribution to her forthcoming music video in Los Angeles, rather than fly his entourage to Paris, France. Carey and PHARRELL WILLIAMS shot the majority of the promo for SAY SOMETHIN' in the French capital last week... while Snoop filmed his section in LA on Sunday. Carey tells MTV, "If you guys think I'm a diva and I have requirements, Snoop is the next level. He's the hip-hop king. "
Mariah goes on to emphasize how over-the-top Snoop's requirements are, without getting into specifics. Maybe he just didn't feel like flying to Europe to work and decided it would be easier if the work came to him.
Mariah may be taking advantage of her 20 pound weight loss to become a spokesperson for a fashion house. She is said to have been noticed by Louis Vuitton higher-ups while filming "Say Something" in their Paris store. Her rep said that "she is in talks" with "quite a few fashion labels." [via]
Mariah, no matter what you say Snoop cannot out-diva you.
Here are pictures of the two filming "Say Something" in LA. [via]
Three more including Carey in a bikini among the LV suitcases after the jump.
Continue reading "Mariah Carey: Snoop is a bigger diva than me" »
Posted to
Mariah Carey
|
Music
|
Photos
|
Snoop Dogg