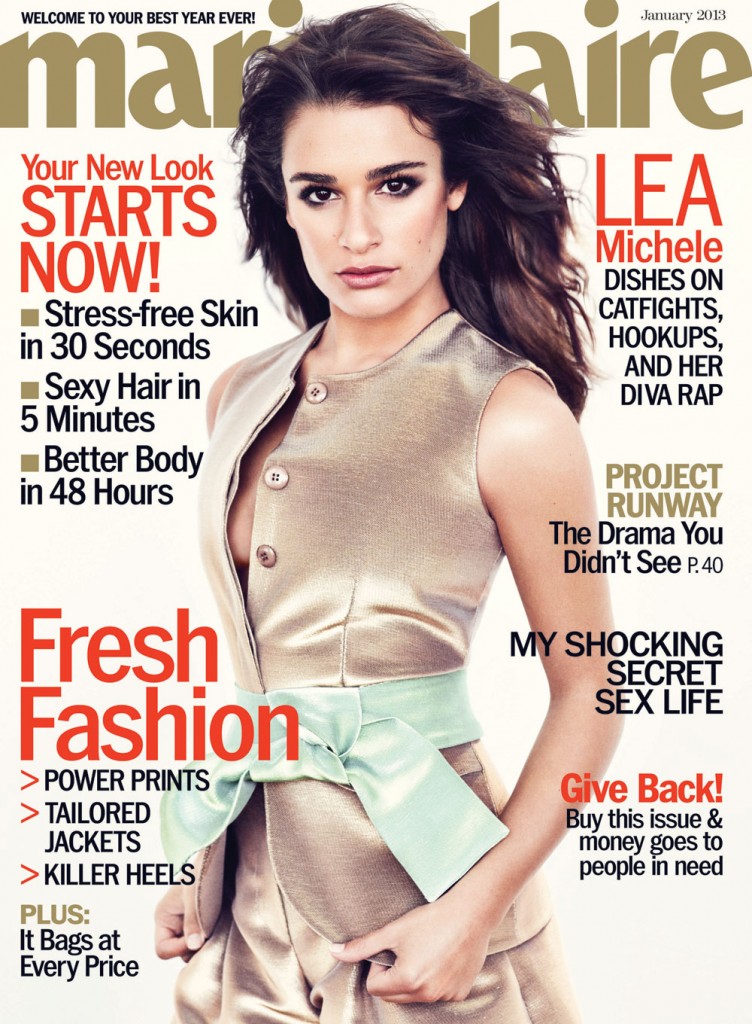 Lea Michele covers the January issue of Marie Claire. The publishers sent us some advance quotes from her interview, and she had me rolling my eyes as usual. I did like some of what Lea said about how in love she is, and how much her boyfriend, Cory Montieth, supports her. She sounds like she adores Cory and is grateful to have him in her life. She also sounds as full of herself as we've come to expect from her. (See this interview, and these two incidents among others.) Lea addresses the diva rumors, which she's done before in almost the exact same way, and she also denies that she was in a feud with Kate Hudson when they worked together on Glee. That part of the interview is particularly funny to me, as is the part where she talks to her boobs. I mean funny ridiculous, not intentionally funny.
On the diva rumors
"I am a very outspoken person, and if something makes me uncomfortable, you will know that it makes be uncomfortable, but that's as far as it goes. I can assure you that [diva rumors] aren't real. It's super-frustrating sometimes, and I used to fight back, but now I feel like, You can think what you want to think about me – that's OK. I have the most amazing fans, friends, and family members who have stood by me, and I know that my cast and crew really enjoy working with me. That's all that matters."

On a rumored feud with Kate Hudson
This past summer the glossies practically licked their lips relaying work of an on-set feud between Michele and Glee guest star Kate Hudson, who is alleged to have called the stint a nightmare – a rumor Michele flatly denies. She says that when Hudson heard what the tabloids were saying, she called Michele and told her, "I just heard about that, and it f**king sucks. I want you to know I think you're amazing." After that, Michele adds, Hudson went "straight to the top of my list because it was so classy of her to take a minute to [address the rumor], even though we both knew it was the biggest piece of crap in the whole world. I told her 'I love you, and I adore you. Thank you so much for creating a human moment with me.'"

On her boyfriend Cory Monteith
She recently confirmed that she's dating Cory Monteith, her strapping 6'3'' costar, better known as Finn Hudson, also her love interest on the show: "I don't even remember a time when he wasn't my boyfriend. No one knows me better than Cory. No one knows what it's been like to go through this more than he does. Feeling like you have that net underneath you allows you to jump higher and go farther. He makes me feel like I can do anything. For the first time in my life, I feel really, really settled and happy. I feel like the luckiest girl in the world."

She talks to her boobs like they have personalities
What gives with the new J.Lo vibe?: "These babies are great" [she jokes, pointing to her breasts]. They are my prizewinners. For a while they were out and about, showing off on Broadway every night, then they came to L.A. and were like, 'No one else looks like me here!' They were nervous to make their appearance but feel they've earned their place. So they asked if they could come out, and I was like, 'All right, you guys.' They definitely rose to the occasion, so I'm going to continue to give them more opportunities."
Kaiser and I had a very amusing email exchange about this, and she could see joking about talking to one's boobs. She has a great rack, though, and I'm flat chested. It would never occur to me to give my boobs any kind of personality or voice. They're shy, and I try to boost them with padding and such, but they're not separate entities, nor will they ever be. I just spent way too much time looking through photos of Lea Michele on the red carpet. She doesn't show her boobs all the time, but she's been bringing them out quite a bit lately. This reminds me that there were rumors that she got a boob job when she was looking particularly busty in May. So maybe that's why she considers her boobs as separate – they're new.
Also, wasn't that hilarious how she claims to have responded to Kate Hudson reaching out to her? She says she told Kate "I love you, and I adore you. Thank you so much for creating a human moment with me." Who the hell claims to talk like that? Who the hell claims to talk to their boobs? Crazy divas, that's who.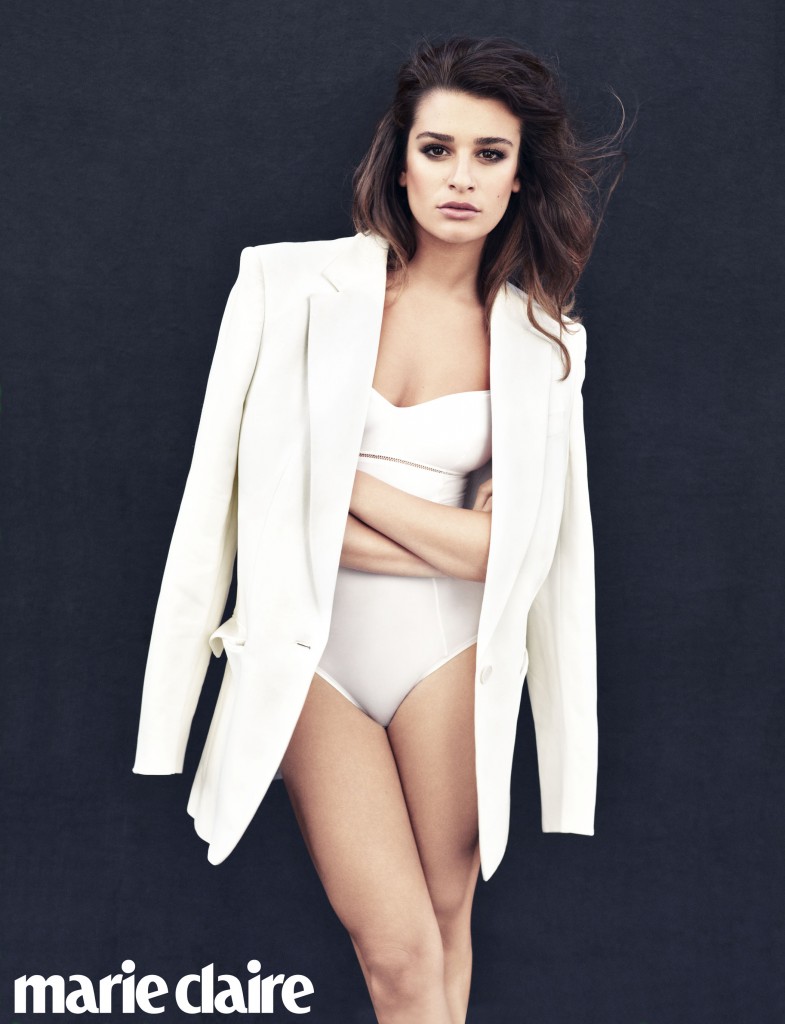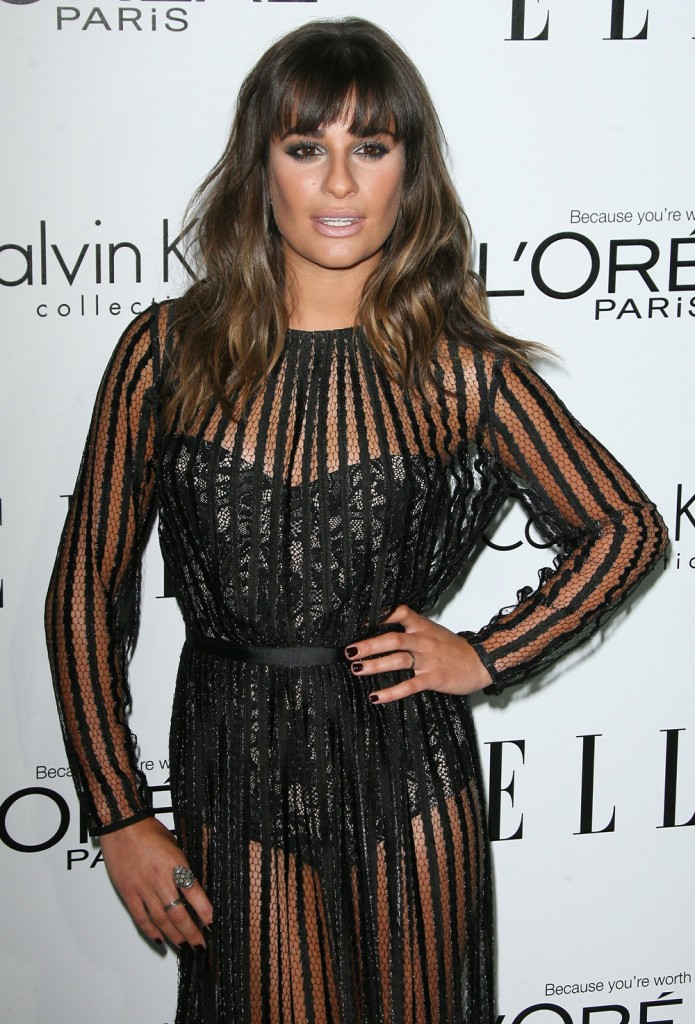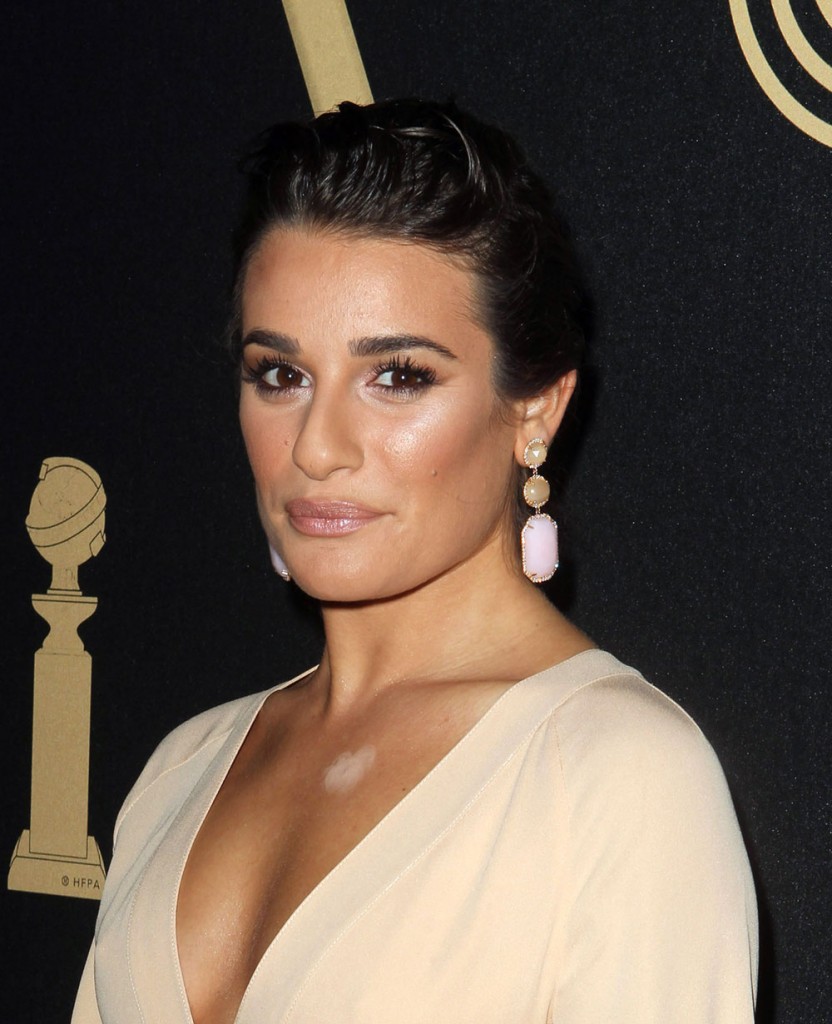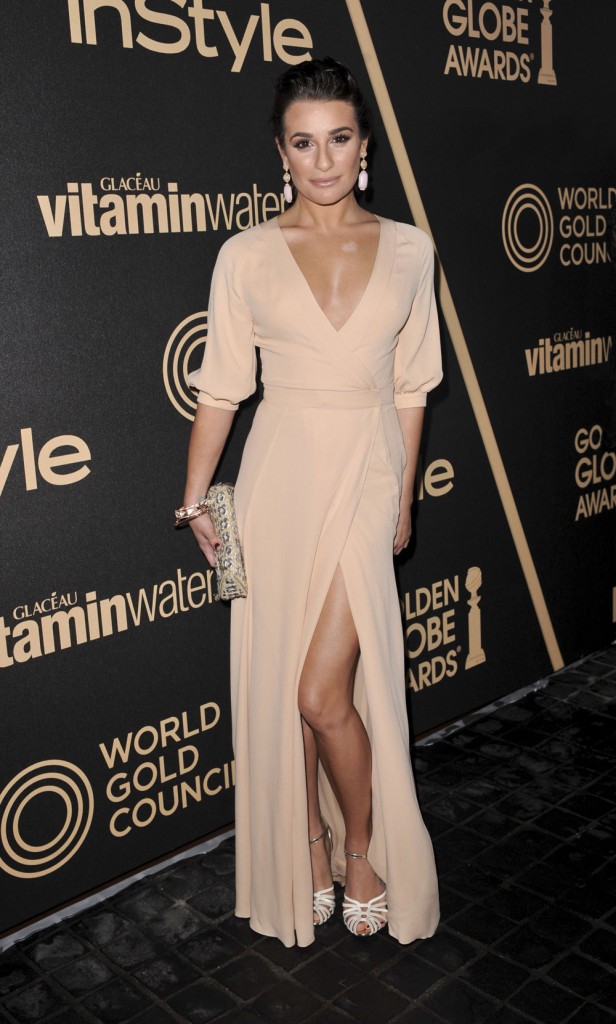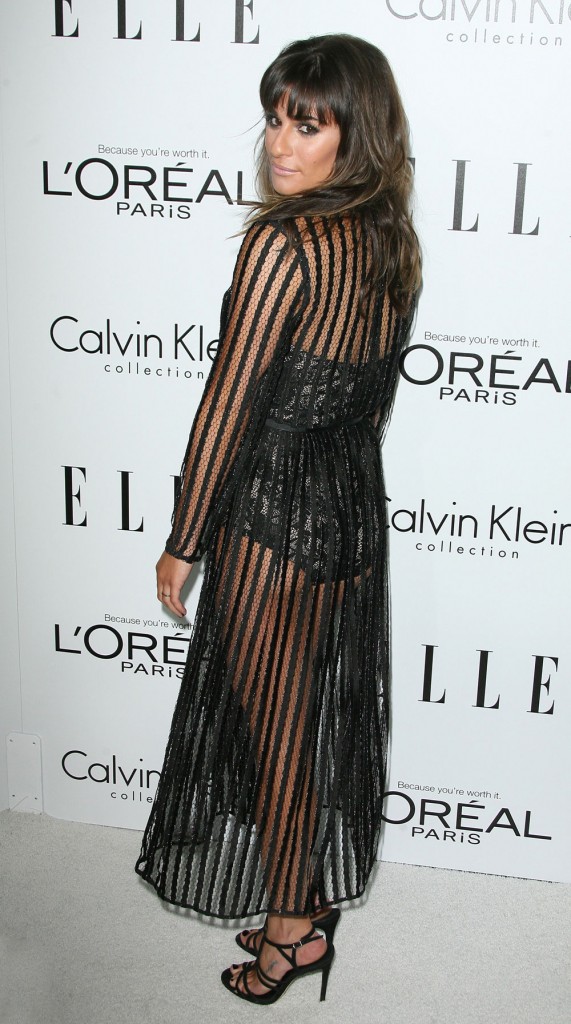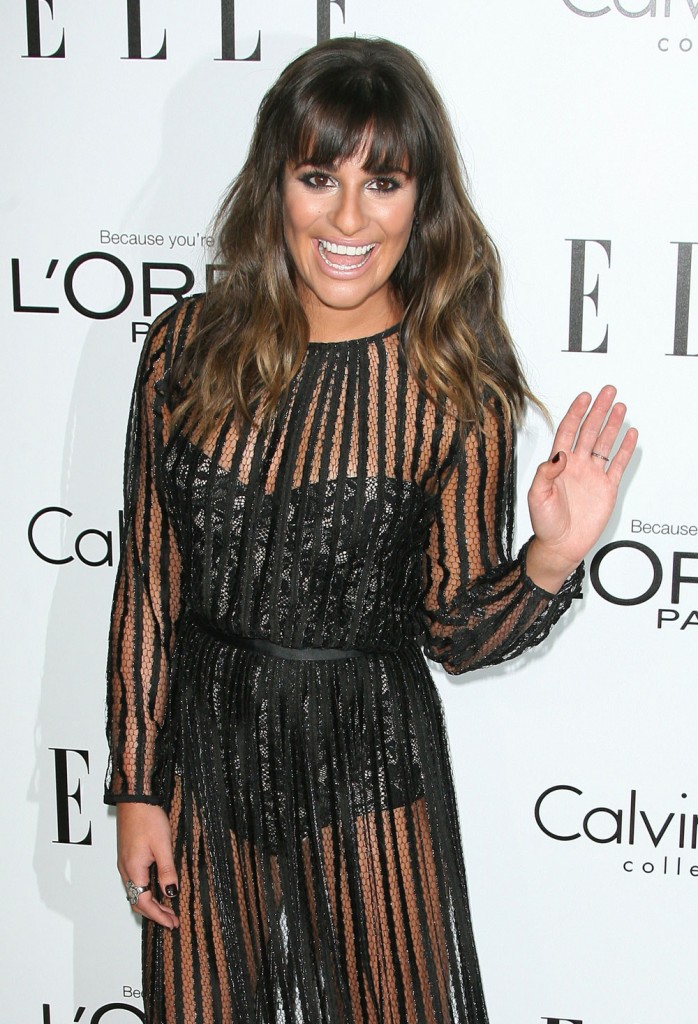 Lea is shown on 11-29 and 10-15. Credit: WENN.com