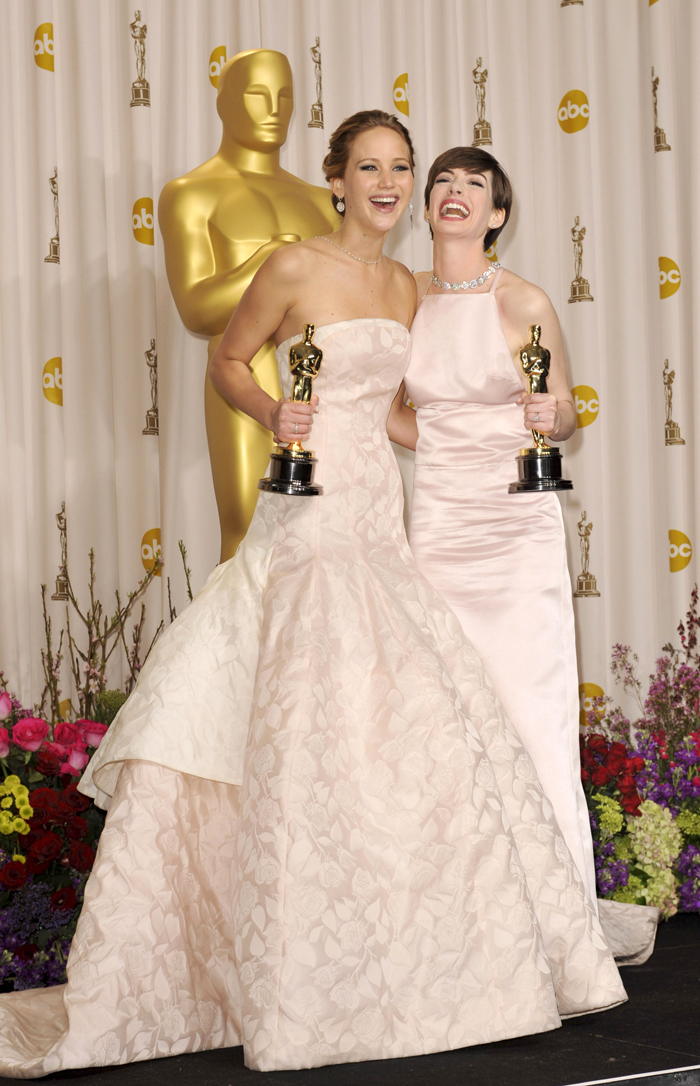 In the aftermath of the Oscars, the focus was on the two female winners of the evening — Jennifer Lawrence and Anne Hathaway. Everyone pretty much forgot about the dudes, right? Well, the responses towards the two couldn't be more different, as everyone loved Jennifer for tripping her way up the stairs and forgetting to thank Harvey Weinstein, and everyone attacked Anne Hathaway for giving an (obviously) carefully rehearsed speech and basically conducting the most annoying Oscar campaign in recent years. I agree with Kaiser that Anne wasn't really that bad during her campaign, but she was just everywhere at once and on the cover of every magazine with a Taylor Swift-esque feigned innocence and a fake little girl voice in every interview.
Somehow, JLaw managed to also participate in a rather aggressive campaign, yet one was left with the feeling that she'd be a great drinking companion. Collectively, we wanted more from JLaw, and we wanted Anne to take an extended break out of the spotlight. Once the awards were handed out and the afterglow faded, Ann was left crying nonstop because of the backlash, and JLaw immediately hopped on an airplane to Hawaii where she smoked some doobs. These two represent polar opposites of the Hollywood spectrum, and NYMag put together a great piece on why people feel so differently about Anne and JLaw.
Even though Jennifer is now ping-ponging between reshoots for Catching Fire and playing Christian Bale's wife in Abscam, she's still got some previous interviews that are floating to the surface. In a talk with Fabulous mag (via Us Weekly), Jennifer discusses her own personality in front of the media. She basically calls herself a rabid chihuahua who has now idea what she's talking about until after the fact. Again, she comes off pretty cute and likeable even while claiming that she's a mess: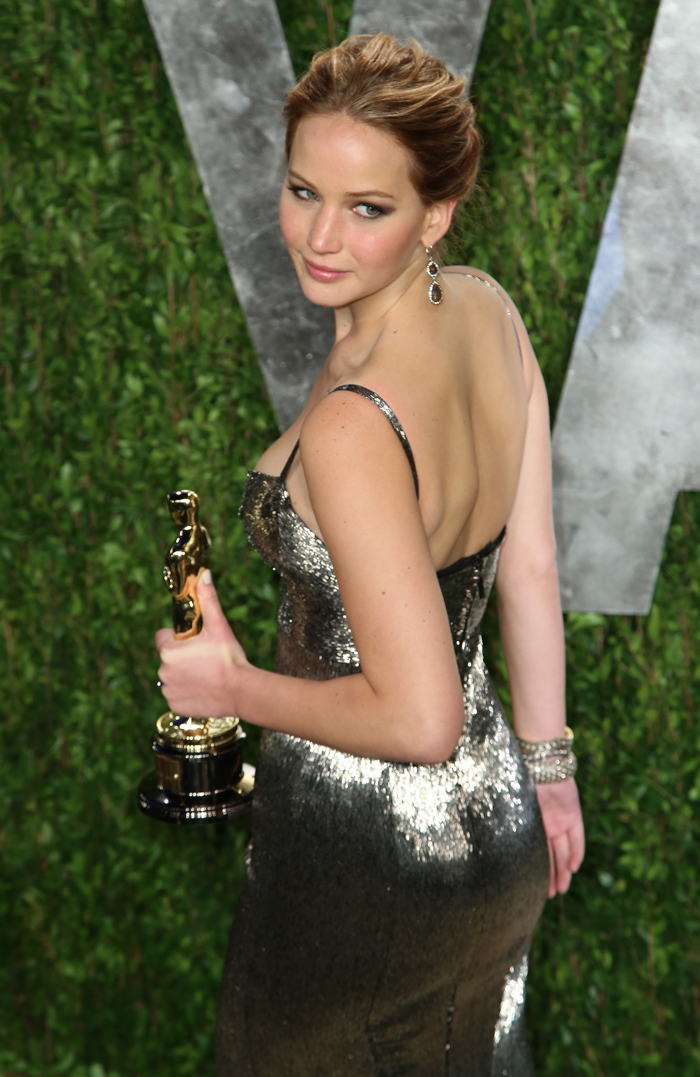 Jennifer Lawrence's candid interviews have earned her more than a few fans, famous and not, who say her unfiltered sense of humor and laid-back personality are a refreshing change from the Hollywood norm. But the actress insists that her seemingly carefree demeanor is actually the opposite, and that she's a ball of nerves whenever she's the center of attention at an awards ceremony or movie premiere. The only place she feels she's really herself, she says, is when she's playing someone else.

"I'm afraid I'm going to go my whole life being scared like a chihuahua," she admits in the new issue of the U.K.'s Fabulous magazine. "It's not my comfort zone. Making movies is where I belong. I shouldn't be heard just talking. So, when I'm doing movies, I'm really happy. That's where I'm comfortable, that's my home. When you put me on a red carpet or on a stage, I turn into chihuahua Jennifer."

"Chihuahua Jennifer" is apparently a talker. "I have no control over what comes out of my mouth," the Silver Linings Playbook star says of the candor everyone loves so much. "I would probably turn into a mute if I read what I said."

That delicate balance of unguardedness and self-awareness is part of what keeps the 22-year-old Oscar winner — who split from British actor Nicholas Hoult in January — grounded. The other part is her family and non-famous friends. "Definitely my family is not the kind of family that would ever let me turn into an a–hole or anything like that, so I am fortunate to have them," she tells Fabulous.

"I don't ever walk around feeling famous, I walk around feeling the exact same way I have walked around my entire life, but it's not until I talk to somebody and see in their eyes that I'm different. It makes me feel weird," she says. "A lot of things that I didn't even think could ever be possible for me have happened, all in a year. It's been overwhelming, but in a wonderful way."
[From Us Weekly]
If it were almost any other female actress claiming to still feel like a normal person despite evidence to the contrary, we'd all be rolling our eyes, right? When it comes out of the mouth of JLaw though, it's very easy to believe she honestly feels that way. I mean, it's hard to fake the way she behaved in that famous Jack Nicholson video. She's just a fun girl and talented actress, and somehow the two states are not mutually exclusive. Clearly, she's still telling the same fart jokes that she did before she was famous. Whereas I get the feeling that poor Anne doesn't fart at all, which could be part of the problem.
Once again, I'm using photos of JLaw in her latest Calvin Klein look at the VF party. I can't get enough of these booty shots.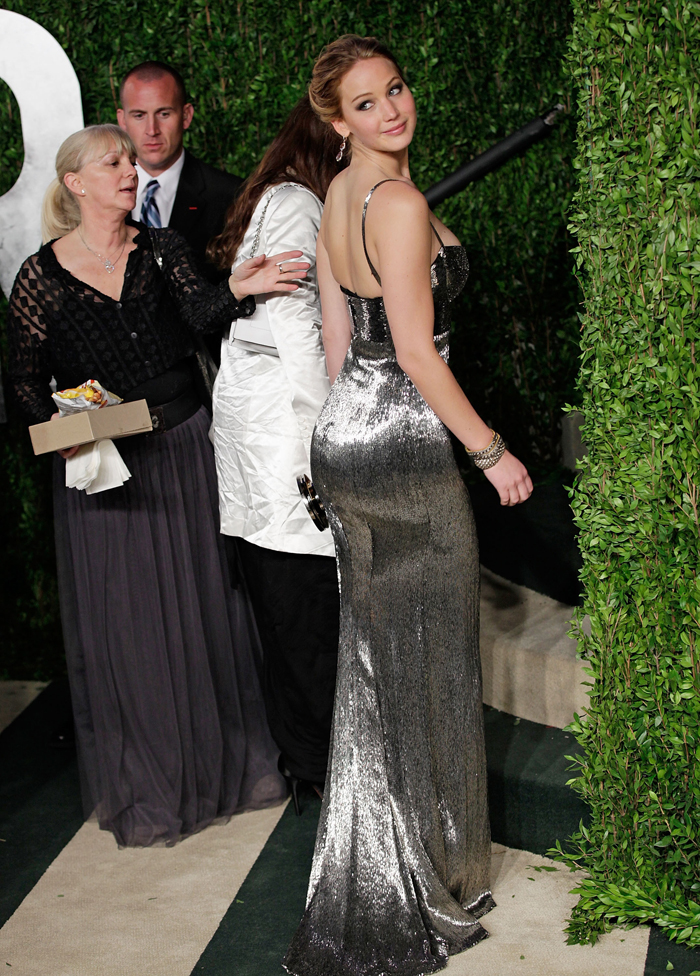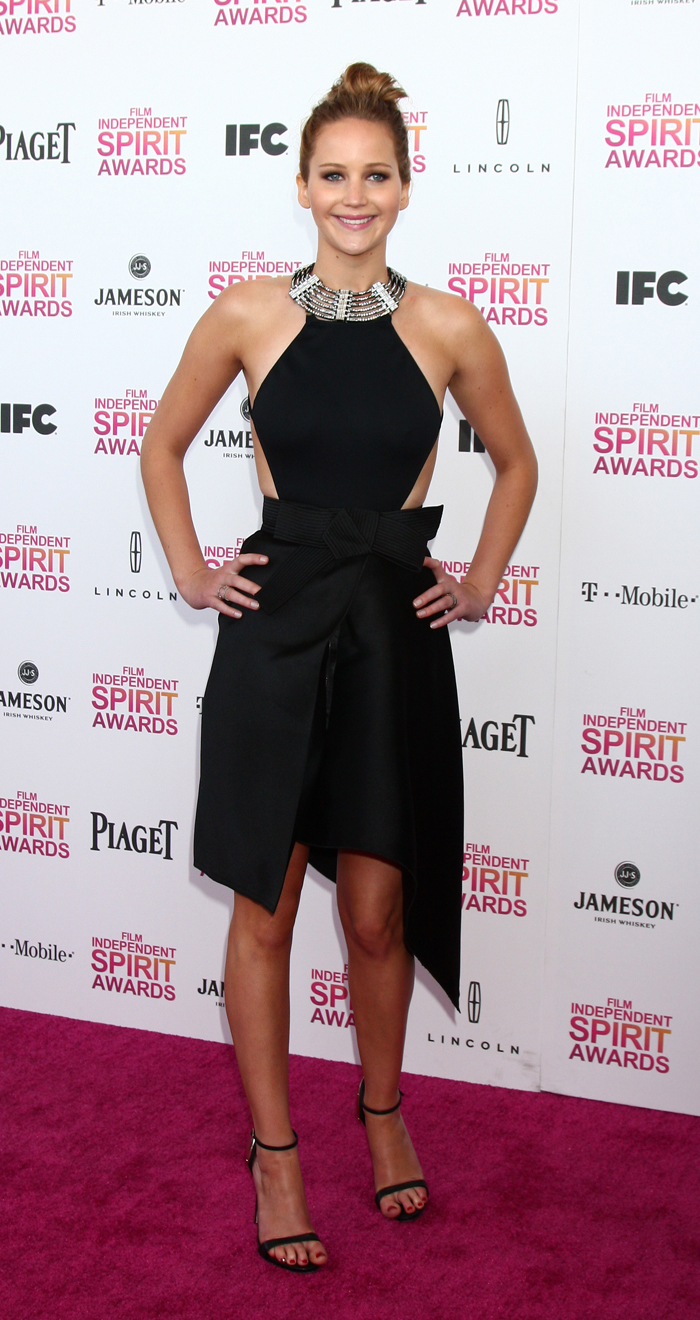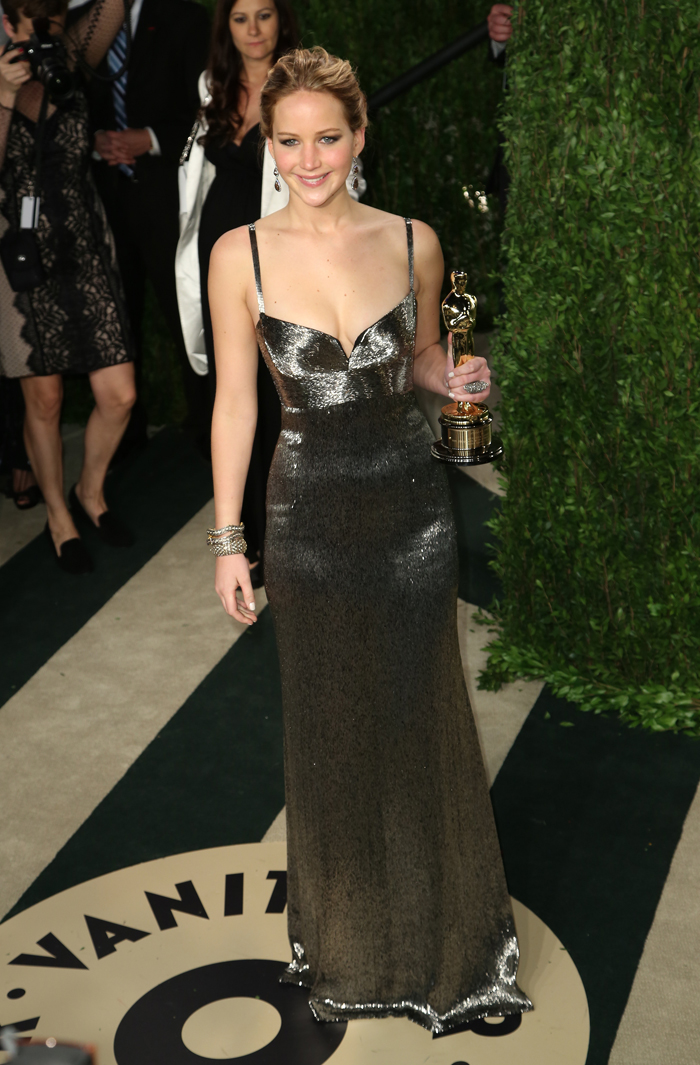 Photos courtesy of WENN