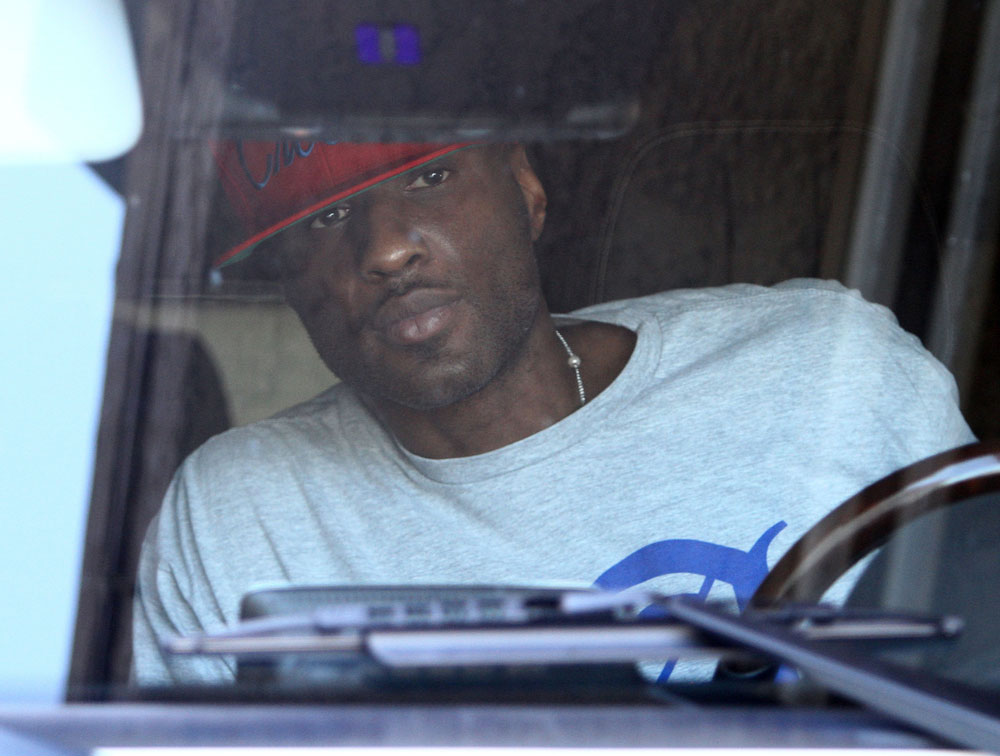 Kardashian son-in-law Lamar Odom just keeps getting in trouble. In recent weeks, two women have publicly come out claiming to have had relationships with Lamar. Both alleged mistresses claimed that Lamar's wife, Khloe Kardashian, knew about their relationship with her husband. One of the women said that Khloe hired a private detective to trail her and regularly tried to intimidate her.
Last week allegations came out that professional basketball player Lamar had a drug problem that included Oxycontin, Ambien, crack and/or cocaine, depending on which reports you believed. Many people thought those stories came straight from the Kardashian/Jenner camp and were meant to discredit Lamar after he humiliated Khloe. Whether PMK planted those stories or not, that didn't mean they were fabricated. Now we have some evidence that they could have been spot on. Lamar was arrested for DUI after driving erratically in LA this morning. It's unknown whether he was drunk and/or on drugs because he refused to take a chemical test after failing field sobriety tests. Whatever he was on, he wasn't fit to drive.
Odom, 33, was pulled over on the 101 Freeway in the San Fernando Valley at 4 a.m. PST for driving too slowly. The California Highway Patrol then booked him on a DUI charge and took him to the Van Nuys Jail, where he was held on $15,000 bail. TMZ reports that he failed more than one sobriety test during the incident.

"Today at roughly 3:25 a.m., our officers observed a white Mercedes SUV driving eastbound on the 101 freeway approaching Sepulveda," Sergeant Denise Joslin told Us in a statement. "Our officer observed it weaving in traffic lanes at a slow speed. We conducted an enforcement stop. The driver continued eastbound to Coldwater Canyon Blvd; he came to a stop just south of the freeway, [in] the Sherman Oaks area, and was identified as Lamar Odom. He showed objective signs of intoxication, was unable to perform field sobriety tests, and he was subsequently placed under arrest and transported to LAPD's Van Nuys facility and he was booked there at 5:01 a.m."

"He refused to take a chemical test," Joslin added. "In his case, since he was a refusal, generally that involves some longer holding times. Also, his detention at the facility will be dependent on if he has any other warrants."
Radar has a follow-up report that describes how Lamar was driving and includes a quote from the California Highway Patrol (did anyone else get this song in their head?) information officer, Leland Tang. The CHiPs representative tells Radar that Lamar was very dumb to refuse the chemical testing and that he faces an automatic year's suspension of his license:
"Lamar Odom was driving 50 mph on the 101 freeway. He was driving in a serpentine manner which is pretty bad. That is like when the officer does a freeway break. Across all the lanes of the freeway. I'm surprised he wasn't rear ended.
"He did what no one should ever do, he refused the chemical tests.
"That means that his license is revoked and Lamar could get the most powerful attorney in the world and he is still not going to have a license for a year."
If this is true, Lamar should have just taken the drug tests. The California justice system is incredibly lax for celebrities.
Of course TMZ is all over this too. They add the detail that Lamar's car was searched and had no drugs or alcohol in it. They're also wondering over on TMZ Live if Lamar is headed to rehab soon. It sounds like a good plan for him considering the sh*tstorm that is his personal life. If someone is messed up enough to drive under the influence, they probably need rehab.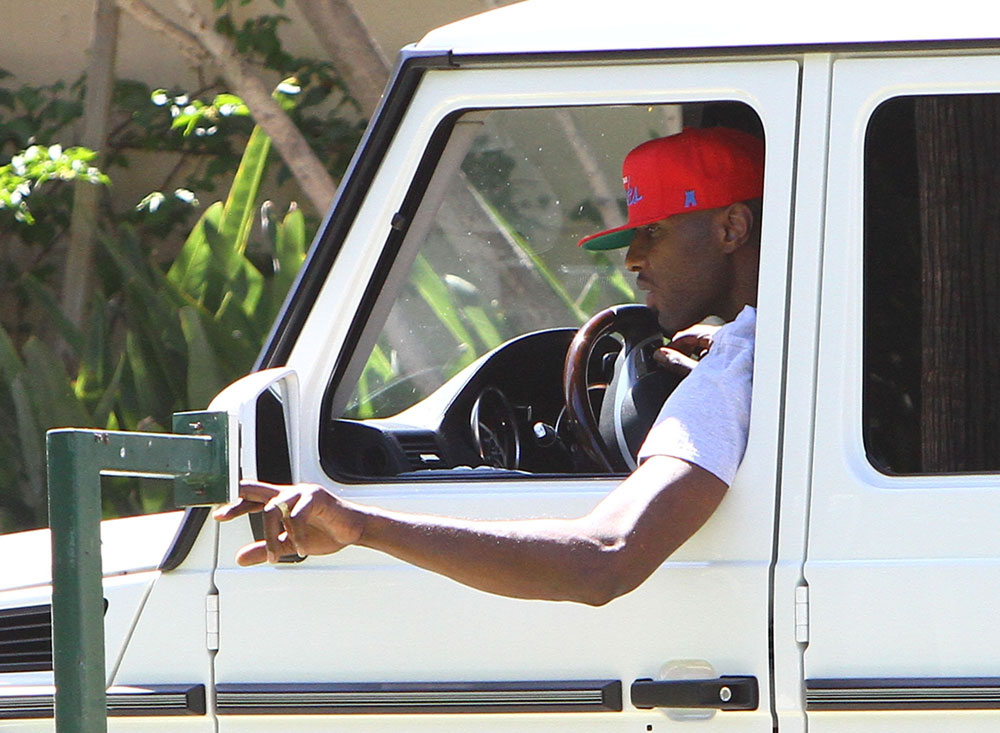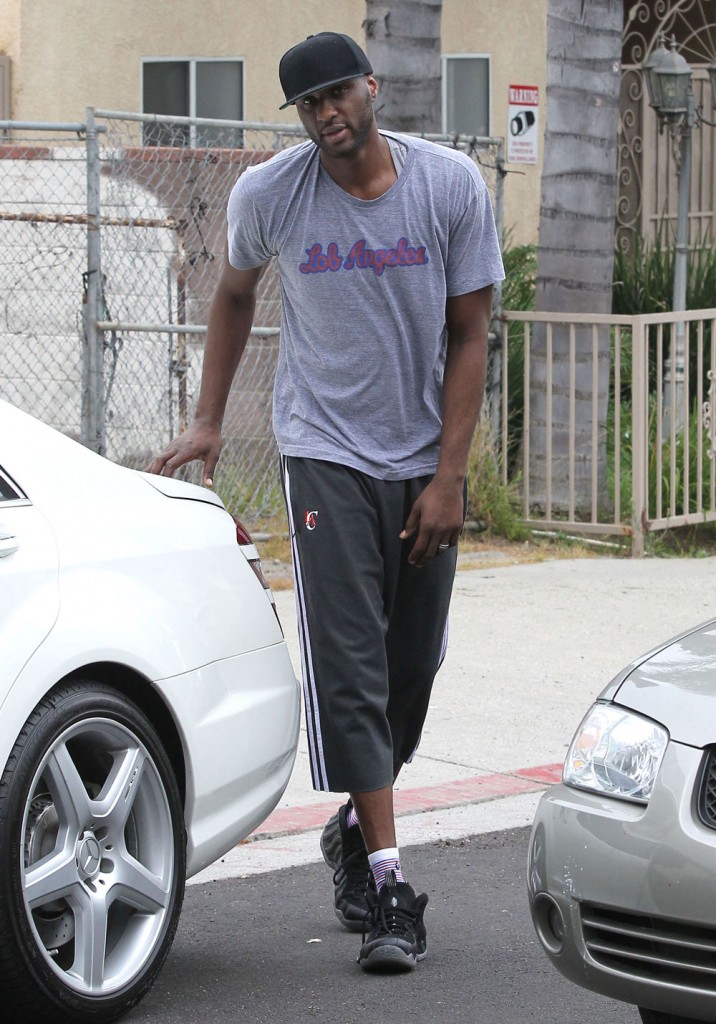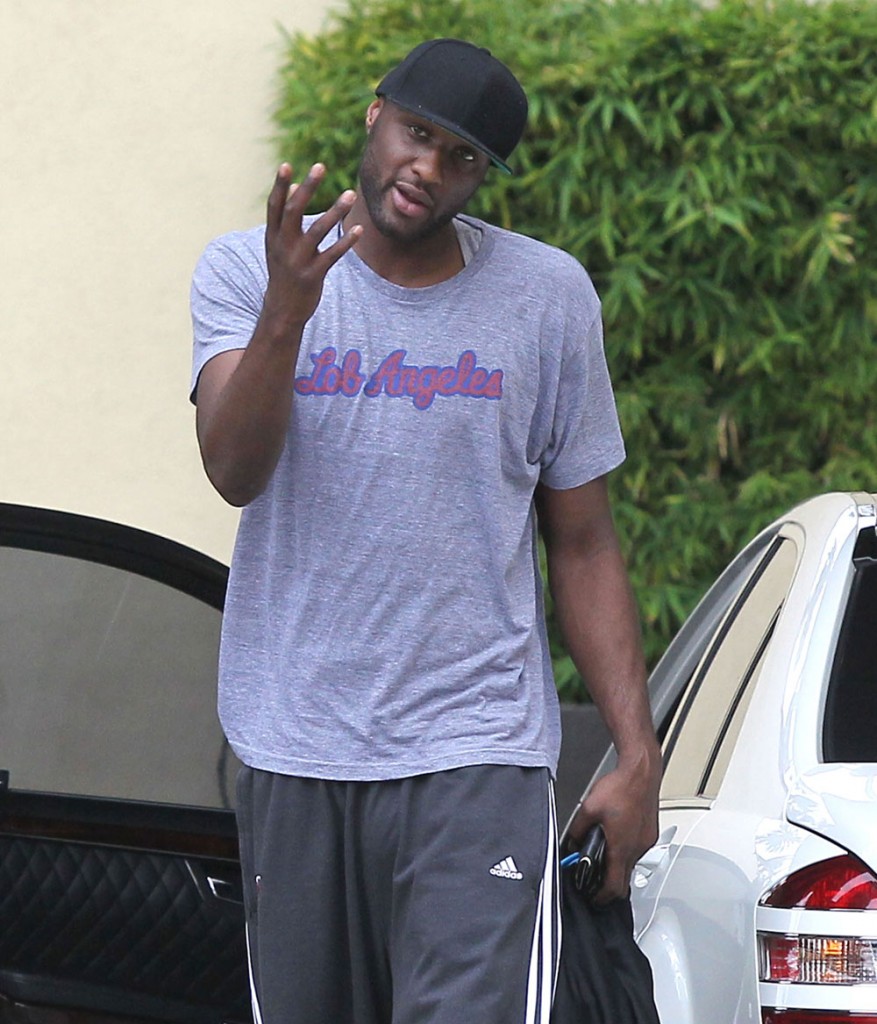 These photos are from 8-28-13 of Lamar getting Taco Bell and 7-10-13 of Lamar confronting a paparazzo. Credit: FameFlynet