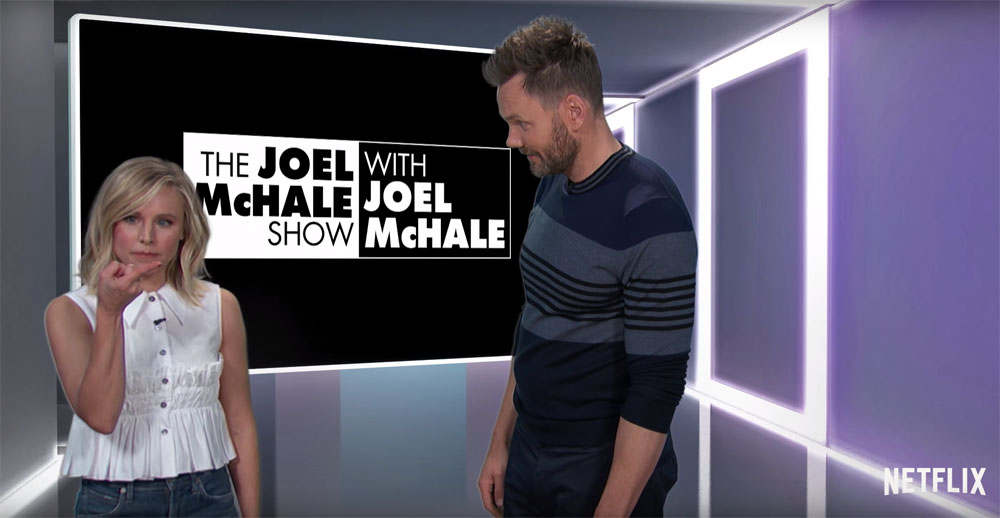 Kristen Bell and Dax Shepard often overshare and are perfect together because they don't give a sh-t if the other one talks smack. Unfortunately they discuss their marital issues so much that their relationship sounds like it's on the brink. The last we heard from Kristen she was telling a story about how Dax had to suck milk out of her breast when she got a clogged duct from nursing. Well now she's talking about having pinworms, which are little white worms that very contagious, somewhat harmless but annoying and are easily treatable. They live in your intestines, can cause itching and can be seen in your poo. Kids often get them and in Kristen's case she caught them from her three year-old daughter, Delta, who got them at preschool.
Kristen said this as an addendum to Joel McHale's new Netflix show. (It opened with a segment about hemorrhoids, so it was perhaps topical.) I watched the entire latest episode hoping to see this, but it's a YouTube extra. The Joel McHale show has almost the exact format as The Soup and if you liked that show you'll like this. We need someone to skewer all the reality shows. Here's what she said and you can see the video below.
I had anal worms. They're called pinworms… [It wasn't painful] but it was very itchy…

Your kids get 'em because they put their hands in their mouth and they lay eggs. I noticed at our preschool all the carpets were gone… and they were like 'oh we're having them cleaned… pinworm case.'

I of course immediately googled it and it's so contagious. Of course my three year old [was itchy] for a week. You have to look in their poop and wipe their butt. I wiped, saw a little white worm. I know. She's really gross.

Then I later that day was like 'f-ck.' Then everyone in the family has to take the chalky nonsense from the drug store. I don't think anyone got it but me that time.
[From The Joel McHale show's YouTube channel]
I had these when I was a kid more than once, they're not fun. These are minor league parasites compared to some of the other f-ed up creatures that can live in your intestines. I don't think there should be a stigma associated with these or any parasite, like lice – they're common, kids get them, there's nothing you can do except treat them and clean. I doubt I would talk about it if I was famous though. I wouldn't tell people most of the sh-t that Kristen does, but that's her brand now. Imagine her singing "Do You Want to Build a Snowman" except with the lyrics "Do You Want to See My Pinworms?"
Note that Kristen and Dax spearheaded the "no kids" initiative for paparazzi to stop taking pictures of kids. That's done a lot of good for the children of celebrities. How do you think their daughter is going to feel in 7-10 years when she realizes her mom told this story?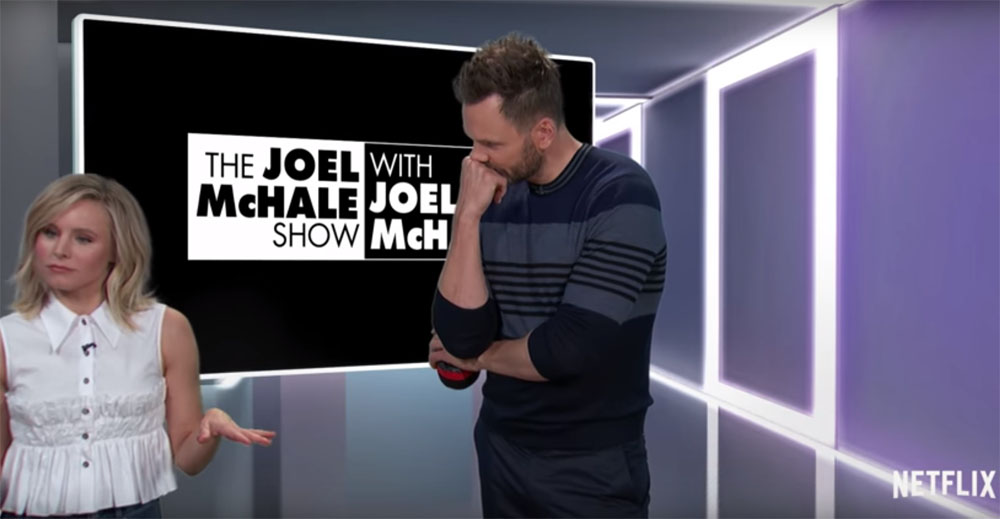 I think this is how they got their vacation comped:
Embed from Getty Images
Photos are screenshots from Joel McHale's Netflix show and also credit: Getty and Instagram/Kristen Bell