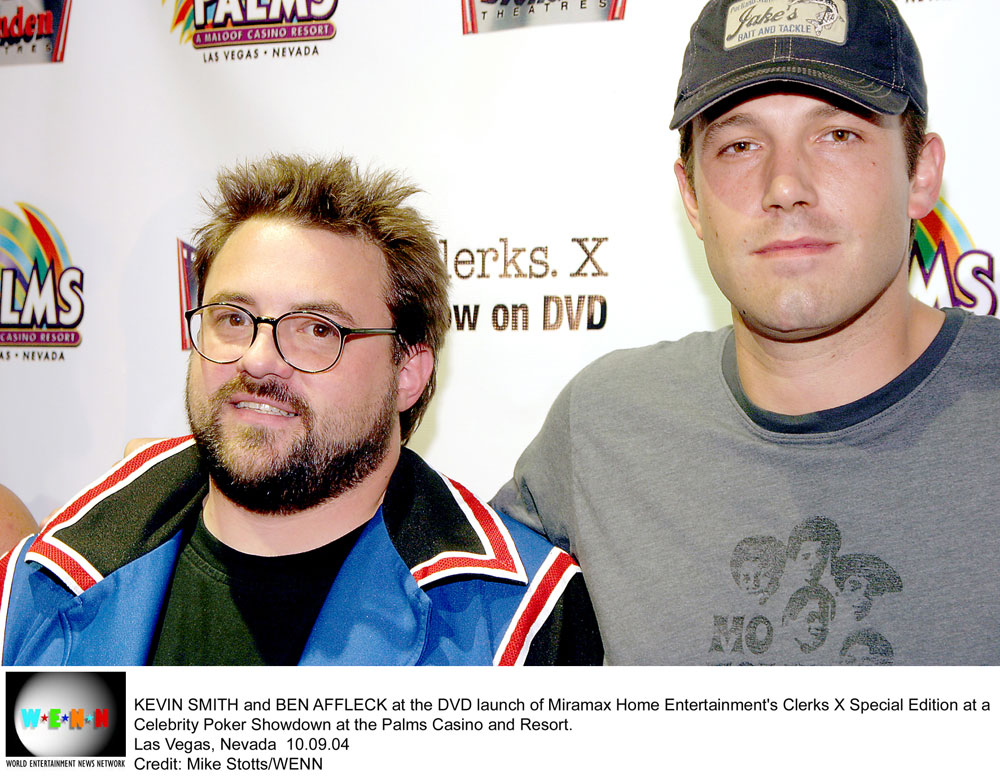 When I first saw these headlines about director Kevin Smith revealing that Ben Affleck no longer talks to him, I thought it was one of those clickbaity articles about old news. Didn't Kevin Smith talk about this months ago? Yes he did, and we appreciate that Kevin Smith is a gossipy bitch. We love our own kind. Kevin said earlier this year that Ben didn't contact him after his near deadly heart attack. Kevin attributed that to some quotes he gave in the summer of 2017, relating that Ben told him, in 1996 when they were filming Chasing Amy, that Ben felt like a serious actor because "Kissing another man is the hardest acting challenge an actor will ever face." (Ben kissed Jason Lee in that movie.) Kevin said the quotes were from over 20 years ago but outlets ran headlines and articles suggesting they
were new. So Ben held a grudge apparently and over six months later couldn't even be bothered to tell Kevin, who gave him leading roles early in his career, that he was happy he was still alive.
Anyway Kevin responded to a tweet wondering why he doesn't talk to Ben anymore. He said it was because he told a bunch of stories about Ben essentially:
If I had to guess? It's because one of us has a big mouth and told too many candid stories that sometimes weren't his to tell, and the other one is Ben. https://t.co/kwj82A20SJ

— KevinSmith (@ThatKevinSmith) November 26, 2018
Nothing is more offensive to Ben than bad press and he will cut people out and lie about things that aren't flattering to him.
Kevin is doing great, it's nice to hear about him. He's lost over 50 pounds since his heart attack. Like a lot of us he's struggling with feeling low this time of year. He helped a struggling fan by relating a story about feeling better after visiting a set in Britain.
I, too, have been blue this week. But yesterday and today, I visited the set of a British flick and got to see how other filmmakers work. All of them were so passionate about the story they were telling, it served as a gentle reminder that Art is always good for what ails you. https://t.co/gAMXrTwtRi

— KevinSmith (@ThatKevinSmith) November 27, 2018
Also, he took a selfie with his wife outside Windsor Castle! One of us.
Had a dream I went to Windsor to pop by the newlyweds' starter home with housewarming weed, only to get dragged away by Beefeaters as I yelled "You can't do this to me! I'm an American and a fan of 'Suits'!" When I woke up, I took @JenSchwalbach to see the majestic castle IRL. pic.twitter.com/CPpsmdsyl6

— KevinSmith (@ThatKevinSmith) November 26, 2018

photos credit: WENN, Getty and via Instagram and Twitter