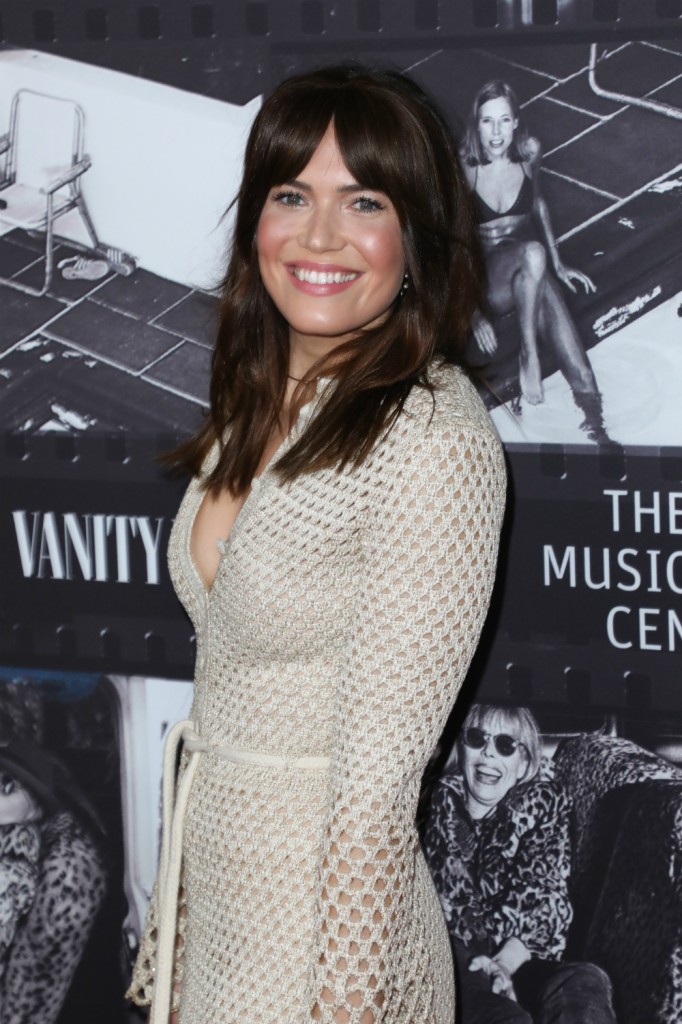 Some of you suggested that my Saoirse Ronan post about her dog Fran was a bit light on dog photos. Well, because I love you all, I plan to correct that egregious error below! Before that, however, we all need to release a collective, "Aaaaaaaaaaaw," for Mandy Moore's precious pooch, Jackson, who spent the last two days recovering from stomach surgery after he decided to snack on a tennis ball. Mandy posted this to her Instagram on Wednesday:
Oh my stars, look how cute Jackson is. Poor guy. CB wrote about Kathryn Hahn's dog needing three surgeries after eating underpants. My dog eats everything, I think. He destroys everything, I can never tell what he's eaten vs. just ripped apart. But I had a few glass ornaments destroyed on my floor and now I'm thinking I should have his stomach pumped.
Mandy posted to her Instagram stories that Jackson the Adorbs is doing just fine. He's walking and napping and eating, but the stuff he's supposed to eat, not the stuff that got him in this situation in the first place. People has some screengrabs of those updates here. Like Mandy, I too would like to give a shout out to all 24-hour vet clinics. I had to visit one 17 years ago when my cat got hit by a car. It came to "the talk" about my options (re: cost of saving him vs. euthanasia) they could not have been more gentle or supportive. Not to mention they saved his life.
Mandy is a big supporter of rescue animals and #adoptdontshop. She revealed in November that the night before her wedding to Taylor Goldsmith, her beloved rescue kitty, Madeline, passed away suddenly. You can see her post about Madeline here. I won't comment on this too much because I am still reeling from losing my pup in August and it's making me cry. But it's Friday and I won't be here Monday because it is my 50th birthday, y'all! So let's kick things off with positivity – an invitation to share your favorite rescue organization and photos of doggos and kits! I'll start – got this precious mutt (wearing the cone of hell after being neutered) from Dove Project who rescues dogs from the meat trade:
Hello Twitter, I'm Gizmo. #cats #CatsOfTwitter #kitten #kittens #kittensofinstagram pic.twitter.com/nHcjRPp48x

— GizmoTheWonderKitty (@gizmo_wonder) January 10, 2019
I know treats come from the treat jar, but how to they get there? #DogsOfTwitter #ThursdayThoughts pic.twitter.com/8MarD8zOBO

— Juniper Bear (@juniper_bears) January 10, 2019
Beauty & the Beast 🐾💙🐾#cavalierkingcharlesspaniel #cavalierspaniel #dachshund #dogsoftwitter pic.twitter.com/8Ao4l48pH7

— Ginger the Cav (@GingerTheCav) January 9, 2019
Pushkin – Up close and personal Part 3 🐱🐾 #CatsOfTwitter #panfursquad pic.twitter.com/S3GvIhEJ03

— PushkinPanfur (@PushkinPanther) January 10, 2019
Señor Paul Furby, first of his name, eater of treats, lover of hummus, melter of hearts. (mashallah) #dogsoftwitter pic.twitter.com/mR484hIBlB

— Talia (@whytaliawhy) January 10, 2019
No matter how much cats fight, there always plenty of kittens.~Abe Lincoln #catsoftwitter, #cats pic.twitter.com/DwBbqUNVBV

— Claude West -Cat Man (@claudeone) January 10, 2019
Photo credit: WENN Photos, Instagram and Twitter