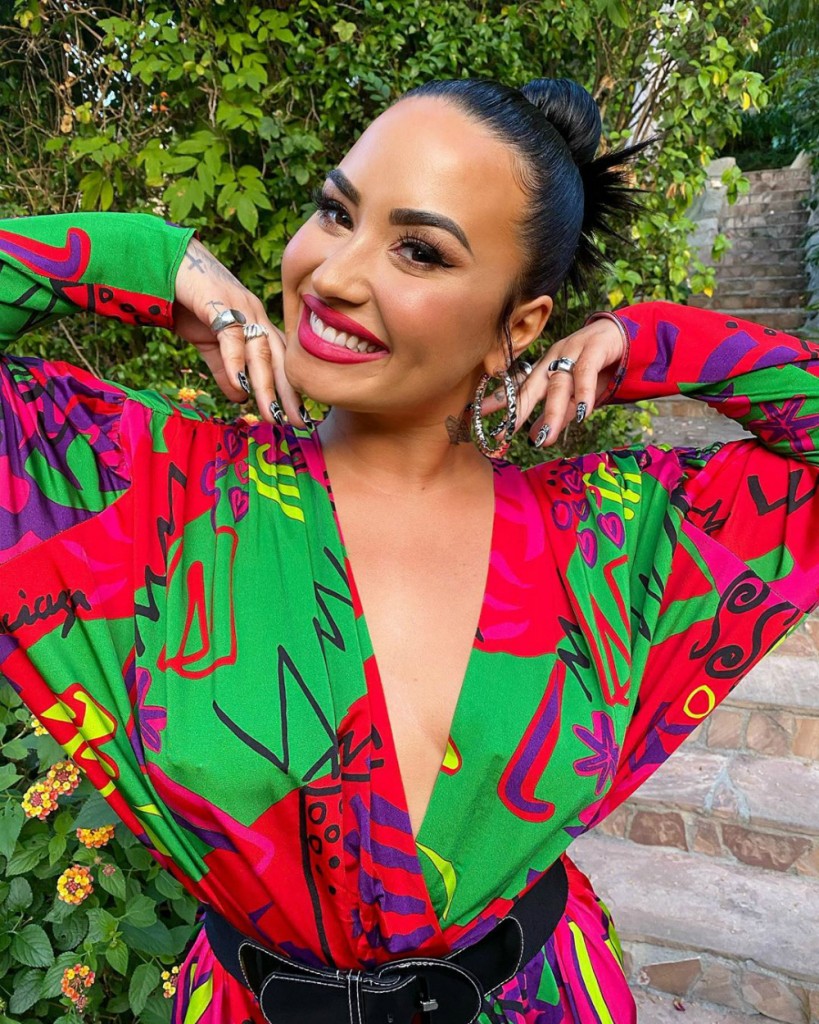 Demi Lovato's 2020 has been about as tumultuous as everybody else's 2020. First, she met Max Ehrich and fell head over heels for him, moving him in so they could quarantine together before she'd learned how to spell his last name. Then came a highly staged lockdown engagement with a bonkers ring and plenty of 'happy' tears. Finally someone exposed Max for the creepy star chaser he was and Demi kicked him to the curb. In the midst of all this personal nightmare, there is the global nightmare that is COVID and the national nightmare of the Trump presidency.
Demi refocused her attention from her wastrel ex to the election, which is terrifying to all of us. And like the rest of us, Demi is encouraging people to get out and vote. But while she's at it, Demi decided to remind folks of all the offenses the current POTUS has committed against his people. She wrapped her thoughts up in a new song called Commander in Chief (posted below). The song isn't to my taste, but it is passionate, and I certainly agree with everything Demi says in it. However, not everyone does agree with Demi. Many of Demi's MAGA fans took exception with her putting out a political statement and have been leaving her comments telling her so. Demi posted this one to her IG stories explaining, "so I've be getting a lot of these comments"
I hope you realize this makes people that don't have the same political views feel like they can't listen to you anymore. We could (sic) care less what you post about politics but this song is going to at (sic) to (sic) far especially when the majority of your family is Republican. I'm personally ashamed to be a Lovatic right now but no matter how hard it is I'm not letting this song change my feelings about you especially after everything you have helped me with. I really hope this doesn't ruin your career Demetria.
Ah, don't worry – we've got Demetria's back while you're out there flapping in the wind. I realize that celebrities have always been encouraged to tamp down their politics as a whole, but this is where we are as a country: if you dislike the person my family is voting for, I cannot listen to your music. A few MAGA trolls aren't going to bring Demi's career to a halt. But, even if they did, Demi said it wouldn't matter to her because, as she said in her response to MAGAtina above, she stands up for her beliefs.
You do understand as a celebrity, I have a right to political views as well? Or did you forget that we aren't just around to entertain people for our entire lives.. that we are citizens of the same country and we are humans with opinions as well. The difference between me and the type of artist you WANT and EXPECT me to be, (but I'm sorry honey that will never BE me 😂) I literally don't care if this ruins my career. This isn't about that. My career isn't about that. I made a piece of art that stands for something I believe in. And I'm putting it out even at the risk of losing fans. I'll take integrity in my work over sales any day. As much as I would like to be sad that I disappointed you, I'm too busy being bummed that you expect me, a queer Hispanic woman, to silence my views/beliefs in order to please my audience. I.e. your family. 🙁
I believe Demi in this statement. It's easy to say you don't care, but it's a lot harder to put in to practice, especially when you have so much to lose. But Demi has been through so much in the last few years and I think it has reprioritized everything for her. And like all of those other life changing events, living under the Trump regime has forced her politics to the forefront. The thing that gets me the most is that old men are being knocked down because they stood up to MAGA politics, a young man shot people in the name of the presidents, people are getting punched in the face because they disagree, Heather Heyer was run over because she disagreed – and fans are threatening to switch off their radios because of a song? Get your f—king priorities straight, MAGAtina.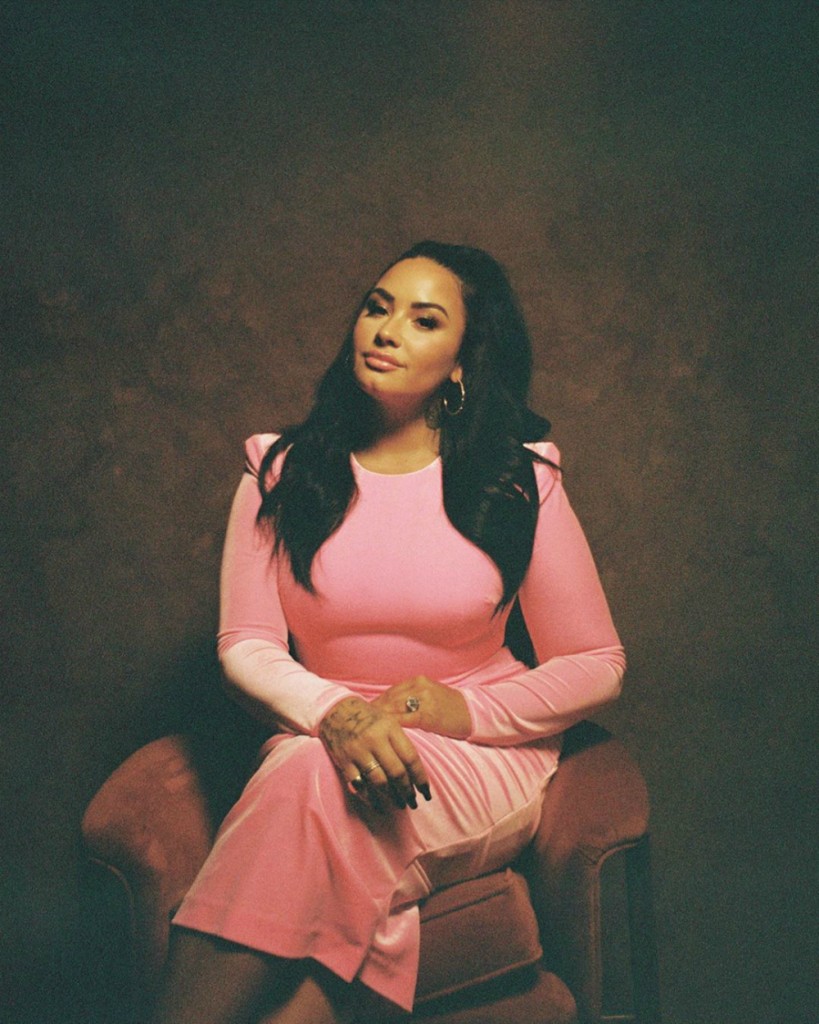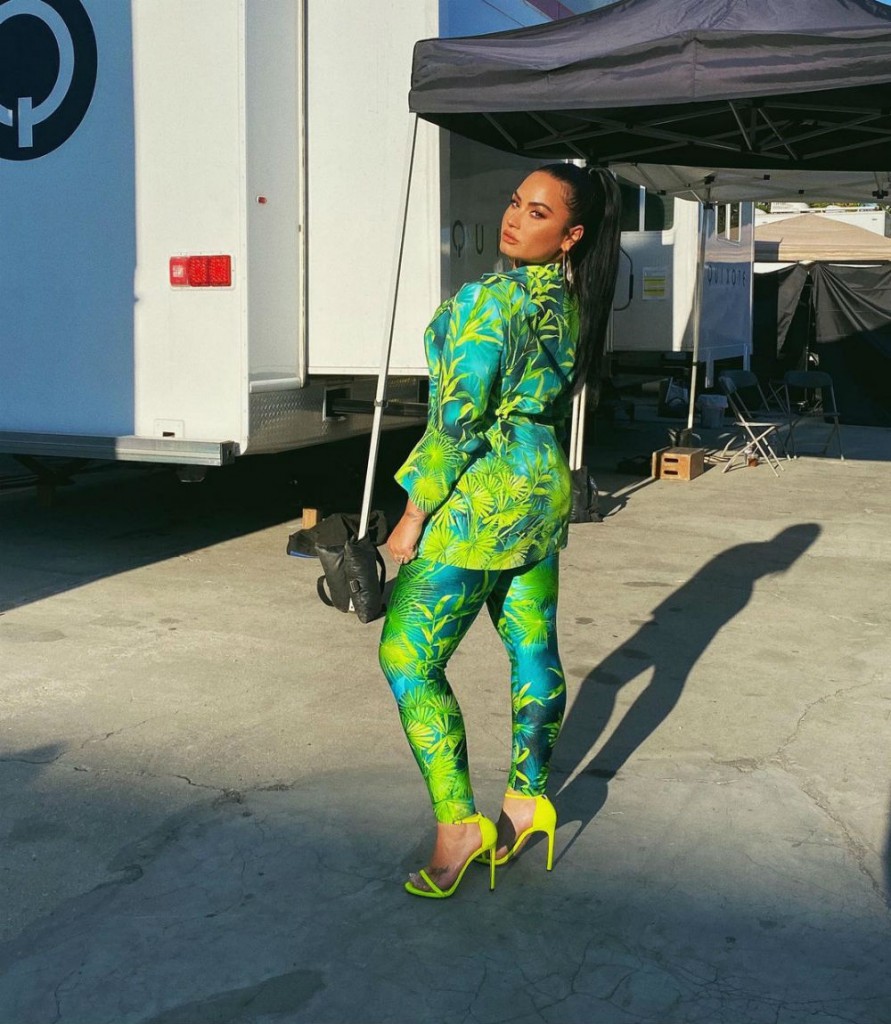 Photo credit: Instagram