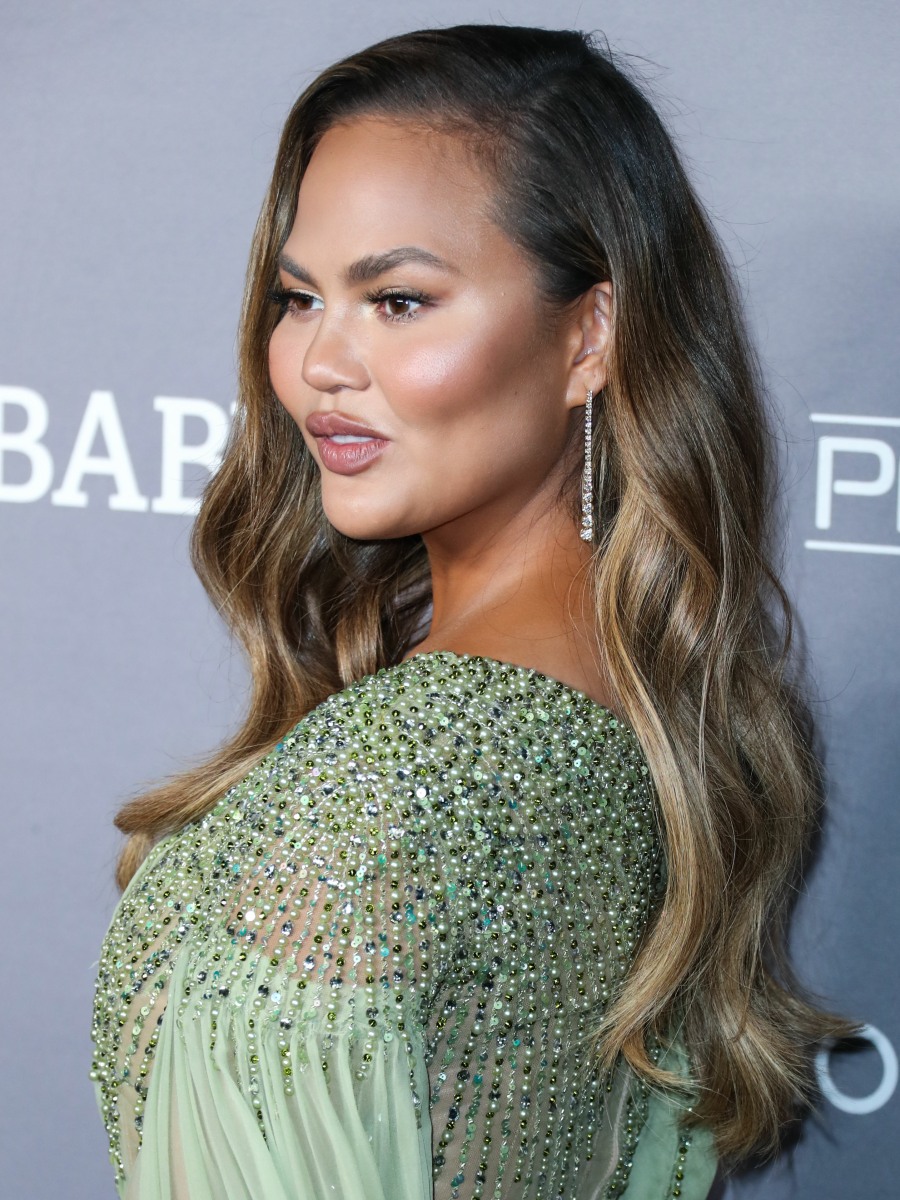 You know what I've been thinking about for the past few days? Why did Chrissy Teigen write the second apology on Medium this week? It had not even been a month since her first apology, regarding the Courtney Stodden situation. Teigen was losing sponsors, of course, and she was losing money. But the second apology had the feel of someone trying to get out ahead of something else, and it also had the feel of Chrissy just… being desperate for attention. Shortly after Teigen's Medium post, fashion designer Michael Costello told his story on Instagram. His story: Teigen and her friends blacklisted him from the industry, destroyed his professional life and nearly drove him to suicide. As evidence, he posted screencaps of DMs between himself and Teigen.
In the days that followed, we learned that Costello is probably a racist and a gaslighter and there's enough evidence to suggest that his story was pretty incomplete. But still, he had those DMs from Teigen, right? Well…
Chrissy Teigen's team is addressing the bullying allegations recently made by fashion designer Michael Costello against the star. In an article published by Business Insider on Thursday, a team representative for Teigen, 35, claimed the purported Instagram direct messages from the Cravings cookbook author in 2014 – which Costello, 38, posted earlier this week alongside accusations of bullying – are fake.

As the outlet noted, the screenshots showed several temporal inconsistencies that may suggest they had been altered in some way. Examples include a missing verified checkmark next to Teigen's name – which would suggest the screenshots were taken in 2014, before Instagram's verification program had launched – in the same screengrab featuring purple and blue messages, a design implemented by the social media platform in 2020.

The screenshots also showed a video chat icon – something that was introduced on Instagram in 2018 – alongside a profile photo that Teigen had changed no later than 2016, according to Business Insider. A representative for Costello did not immediately respond to PEOPLE's request for comment.
I have zero technical expertise with Instagram or IG direct messaging so I won't speak to that, I'll just say that from everything we've heard about Chrissy Teigen, she sounds like the kind of person who would DM a fashion designer and tell him he should die. So if Costello did fake those messages, he really got her "voice" down cold. Costello already seems problematic, but guess what? Chrissy Teigen is massively problematic too. You can choose to not support either of them. I have a terrible feeling that Teigen is already making her first steps for some kind of "comeback."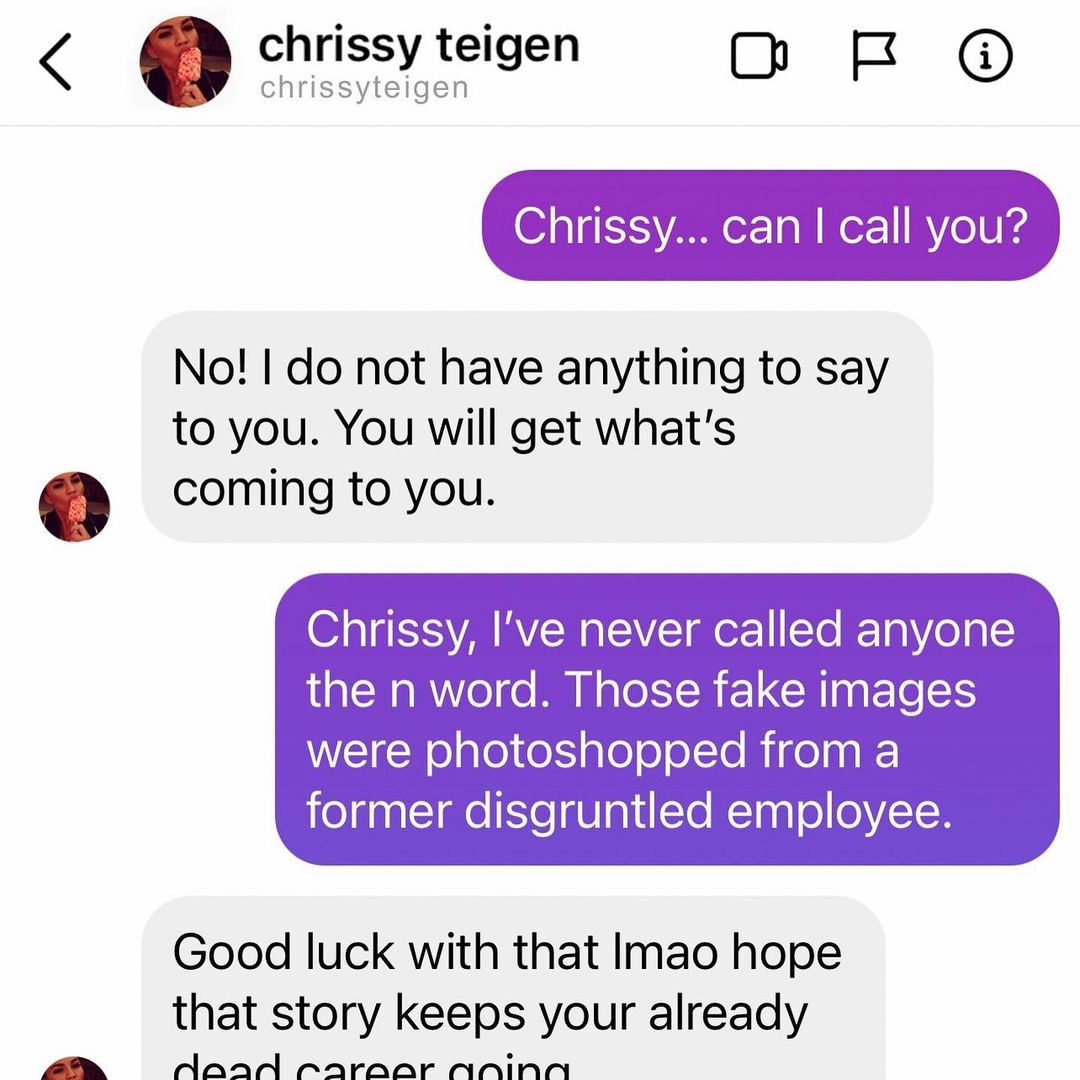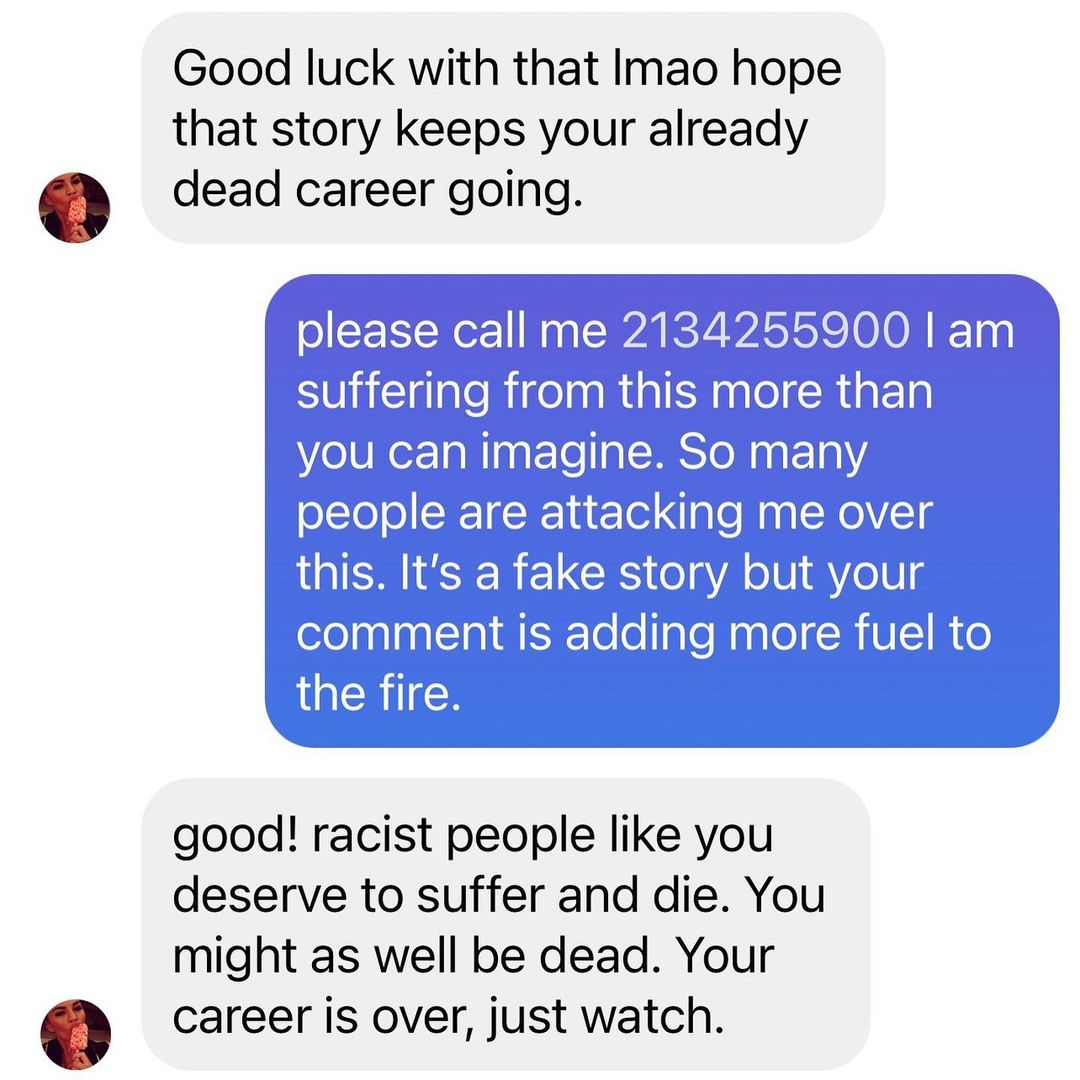 Photos courtesy of Avalon Red.