Brian Austin Green and Megan Fox split somewhere in the first quarter of 2020. I thought it'd had been a lot longer than that, but I maybe it was just their on-again, off-again status before that which tripped me up. Since their split, they've both taken up with other partners. Megan hooked up with her current flame, Machine Gun Kelly, pretty much from the jump. Brian dated around before getting together with ballroom dancer, Sharna Burgess, late last year. They've since gone IG official and had a few pap outings so, by Hollywood standards, this is the real deal.
Brian raised a few eyebrows when he posted the photo above to his IG with the following caption:
It's been a really long time since I've been with someone I can truly share life with. ❤️
[From BAG's Instagram via Seriously? OMG]
Seriously, OMG suggests, as do a lot of other people who read BAG's comment, that this is some kind of dig at Megan. At first, I thought it was more of a commentary on the false-start relationships he tried to get going directly following his split. But like I said, I'd forgotten that he and Megan only split 15 months ago. So that comment would include her. I'm not a fan of these passive aggressive swipes at former partners. I get BAG thinks Megan abandoned him throughout their marriage, but we've also been told that he exerted too much control over her. So maybe she didn't abandon him so much as try to breathe on her own. Either way, their children don't need to see Dad saying he never shared a life with Mom.
Plus, BAG might want to check his hypocrisy before he gets going on these sappy IG posts. It wasn't too long ago he was calling Megan out for showcasing her relationship with MGK on social media. BAG and Sharna are both posting a lot of shots together. BAG even slipped a couple in of Sharna with the boys, which is something he and Megan have clashed over as well.
Not to mention that there must be some rule of how romantic a post can be when the location on the post is "Walt Disney World Animal Kingdom," amirite?
You know who didn't care about any of this? Megan. She responded and then deleted a comment on the post that read, "Grateful for Sharna" with a purple heart. I don't know why the comment was deleted, maybe some fans misinterpreted it and gave them grief. Maybe Megan's response was getting more attention than BAG's great romantic gesture. For her part, before it was deleted, Sharna replied to Megan with two white hearts. If Sharna gets along with the boys, I'll bet Megan is grateful for her. Doubly so if she gets BAG to stop policing Megan's social media. Or maybe Megan just returned fire and this is how these two are going to play their divorced life, forever pinching each other in the comment section.
Note by Celebitchy: Brian has responded to criticism that he was dissing Meghan in that caption. He wrote on his stories that they "get along great" and that "Neither of us are sending petty digs to each other." Uh huh. A screenshot from that is below.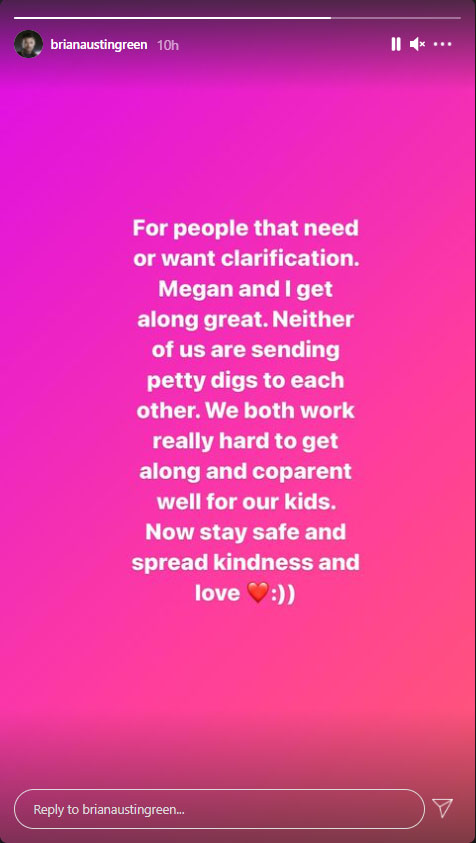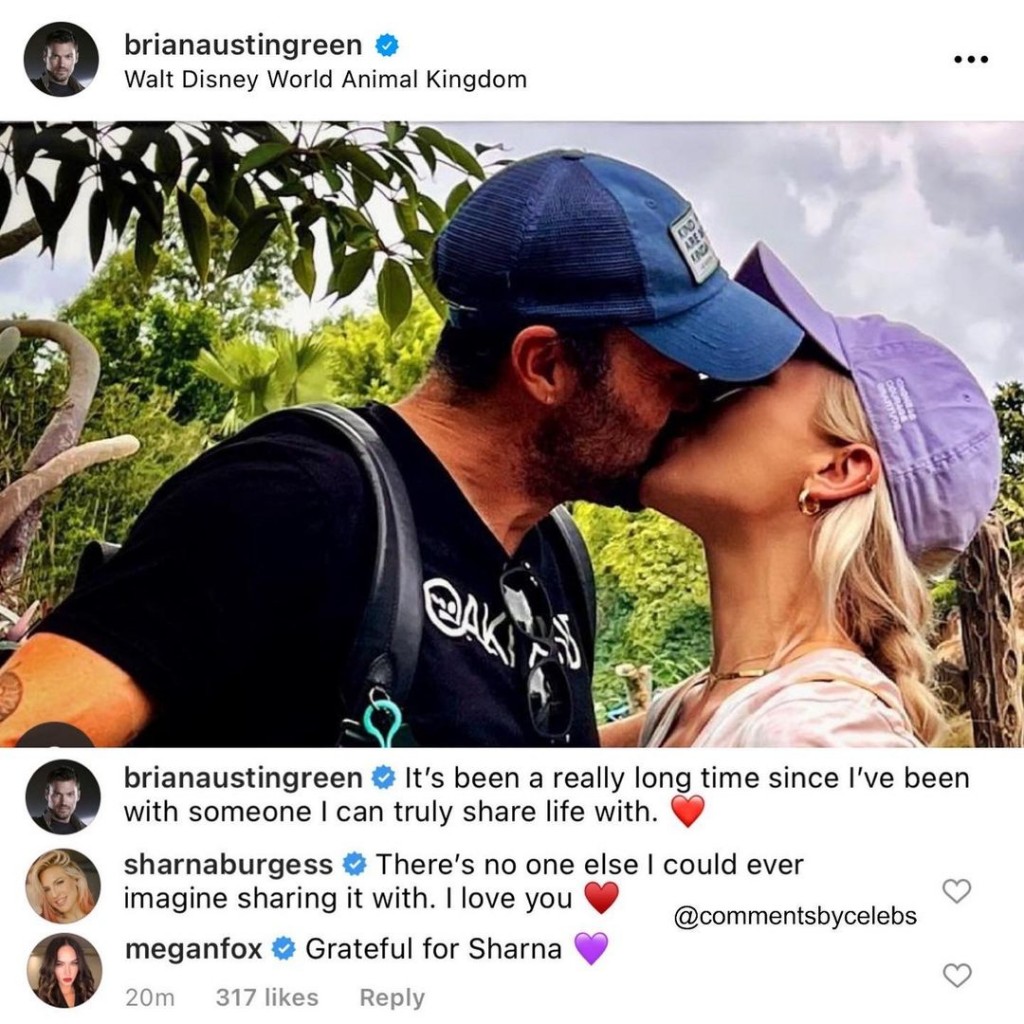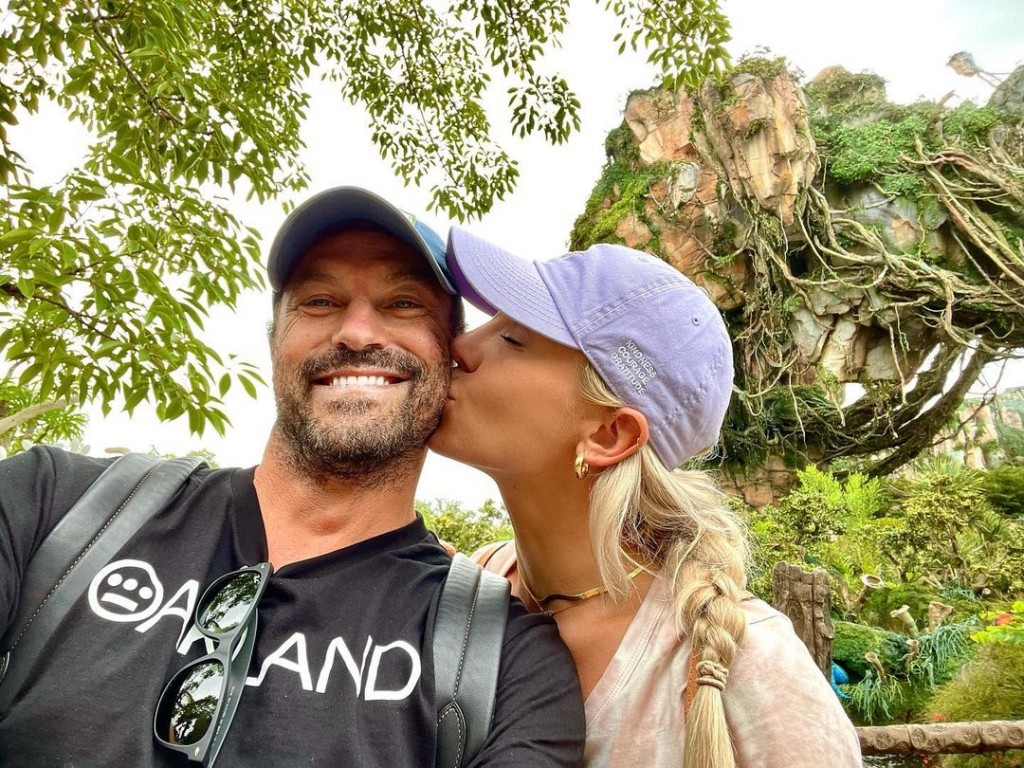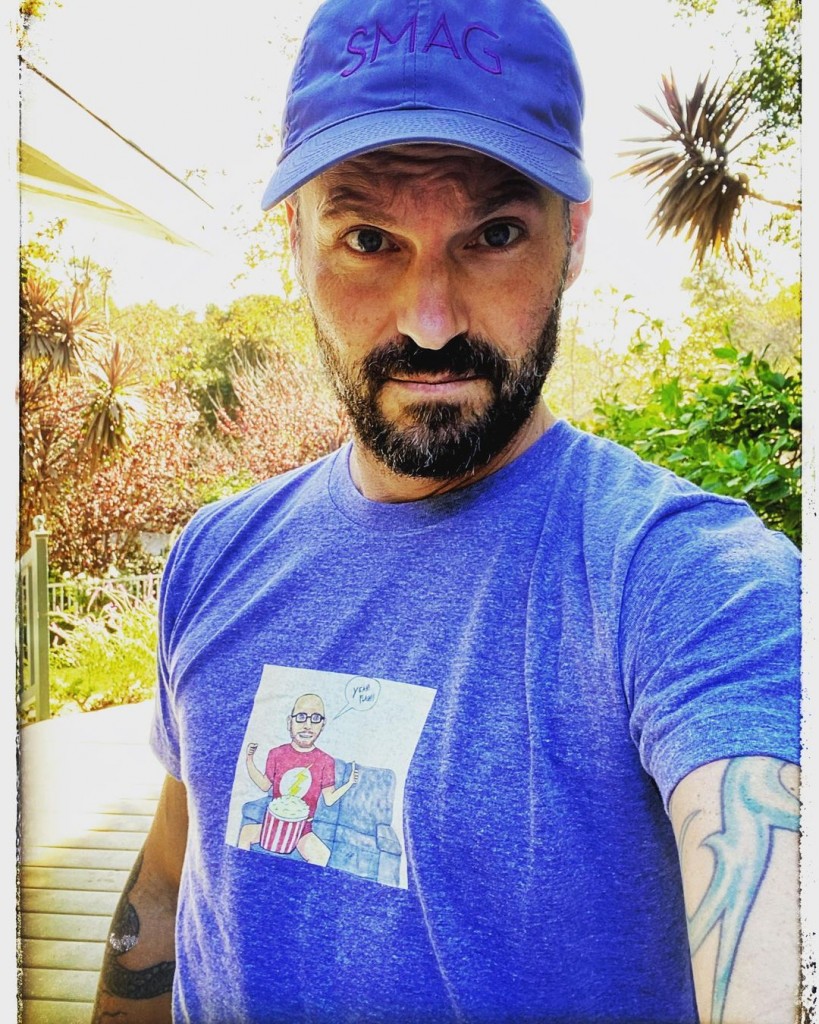 Photo credit: Instagram