Lindsay Lohan and Samantha Ronson hold hands at Diddy's party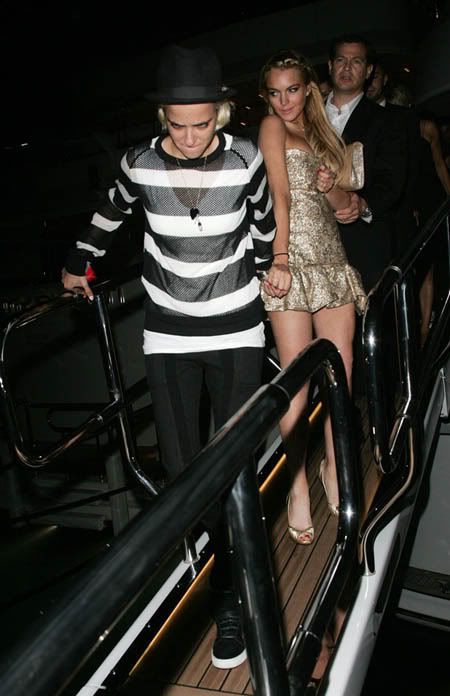 Lindsay Lohan and her live-in girlfriend, DJ Samantha Ronson, held hands at Diddy's annual Yacht party at Cannes. There are also photos that supposedly show them kissing, although it's hard to tell. Lindsay was dressed like a dime store hooker in a gold foil print dress with a short ruffled skirt and gold pumps, but there was no question who she was with at the party. Good for her for being public with her same sex relationship, but you can't help but think she's doing it for the publicity too. Last year she brought her then-boyfriend, Pink Taco founder Harry Morton, to Cannes. There are obvious jokes to be made here which I will refrain from.
Lindsay's mom Dina insists that her daughter's relationship with Sam is purely platonic, though. She says "They're best friends. They're just friends. It's pathetic what people say."
Women hold hands all the time and it doesn't mean anything. There's something possessive about the way Sam is holding Lindsay's hand, though. It looks like these two patched up whatever problems they were having after their romantic trip to Paris and now the French Riviera. Must be nice to take so many vacations.
Thanks to Splash for these photos.
Written by Celebitchy

Posted in Lindsay Lohan, Samantha Ronson

- Zach Galifianakis is awesome [Buzzfeed]
- Prince at the Billboard Music Awards [D-Listed]
- Bieber's Billboard look [Go Fug Yourself]
- Married to Medicine recap [Reality Tea]
- Celebrity first marriages [Pajiba]
- The last Mad Men baffled a lot of people [Lainey]
- Karolina Kurkova's crazy hot dress [Moe Jackson]
- Jennifer Garner on set [Popsugar]
- Kitten vs. Lizard [CDAN]
- Doetzen Kroes' great butt [Celebslam]
- Shameless star Jeremy Allen White [OMG Blog]
- RIP Ray Manzarek [Bossip]
23 Responses to "Lindsay Lohan and Samantha Ronson hold hands at Diddy's party"