Lindsay and Sam "make a lovely couple," says brother's girlfriend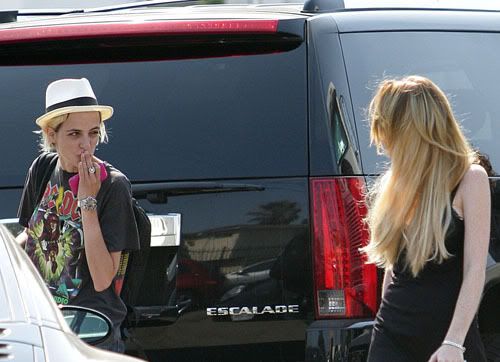 DJ Samantha Ronson is the sister of famed music producer Mark Ronson, 32. Mark Ronson dates British model Daisy Lowe, 19, who told The Mirror that she had the chance to meet Samantha and her girlfriend, Lindsay Lohan, recently. She called them "a lovely couple," and said that they're "genuine" and "so sweet together."
"I met Lindsay and Sam for the first time during the weekend before the Coachella festival.

"Sam is an amazing girl. The four of us had a brilliant time – a real laugh."

And it seems that Daisy is also really taken with legendary party girl, Linds, 22. "Lindsay is really down to earth. Her and Sam make a lovely couple – they seem really happy.

"Their relationship is totally genuine. And they're just so sweet together.

"Mark totally approves. But we're not going to double-date again – I mean, would you go on a date with your brother? It's just a bit weird and anyway they live in LA, so it's kinda difficult.

"But I'd definitely love to see them again."
[From The Mirror via The Huffington Post]
Last month Mark Ronson told The Mirror that Sam and Lindsay "make a cute couple," so I think we have confirmation from Samantha's family. Her brother and his girlfriend sound supportive, and it's nice to hear someone close to the couple say kind things about them.
Lindsay's family hasn't been so gracious in their public comments about her relationship with Sam and have never acknowledged it. Her dad once sent an e-mail to US Weekly which dismissively said their relationship "is evident to anyone with half a brain," but then tried to take it back and claimed that he never saw photos of his daughter holding hands or kissing Samantha. Lindsay's mom denied that her daughter was anything more than friends with Sam. In an interview in mid May she said "They're best friends. They're just friends. It's pathetic what people say." She went on to call the rumors "Silly."
Lindsay and Sam do make a cute couple, and by most accounts Sam is a great influence on Lindsay. It's a shame Lindsay's mom calls the rumors that her daughter is in a healthy and supportive relationship "pathetic," but then that adjective has also been frequently applied to Dina herself. It's also possible Lindsay hasn't come out to her family because she assumes they'll have a problem with it. Dina can justify her daughter's partying and flitting around, including multiple DUI arrests, but when it comes to acknowledging that Lindsay has settled down into a relationship with a woman she just can't wrap her tiny mind around it. You know that if Dina was ok with it she would have made some kind of statement, because she never hesitates to talk about her daughter to the press if it means she'll get some attention too.
Lindsay Lohan and Samantha Ronson are shown on 7/16/08 on the set of Labor Pains. Credit: JC / WENN. Mark Ronson and Daisy Lowe are shown at the Glamour Women Of The Year Awards on 6/3/08. Credit: WENN
Written by Celebitchy

Posted in Daisy Lowe, Dina Lohan, Gay Issues, Lindsay Lohan, Mark Ronson, Michael Lohan, Samantha Ronson

- Zach Galifianakis is awesome [Buzzfeed]
- Prince at the Billboard Music Awards [D-Listed]
- Bieber's Billboard look [Go Fug Yourself]
- Married to Medicine recap [Reality Tea]
- Celebrity first marriages [Pajiba]
- The last Mad Men baffled a lot of people [Lainey]
- Karolina Kurkova's crazy hot dress [Moe Jackson]
- Jennifer Garner on set [Popsugar]
- Kitten vs. Lizard [CDAN]
- Doetzen Kroes' great butt [Celebslam]
- Shameless star Jeremy Allen White [OMG Blog]
- RIP Ray Manzarek [Bossip]
Pages: 1 2 3 4 5 6 7 8 9 10 11 12 13
13 Responses to "Lindsay and Sam "make a lovely couple," says brother's girlfriend"