Pamela Anderson gets 13th Playboy cover, pens ridiculous poem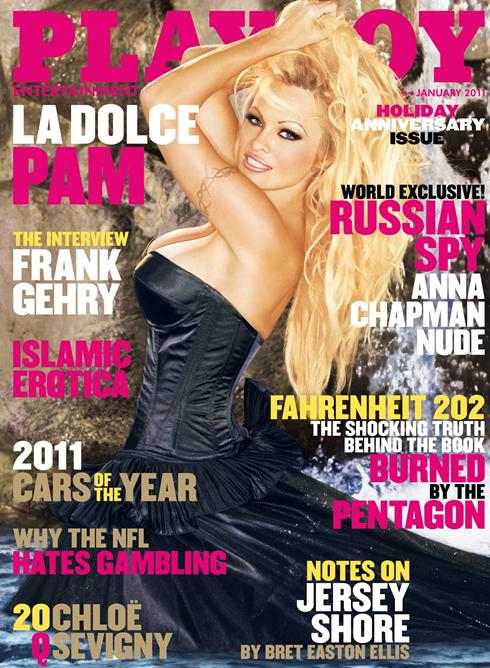 Pamela Anderson may not have the hotness factor going for her at this point, but Photoshop can erase most of her drag queen vibe and restore her to a semblance of her former Baywatch self. Anderson, 43, has earned her 13th Playboy cover with their upcoming January issue, which makes it a new record for the most covers by one woman. There's no word as to how nude she is inside, but again technology has advanced significantly in all the time that has passed since Pammy should have put it away. Anderson did do a "Dolce Vita" themed photoshoot at the Playboy mansion grotto pool in October, and Playboy.com seems to promise that she'll be naked inside. I guess older dudes are the only ones left buying magazines. (I am not slamming women's post-40 hotness factor in any way, just Anderson's. She's over the top and has pulled so many half-dressed stunts that I'm over her. I also can't get over how she does her makeup. She's a mom but never seems to have advanced, style-wise, past her early 20s.)
US Weekly has some quotes from a poem Anderson pens that's inside the magazine, and her 'poem' is just as ridiculous and full of sexual innuendo as you might expect.
Pam Anderson shows off more than her famous assets when she graces Playboy for the 13th time.

The actress-turned-activist displays another little-known skill: she's a poet!

In a poem she penned to accompany the eight-page nude pictorial in the mag's January issue, Anderson, 43, muses about the new Sexual Revolution and the need to do good.

"Our best isn't good enough — right now our eyes are far-reaching," Anderson, who first landed the cover of the mag in 1989. "Please let's show the good in us. . . The brilliance. . . The wonderful. . . It's abundant — it's just not tapped as it should be."

The mother of two, who refers to herself as "just a sex symbol" even calls out "All the negative ads run by our politicians," and urges them to "Put that money to good use."

She also shows her support for President Barack Obama, writing, "So many are with you. . . I can think of many positive parts of now. . . That you spearheaded."

Her final thought? "May all your bombs be bombshells."
[From US Weekly]
I'm sure Obama is thrilled to have Anderson's support. She's thinking of Obama's "positive parts" that he "spearheaded." She must be getting some awesome weed in California fueling her sexy deep thoughts about the President and life in general. She's not as "tapped" as she should be. I'm more interested in hearing what Russian agent Anna Chapman has to say. Now she probably has some excellent seduction and spy tips that she can clearly articulate above a grade school level.
Pamela was reportedly paid only $25,000 for this pictorial. She's going to donate the money to charity, which may not be the best idea considering that she's rumored to be bankrupt.
Also, when are Hef's 20-something sons going to take over Playboy? The dude is not making the best decisions at this point and should hand over the reins already.
Written by Celebitchy

Posted in Pamela Anderson, Photos, Playboy

- Zach Galifianakis is awesome [Buzzfeed]
- Prince at the Billboard Music Awards [D-Listed]
- Bieber's Billboard look [Go Fug Yourself]
- Married to Medicine recap [Reality Tea]
- Celebrity first marriages [Pajiba]
- The last Mad Men baffled a lot of people [Lainey]
- Karolina Kurkova's crazy hot dress [Moe Jackson]
- Jennifer Garner on set [Popsugar]
- Kitten vs. Lizard [CDAN]
- Doetzen Kroes' great butt [Celebslam]
- Shameless star Jeremy Allen White [OMG Blog]
- RIP Ray Manzarek [Bossip]
21 Responses to "Pamela Anderson gets 13th Playboy cover, pens ridiculous poem"