Kourtney Kardashian looks like a different person in a bikini on OK! cover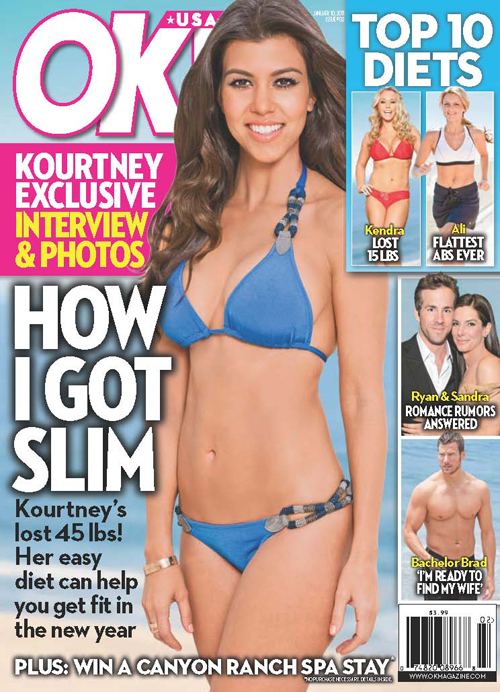 How many Kourtney Kardashian bikini covers have we seen already? Like didn't she lose her baby weight eons ago and already cash in on her minor weight fluctuations with various tabloid covers? A quick review of our archives shows that she scored a Life & Style cover in March about how she lost 33 pounds at that time, and a Life & Style inset feature in April with more diet and fitness secrets. Plus there are all the countless bikini diet covers we've been subjected to featuring Kim, Khloe, and Kim and Khloe, not to mention their various heavily photoshopped bikini ads. (The Huffington Post has even more Kardashian bikini covers in this slideshow.)
So here's Kourtney in a bikini on yet another tabloid cover. They photoshopped her face to the point where there's something "off" about it, like it doesn't really look like her. It looks like they changed the shape of her eyes, doesn't it? Kaiser reminds me that Kourtney has done plenty to her face on her own.
Inside, Kourtney reveals her diet and exercise tips, which feature a lot of plugs for that QuickTrim crap that her sociopath boyfriend shills. (She drinks the shakes, which are ok for breastfeeding moms, unlike the caffeinated diuretic pills.) It's all about eating frequent small healthy meals and doesn't contain any particularly groundbreaking advice.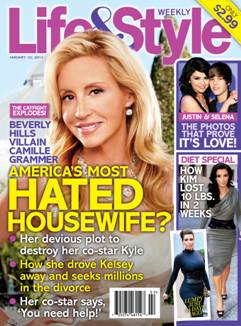 Kim Kardashian is also shown in an inset on Life & Style this week, with the title "How Kim Lost 10 Pounds in 2 Weeks." This must be that 10 pound weight gain she was complaining about in mid December, and sounds like the same article as her "revenge body, 5 pounds in 5 days."
I think the takeaway here is that the Kardashian sisters somehow became the most prominent faux celebrities in 2010, despite the fact that you would be hard pressed to find anyone who would admit to being a fan. It's reached the point where minor weight losses earn them tabloid covers and extensive interviews. They're probably yo-yo dieting on purpose to enhance their brand.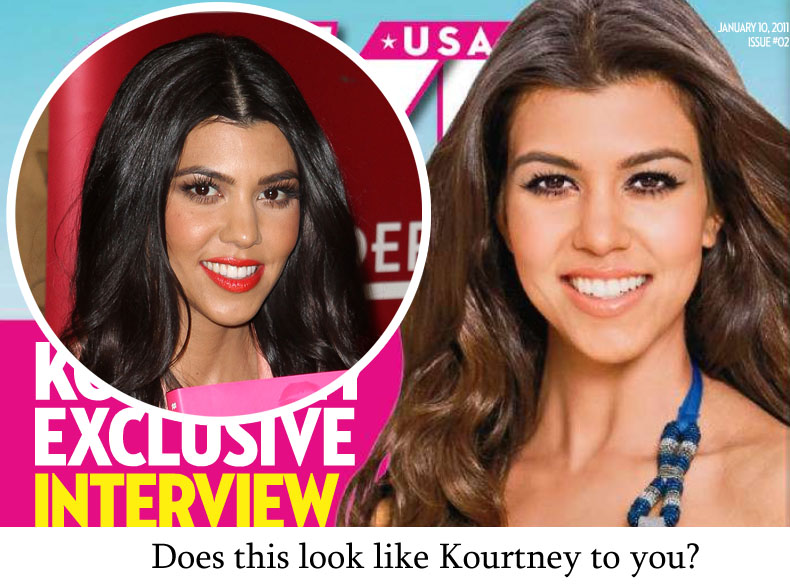 Written by Celebitchy

Posted in Diets, Kourtney Kardashian, Weight Loss

- Friends reunion on Ellen [Popsugar]
- Lindsey Vonn watches Tigers kids [Lainey Gossip]
- George Michael fell out of a car going 70mph [D-Listed]
- Real Housewives of Orange County recap [Reality Tea]
- New Man of Steel trailer [Pajiba]
- Jared Padalecki's hot bod [Buzzfeed]
- Doctors confirm Taylor Swift's new boobs [Evil Beet]
- Catherine Zeta-Jones finished treatment [CDAN]
- Anna Paquin hates the paps [Celebslam]
- Lance Armstrong is gross [The Blemish]
- What is Barbara Palvin wearing? [Moe Jackson]
- This is Petra Nemcova? [SVC]
27 Responses to "Kourtney Kardashian looks like a different person in a bikini on OK! cover"