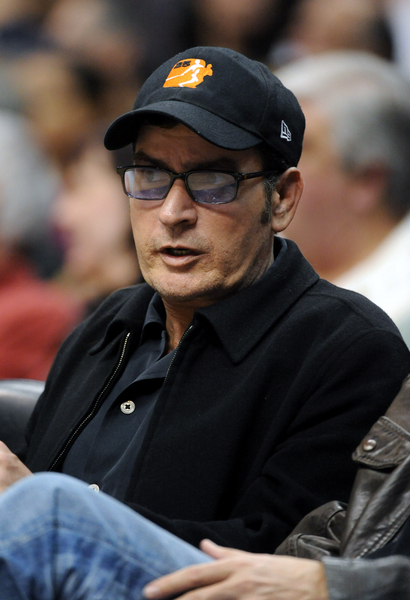 Charlie Sheen was the very first celebrity that host Ricky Gervais roasted at last night's Golden Globe ceremony, and he was a natural choice since his antics are so outrageous and well documented. Gervais didn't even mention Charlie's latest orgy in Vegas with a bunch of hookers at a porn convention, and focused on his hotel room freakout. I loved the way Gervais explained it: "It's going to be a night of partying and heavy drinking, or as Charlie Sheen calls it, breakfast. Let's get this straight, he picked up a porn star, paid her to have dinner with him, introduced her to his ex wife, as you do, went to a hotel, got drunk, got naked, trashed the place while she was locked in a cupboard. That was a Monday. What did he do on New Year's eve?"
Well we know that Charlie topped that incident with a Vegas blowout that had him missing work afterwards due to an "ear infection" that his people swore was legitimate. The President of CBS was asked in a press conference about Charlie's latest antics, and she spoke candidly about how concerned they were, but seemed to suggest that the popularity of Sheen's hit show Two and A Half Men trumps the fact that he's an abusive, womanizing creep. At least that's what I took away from it:
CBS Entertainment president Nina Tassler told the nation's TV critics this morning that "we have a high level of concern" about Charlie Sheen and the reported personal problems that he may or may not be wrestling with off-camera, but expressed confidence in his professionalism on the network's hit show, Two and a Half Men. "I personally thought a lot about this," said Tassler, choosing her words carefully. "We have a high level of concern. How can we not? Let me speak personally first. On a very basic human level, I am concerned of course. This man is a father, he has children, he has a family."

"You can't look at it simplistically," she continued. "Charlie is a professional. He comes to work, he does his job extremely well. We are taping tonight. It's very complicated, but we have a very good relationship with Warner Bros. TV. We have tremendous trust and respect with the way they are managing the situation. On a personal level, we obviously have concern. On a professional level, he does his job and he does it well. This show is a hit. That's all I have to say."
[From EW.com]
Maybe if CBS lost advertisers they'd feel differently about Charlie Sheen. As it is, he only abuses hookers and whichever women are naive enough to marry him, so he's getting a pass.
Charlie sheen is shown on 1/16/10 at a Cleveland Cavaliers and LA Clippers game. Credit: PRPhotos