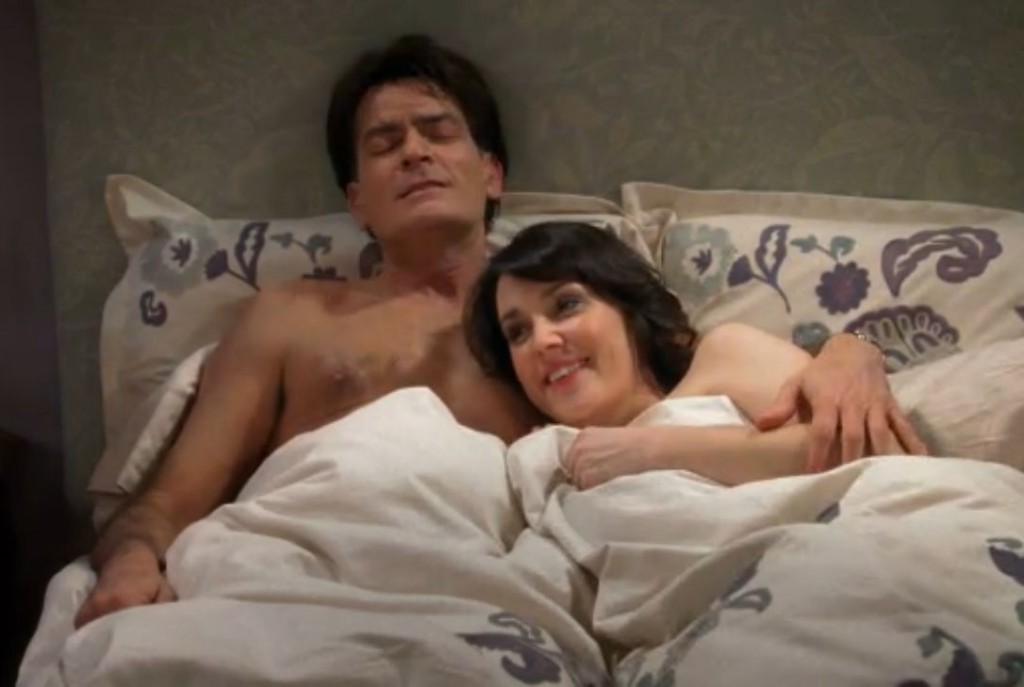 I watched the last episode of Two and a Half Men online just out of curiosity to check out Charlie Sheen's health. He really looked bad, thin with ashen skin and I could see that his teeth weren't real. He looks like such an addict, but that's the role he plays so I guess it works for him. The show was mildly funny and entertaining but there were plenty of cringe-worthy lines and stupid plot twists. It remains incredibly popular, though, and without Charlie Sheen the show won't go on.
Creator Chuck Lorre made his feelings known about Charlie's lifestyle. He has "vanity cards" that he flashes during the end credits for two seconds for each of his shows. The ones he put up this week for both Two and a Half Men, and his show that followed, Mike & Molly, seemed to reference Charlie:
After Two and a Half Men
I exercise regularly. I eat moderate amounts of healthy food. I make sure to get plenty of rest. I see my doctor once a year and my dentist twice a year. I floss every night. I've had chest x–rays, cardio stress tests, EKG's and colonoscopies. I see a psychologist and have a variety of hobbies to reduce stress. I don't drink. I don't smoke. I don't do drugs. I don't have crazy, reckless sex with strangers.

If Charlie Sheen outlives me, I'm gonna be really pissed. – CLP

After Mike & Molly
He felt dead inside.

No matter how hard he partied, he could never escape that simple fact – inside, dead.

And that was his life.

Running from a feeling.

At least until he could run no more.

Exhausted, spent and beaten, when the end finally came, he welcomed it.

With life ebbing from his wasted body, he was suddenly swept up in a transcendent state of joy that was pure and complete.

Moments later he felt dead inside.
[From Chuck Lorre Productions]
So Lorre is saying that Sheen is headed for a quick death, but that he may surprise everyone and outlive even the cleanest living among us. He's concerned about the guy, but he also probably hates that Sheen is holding up production on one of his most popular shows.
According to TMZ, Sheen is ok with Lorre's messages to him, and sees the one after Two and a Half men as "a nice gesture." There's a lot of contention on set over the fact that Lorre canceled a scheduled four out of the eight remaining episodes this season out of concern for Sheen's health.
Meanwhile Nicole Richie was cohosting The View yesterday and when the topic of Charlie Sheen came up she hit the nail on the head. She said that in his recent radio interview, in which he said producers better start work on Two and a Half Men soon because "I unravel pretty quickly," he wasn't taking responsibility. Nicole said "I don't think he should make it somebody else's responsibility to keep him sober. If he wants [his sobriety] to last for a long time, it's up to him. He's an adult and he needs to take responsibility for his actions." Nicole should know, she had multiple DUIs before she got sober and got her act together.