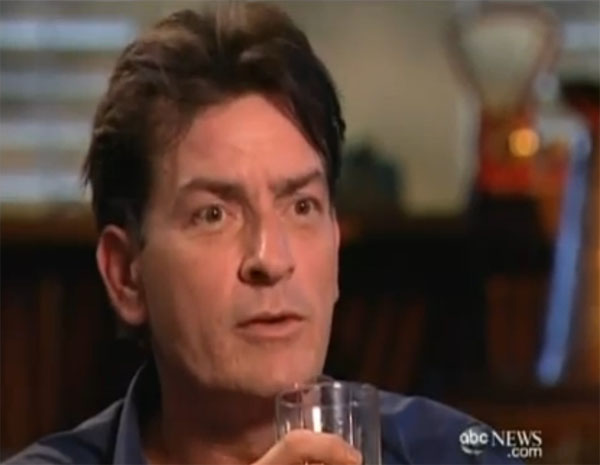 Charlie Sheen's 20/20 episode was watched by over 9 million people, drawing in the highest ratings for the show in two years. As we mentioned yesterday, a rerun of Two and a Half Men Monday night was the highest rated show of the evening on any network. On 20/20 Sheen was bragging that he exposes "people to magic, I expose them to something they're otherwise never going to see in their boring normal lives." That's true for me, I've never witnessed the insane ravings of an addict like this before and for that I consider myself lucky. I've seen people wandering around the street muttering to themselves, but I've never paid attention.
Sheen is now on Twitter, having joined on Tuesday night. I'm impressed that he's only Tweeted a single page and that he seems to grasp the nuances of Twitter. One of his "goddesses," stage name Bree Olsen, is also on Twitter and may have taught him the ropes. He has over a million followers already.
Donald Trump recently sung Charlie's praises. He called him a "winner" and said "I think they are going to end up signing him for a lot more money then he was getting paid in the first place. It's all about ratings in this crazy business and if you have ratings you can be the worst person in the world but they will sign you."
Charlie may not be the worst person in the world, but he sure is a scary, abusive SOB when he's not bragging about how evolved and different he is than the rest of us relatively sober peons. In Brooke Mueller's declaration to the court requesting a restraining order, she detailed an incident in October, 2009, in which he pushed her, causing her to hit her head on a couch and to black out. She went to the hospital afterwards and has photos, witnesses and a written apology from Charlie. This happened prior to the Christmas 2009 incident in which Charlie choked Brooke, held a knife to her throat for 20 minutes and threatened to kill her. Of course Charlie claims he's never hit a woman, which could technically be true. Shooting, choking, pushing and threatening to send someone's head to them in a box are not "hitting."
Brooke also has an anti-semitic text message that Charlie sent her in which he calls his manager a "stoopid jew pig" and says he "must execute" him. Charlie claims that Brooke framed him by taking control of his phone and sending herself the message, meanwhile Brooke has an alibi and was filming a reality show with Paris Hilton that day.
Brooke admitted in her court declaration to doing drugs with Charlie during their brief reconciliation a couple of weeks ago. (See this picture.) She claims to be working on staying sober and is in day treatment (again) now that she's retained custody of the children. Charlie is of course using this to try and smear Brooke. A new article in US Weekly claims the twins are in "a really bad situation" and that "Brooke is just as bad as Charlie." She's obviously an addict too, but I find it hard to believe that she's even marginally close to being as whacked out as Charlie, or that the twins are worse off with their grandmother, Brooke's mom, than they were with a couple of porn stars.