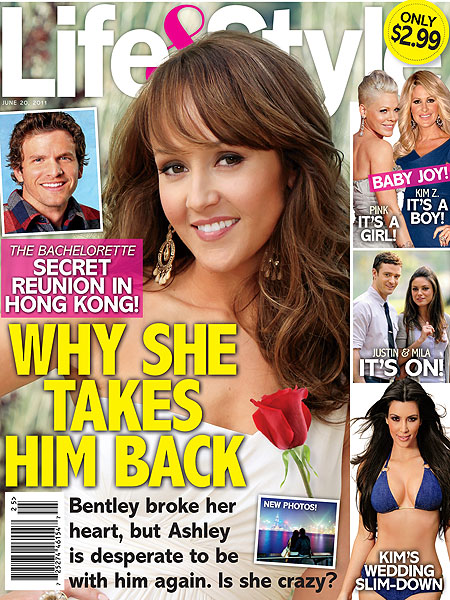 I will freely admit that I don't watch The Bachelorette, like more freely than if I did watch it. From what I know from the mocking recaps on The Soup, one of the biggest plot points this season was Ashley getting hung up on a jerk named Bentley who treated her like crap, left the show on his own volition, and whom she still kept talking about constantly. (Here's a link to a clip of The Soup where they compiled all the times she mentioned him.) Bentley came back to the show in episode six for Ashley to get closure because she was still supposedly pining for him. Like a lot of this ridiculous show, that whole Bentley plotline was cooked up by producers, according to the National Enquirer. I believe it. It would make more sense than Ashley falling for the guy after the way he treated her. Here's part of the Enquirer's report:
"Ashley really wasn't a strong 'Bachelorette' and producers knew it," revealed a show insider.

"Usually the contestant understands that she has to perform. They'll act out their own little scripts while the producers nod and wink."

But naive Ashley didn't get it in the beginning – so they rigged it, say sources. Producers reportedly decided to cast divorced, Utah-based business owner Bentley as a villain -and Ashley allegedly got on board, according to the insider.

"Before she even met the guys, Ashley set the stage by telling show host Chris Harrison she's been warned about Bentley," explained the insider. "She then goes on to play the doormat to Bentley's cad."

Acting every bit the bad guy, Bentley, who left in the third episode, made crude remarks about Ashley's body, her "boring" kiss and "overall attractiveness."

In an outrageous travesty, Ashley pretended to be smitten with Bentley even as he was trashnig her, said the insider.

"It was the most exciting story line on the show – and when Bentley left, things started to fall apart."

Producers quickly realized that dental student Ashley was boring – and without Bentley, "The Bachelorette" was downright dull.

Fearing that viewers might flee in droves, execs brought back their villain in episode 6.

"Bentley's return was a completely manipulated and scripted event that Ashley was talked into and coached through," said the insider.
[From The National Enquirer, print edition, August 8, 2011]
I guess that's not surprising at all. It sucks for Ashley in that she's been stepped on all over the place and has been made to look like she's too stupid to know any better when that may not have been the case.
Ashley is down to two suitors, J.P. and Ben. If you want to know who she chooses and how their relationship supposedly turns out, go here for major spoilers. Given that hardly anyone who has ever been matched on these shows is still together, I think you know the outcome.
Entertainment Tonight has a clip from the upcoming finale on Monday in which Ashley's sister challenges her about her choice (they don't reveal which man it is) and says that Ashley seems to have had stronger feelings for the last bachelor, Brad Womack. Ashley's sister is a real bitch to her, but given how fake this show is she was probably put up to it.