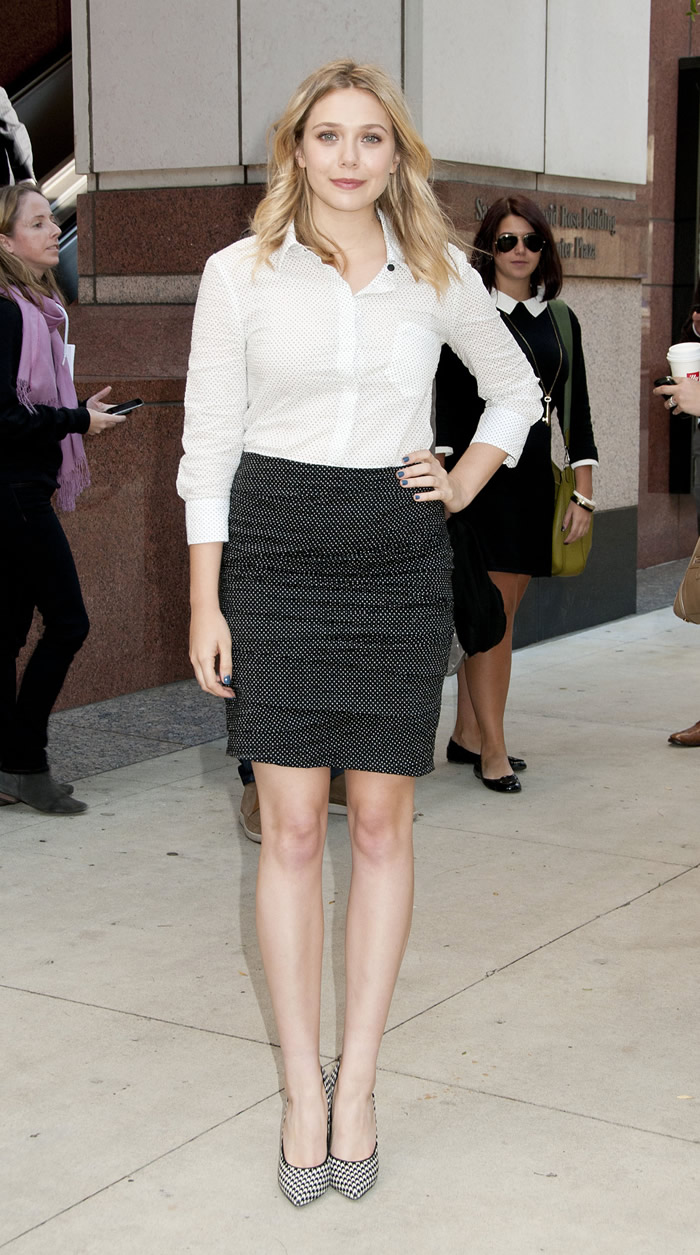 Elizabeth Olsen is now on the tabloids' radar whether she likes it or not, and I'm guessing that she's not thrilled about it at all. Lizzie, who was blurbed in the October issue of GQ, admitted that she chose her low-key approach to acting (i.e., becoming an indie actress) after watching sisters Mary-Kate and Ashley get chased by the paparazzi on a daily basis. Smart move, right?
In addition, the Enquirer has also heard from a source that has confirmed what I already suspected; that is, Lizzie very much wants to succeed without any help from her already famous twin sisters. However, the Enquirer also sounds an alarm that Lizzie is living in relative squalor compared to the twins, who have recently sold out of their $39,000 fug backback and have been touted by Newsweek as "America's Next Billionaires." In sharp contrast, Lizzie lives on the Lower East Side of NYC in a "seedy" neighborhood close to the Samuel Gompers houses that comprise hi-rise public housing towers. The Enquirer seems a bit reactionary here at best:
Her twin sisters Mary-Kate and Ashley are worth a cool $100 million, but up-and-coming actress Elizabeth Olsen is determined to make it on her own!

The ENQUIRER has learned the famous twins' 22-year-old sis lives in a rough New York City neighborhood that's rife with drugs, robberies and murders!

"Mary-Kate and Ashley would do anything for Elizabeth — even put her up in a $1 million apartment," the source divulged. "But she turned down their offer recently and decided to live in a 500-square foot apartment next to a laundromat in a seedy Lower East Side neighborhood instead."

A local resident told The ENQUIRER: "A ton of drug dealers work around here, and it's violent. You have to watch your back. People have guns and they don't mess around. They don't care who they kill!"

In June, a 23-year-old man was gunned down outside a pizzeria near Elizabeth's apartment. And in October 2010, a shooting on her street left three men injured. Four blocks away, at the New York Police Department's busy 7th Precinct, cops have dealt with five murders, eight rapes, 85 robberies, 59 burglaries, and 215 grand larcenies so far this year.

But amid the squalor and chaos, Elizabeth is becoming recognized for her talents. In fact, her upcoming role in the psychological thriller Martha Marcy May Marlene is generating Oscar buzz before its Oct. 21 release.

The pretty younger sister also stars with Robert DeNiro and Signourney Weaver in the upcoming 2012 mystery Red Lights. And she was tipped to play the character of young Carrie Bradshaw in the upcoming "Sex and the City" prequel, but turned down the role.

Elizabeth attended a private school in Beverly Hills for 13 years, graduated from the NYU Tisch School of the Arts and honed her skills at the Atlantic Theater Company in New York.

And while her big sisters run three billion-dollar fashion companies, Elizabeth claims she's led a normal life.

"I consider myself lucky to have such a normal family," she said in a recent interview. "I have to attribute the way that I have always looked a work to my father because he was a really good influence on us. It was always very important to him that his daughters be financially independent … witnessing how my sisters can take care of themselves financially is a great model to have."

The source added: "Having turned down Mary-Kate and Ashley's generous offer to live in a decent place shows that Elizabeth wants to do things her way. She looks like a star in the making, and the fact that she's lived a 'real life' s bound to help her make it to the top!"
[From Enquirer, print edition, October 24, 2011]
Well, okay. The thing about New York, however, is that everything is so compact that (in some cases) really high-end neighborhoods are literally around the corner from the ghetto. And no matter what, living in NYC is an expensive endeavor. So even though Mary-Kate and Ashley have allegedly offered to purchase a $1 million apartment for Elizabeth, the truth of the matter is that it wouldn't be much of an upgrade, space-wise. Yes, she'd probably be in a much better neighborhood and might even have a nice view, but we're still probably talking about a one-bedroom apartment. So I'm inclined to believe that Lizzie doesn't mind doing the "starving artist" bit for awhile until she can afford a better place on her own. And if she continues to draw the buzz like she has with her Martha Marcy May Marlene performance, it won't be much longer until that happens.
In addition, this story has made me reconsider the question of whether Elizabeth has been the victim of too much Photoshop and/or some overzealous cosmetic tweaking. At this point, I think she might have had an early nose job but hasn't tweaked further. If she can't afford to live in a better neighborhood, then how on earth could she manage regular visits to a surgeon? After all, Lizzie's not making huge money at this point doing these indie movies, and she's refused to join the commercial blockbuster route with the "Sex and the City" prequel. By the way, that last bit is seriously awesome.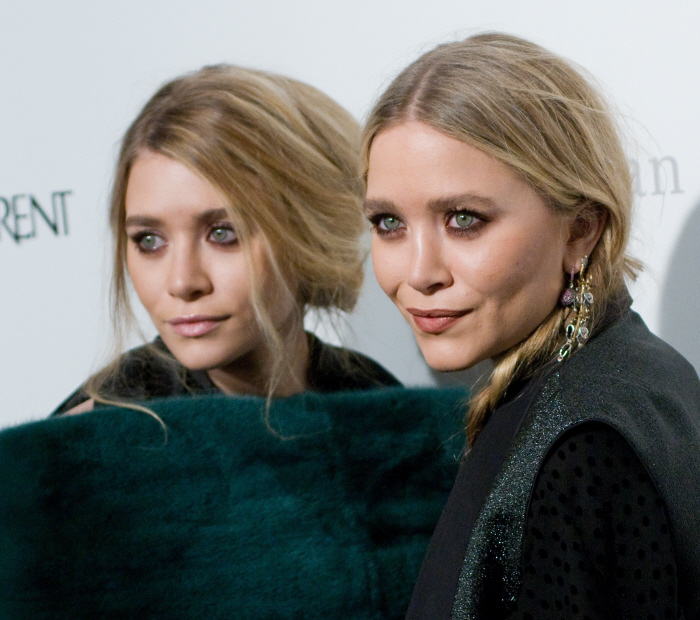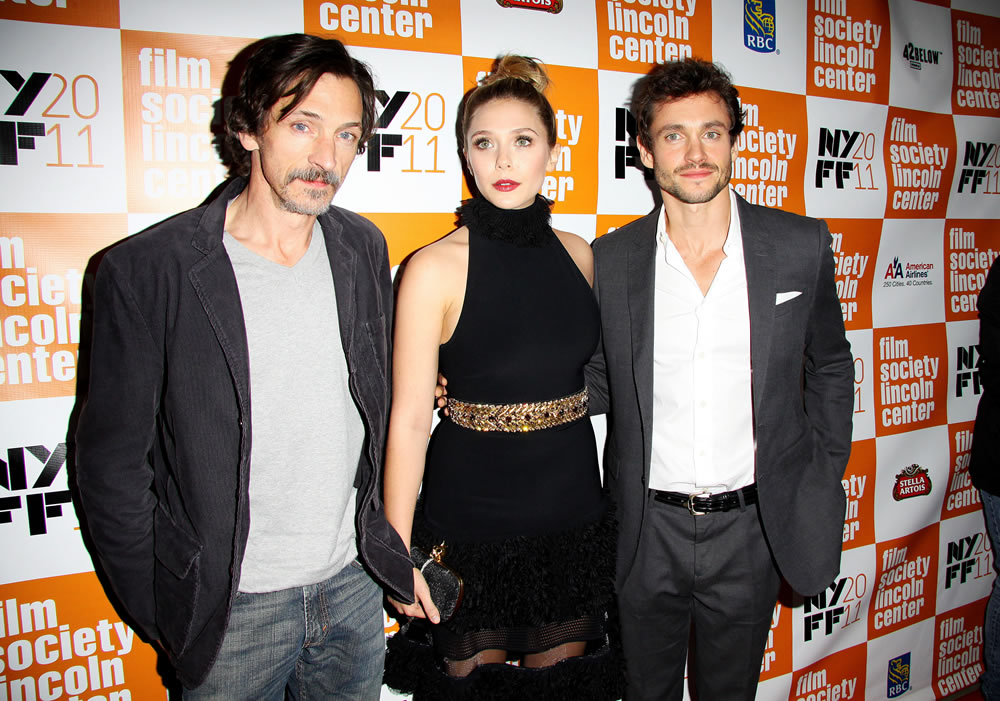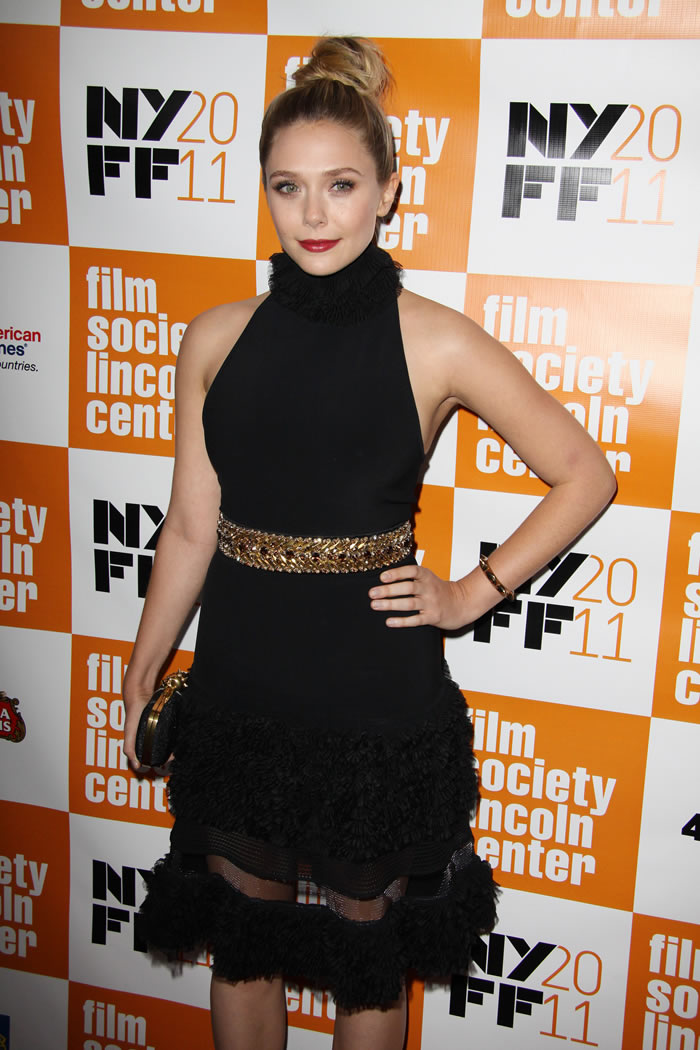 Photos courtesy of WENN and Fame