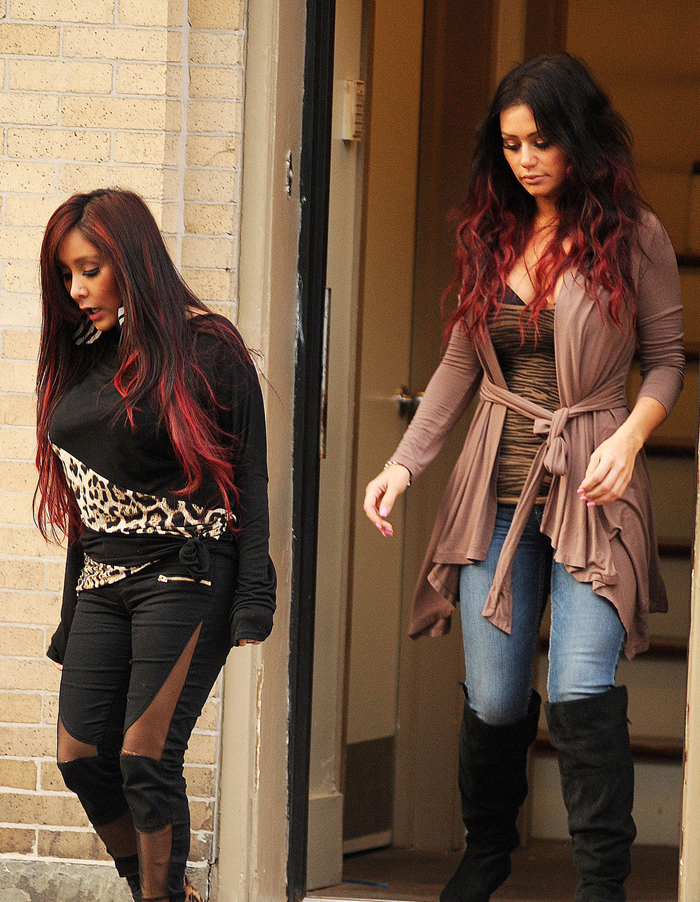 The Snooki and J-Woww "Jersey Shore" spinoff (which is partially funded with taxpayer money) has commenced filming, and the show has a horrific name — "Snooki and J-Woww vs. The World" — that sort of makes sense because a neighboring Jersey City wine shop has banned the girls from entering the premises. Well, there's more than one liquor store in the city, and the pair have found many stores that will accept their patronage. The Mail has some photos of the girls out shopping with a barefaced J-Woww proving that she really hasn't had plastic surgery on her face. Makeup really makes a difference in her case, but there's no accounting either J-Woww or Snooki's taste. Snooki has already had a zebra-print couch delivered to the house, and here are some photos of the girls decorating with their awful style sense that mostly includes hot pinks and animal prints.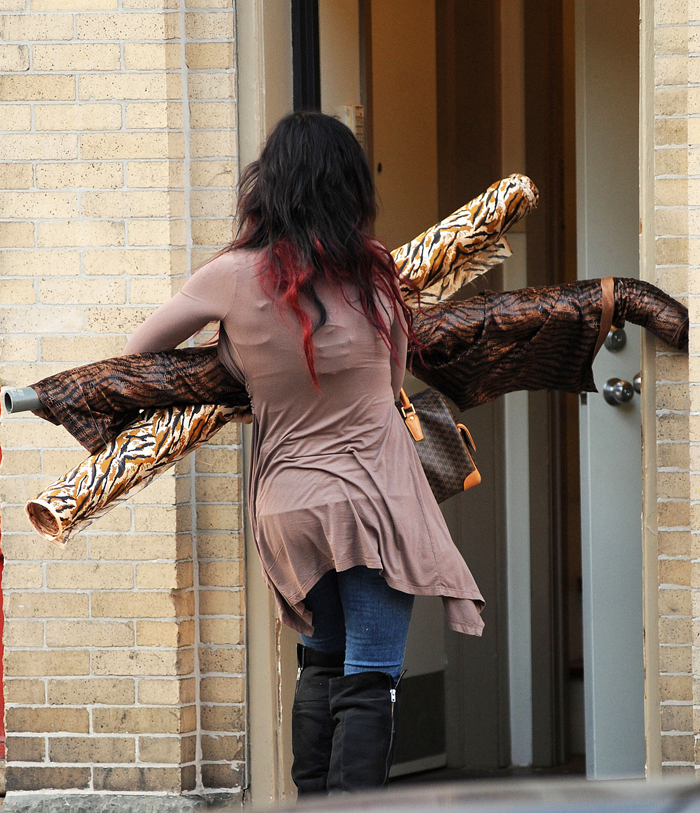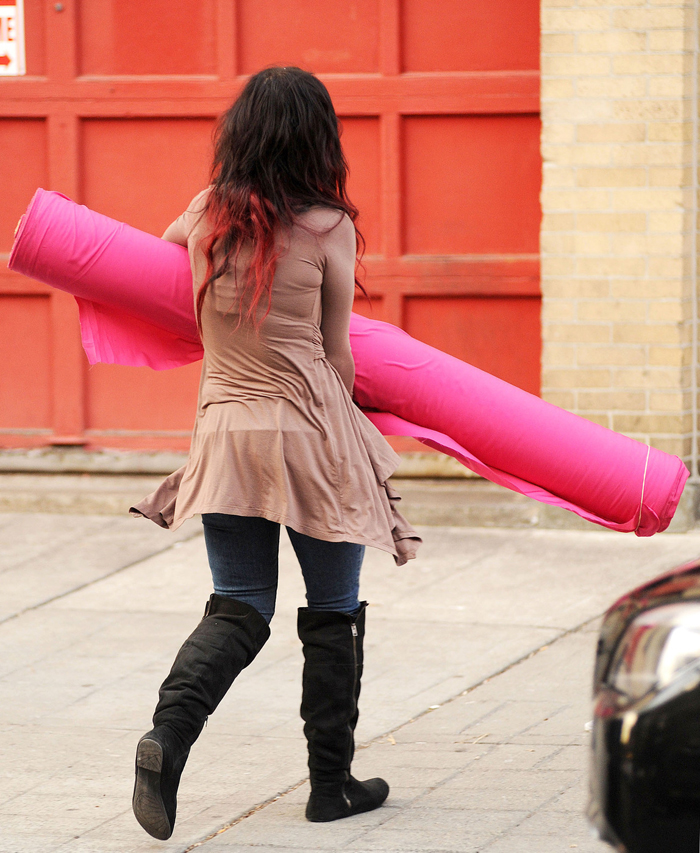 Now onto the better part of this story, which hints at Nicole Polizzi's possible budding sense of entrepreneurship and planned persona. Sometimes (although only for a few moments), I start to believe that the Snooki alter ego is merely an act, but then I realize that "Snooki" is mostly a drunken byproduct. A prime example of this would be last week's "Jersey Shore" episode where Deena's fake eyelashes fell off, and Snooki made a crack about them swimming in the Pacific ocean. As such, I am fairly certain Snooki is merely an extension of Nicole's actual personality and not so much an act as what she's really like when the booze flows and the guard goes down. However, some people think that Snooki is more clever than she appears, and this lastest story goes back to the early February rumors that Snooki was knocked up with Jionni LaValle's orange baby. At the time, Snooki denied being preggers, but the Post has talked to a source that claims that Snooki was lying and is just pretending not to be pregnant until her brokered announcement deal with Us Weekly comes to fruition:
The universe's collective IQ should prepare to drop a few points.

Though she has publicly denied she's expecting, sources say trashy "Jersey Shore" guidette Nicole "Snooki" Polizzi is indeed pregnant and has plans to bankroll her mommy-to-be status into becoming "the next Kourtney Kardashian."

We're told Polizzi, 24, is carrying her first child by boyfriend Jionni LaValle, and is roughly three months along.

Sources said the reality star, who denied being preggers earlier this month, has already brokered a deal to announce the news on the cover of Us Weekly after she shopped the story to several celebrity magazines.

But sources tell Page Six that MTV is worried about how to manage the news, given that Polizzi's hard-partying, booze-swilling ways have just been turned into a "Jersey Shore" spinoff with Jenni "JWoww" Farley, which has begun shooting in New Jersey.

"MTV went into crisis mode after they found out," said a source. "They're trying to hide it because it would greatly affect the creative direction of the show." The untitled new show has just begun taping and focuses on the ladies' relationship as friends and roommates — and whatever adventures come their way.

Star magazine reported a few weeks ago that Snooki was pregnant but had told "only her close friends and family." But Polizzi went on "GMA" on Feb. 2 to tell Lara Spencer, "I definitely do want kids, but I'm not pregnant . . . Being pregnant should be a real thing and a happy thing, and I'm not."

Since then, Polizzi, who last year lost 20 pounds off of her 4-foot-9 frame by working out, eating healthy and taking a weight-loss supplement, has started filming her new show in Jersey City. Photos taken on the set shown her carrying large bags to hide her belly.

A rep for MTV said the network "doesn't comment on series in production." Polizzi's rep declined to comment.
[From Page Six]
LMAO at MTV fearing that Snooki's knocked-up status will affect the "creative direction of the show" … as if it's a statement of art to point a camera at Snooki while she does idiotic things like frolic in the ocean surf during high tide. As for the alleged method of Snooki carrying giant bags to hide her belly, that's a total wash too because she always carries outrageously huge purses. Then again, most "normal"-sized items do look humongous when itty-bitty Snooki carries them.
However, I can believe that Snooki's really pregnant and has merely brokered a deal to announce her status at a strategically-timed point. What I don't believe is that she dreamt up the plan herself — either MTV told her to wait before announcing, or her ever-present father told her to get paid.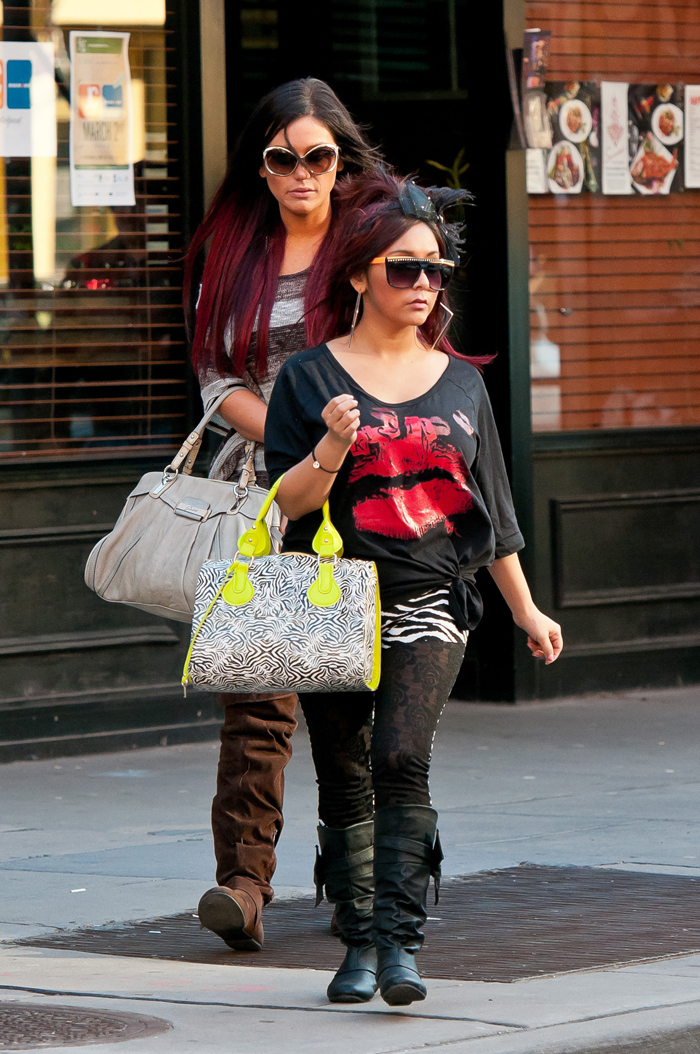 Here's J-Woww with her two dogs outside the new home base. I think the little one is named "Lean Cuisine."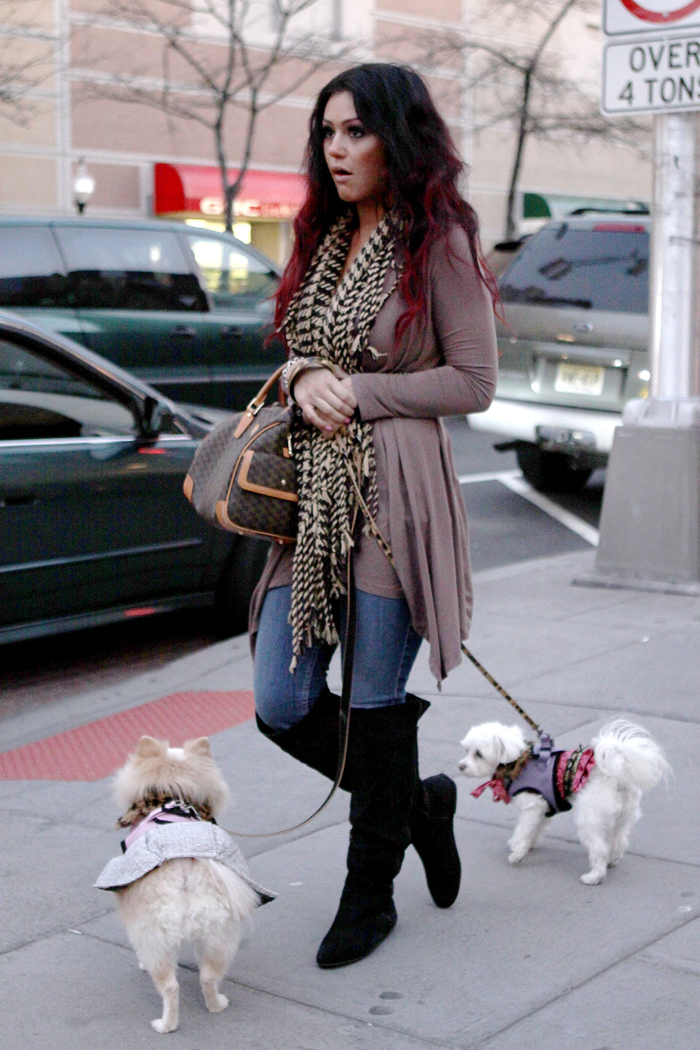 And here's a photo of Snooki's own customized Cadillac pickup truck with gaudy pink accents and "Boss Lady" emblazoned on the back as well. Such revolting taste!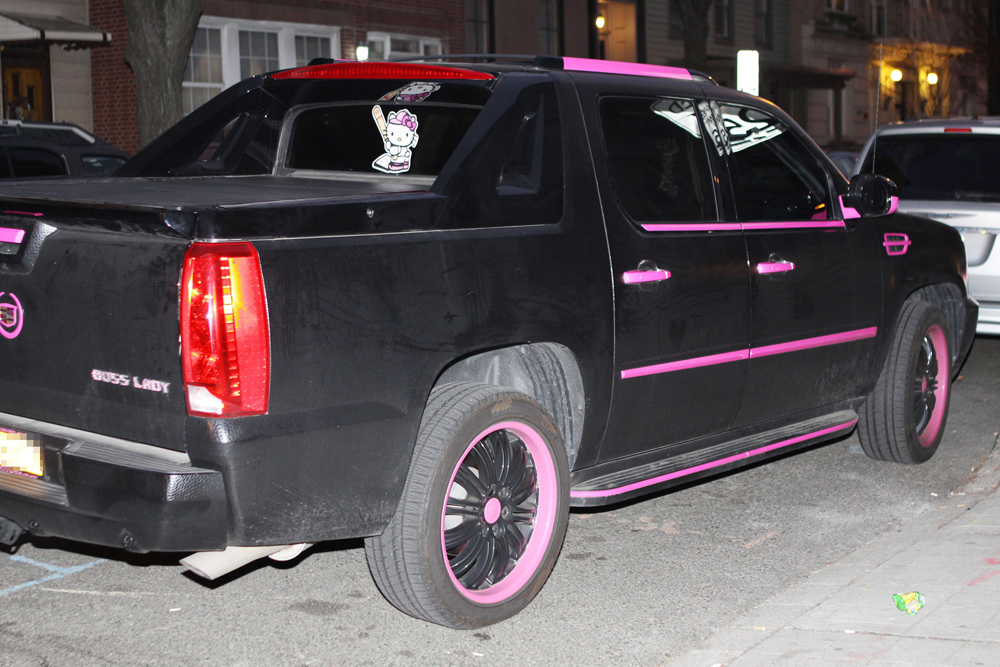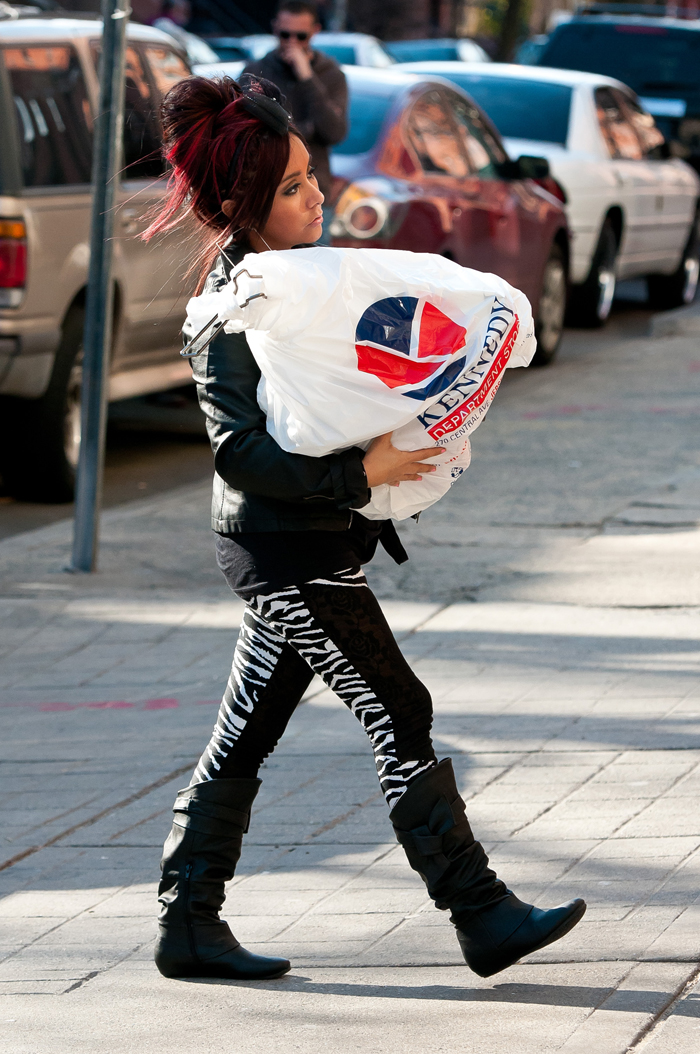 Photos courtesy of WENN and Pacific Coast News