Megan Fox steps out with Brian Austin Green: does she look preggers yet?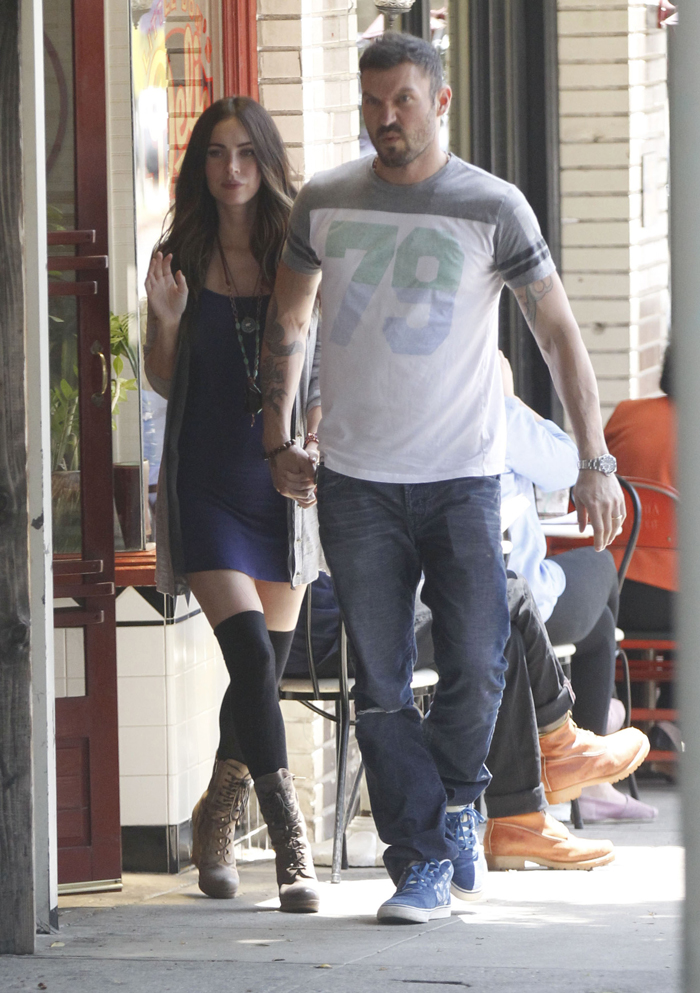 A few years ago when Megan Fox was still playing up her sexpot image for the Transformers franchise, I probably would never have believed that there would come a day when we'd be on "Megan Fox Womb Watch," yet we've been in this limbo for months now. Rumors of Megan's alleged pregnancy with husband Brian Austin Green began to circulate in late March. A few weeks later, E! News unoffically broke the news as well even though Megan refused to confirm it, and then Megan shut down an ET interview when the interviewer got pushy about the subject. Then in mid May, Star published a story about how Megan is already five months pregnant, which would mean that she'd be nearly six months pregnant by now, right?
Now here are some photos of Megan over the weekend with Brian, and Fame/Flynet isn't even playing around anymore — they've labelled these photos as depicting a "pregnant" Megan. Honestly, does she look knocked up to you? She certainly doesn't look six-months pregnant to me. There's a slight bump, but that could easily be explained away by posture or the way the dress moves.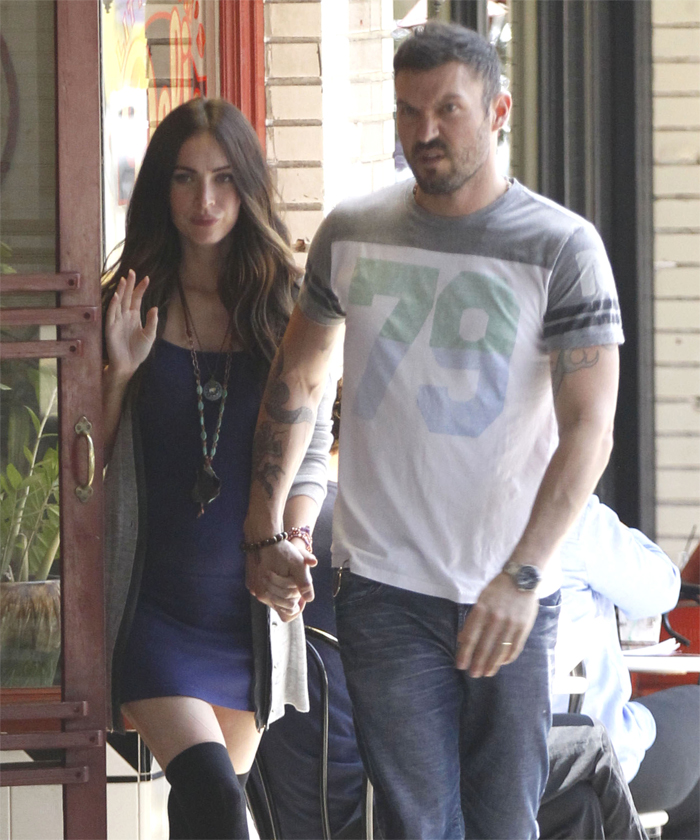 Regardless of the fact that Megan is already a tiny person and still looks super tiny, The Mail has also now decided that Megan is definitely pregnant as well and has based this decision on Brian's "protective" stance — supposedly he's covering up Megan's stomach with his arm. That seems like a bit of a stretch, no?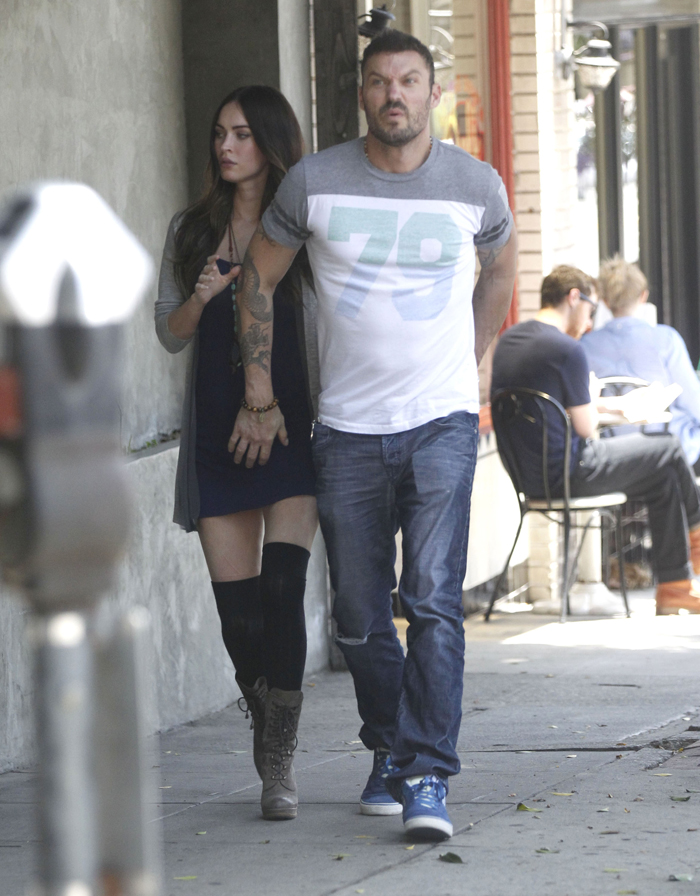 She is yet to confirm reports she's expecting her first child but as husband Brian Austin Green put a protective hand on his wife Megan Fox's tummy this weekend, it seemed their body language said it all.

The couple stepped out for lunch in Los Angeles on Saturday with Brian striking a protective stance.

But the actress looked serene holding her husband's hand as she stepped out in a mini-dress and schoolgirl style over-the-knee socks.

Faced with rumours she's expecting, the Transformers star has made an attempt to stop undue speculation by covering up in baggy clothing whenever possible.

But she went in favour of a more bodycon look for their luncheon in Los Feliz on Saturday.

Megan, 26, layered necklaces over her blue mini, paired with a long grey cardigan that skimmed just below her hem.

The actress looked stunning as ever, wearing light make-up while her hair fell in waves just below her shoulders.
[From The Mail]
Beyond the eternal "is she or isn't she?" question, I have to say that this very simple outfit is absolutely stunning on Megan. I like the little dress paired with the longish sweater, and those stockings are adorable (yet not schoolgirlish), but I really love the boots. Megan looks so much better when she's going for the casual, natural look instead of the plumped up, vixenish vibe that she usually wears for premieres. I don't know whether or not she's pregnant, but Megan really looks pretty here. Is she glowing? Who knows.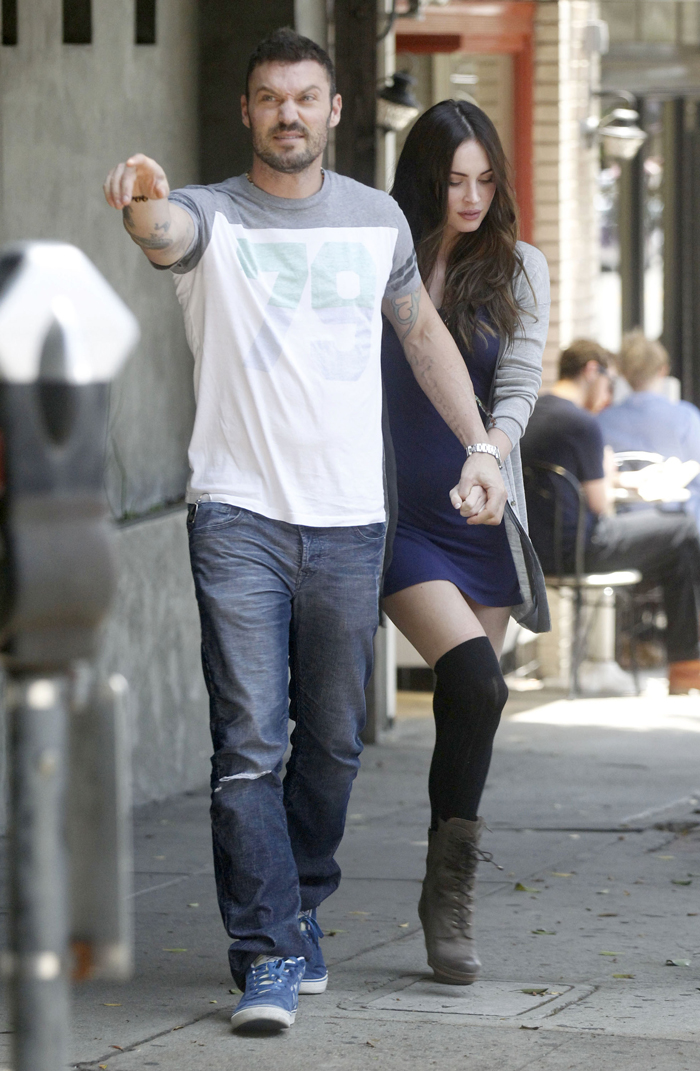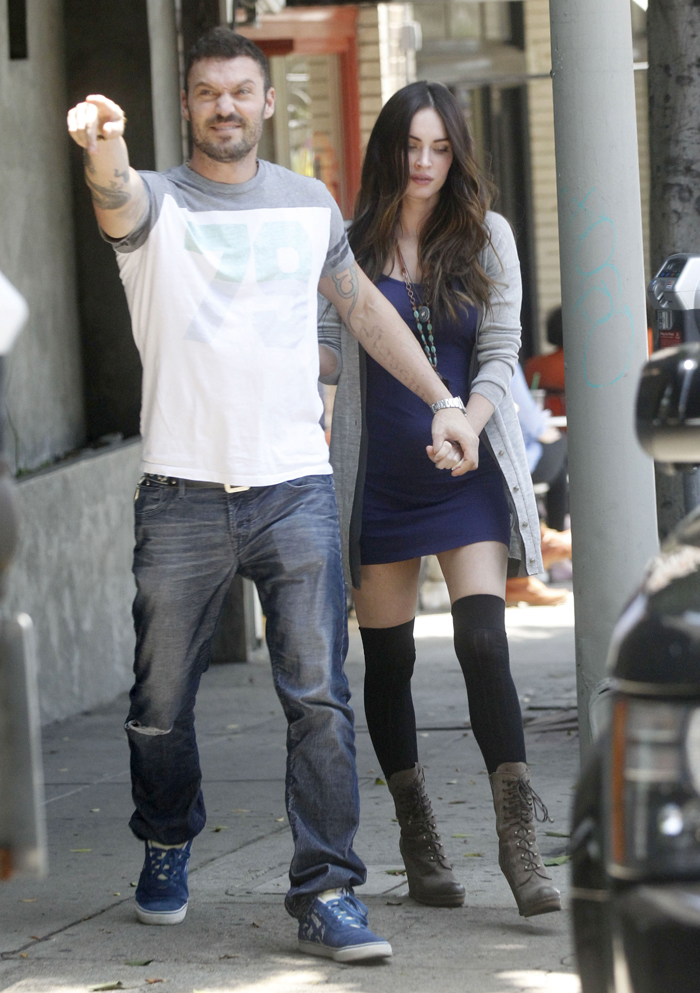 Photos courtesy of Fame/Flynet
Written by Bedhead

Posted in Brian Austin Green, Megan Fox, Pregnant

- Mariah Carey lip synced on American Idol [CDAN]
- Colin Firth is looking good [Lainey Gossip]
- Internet celebrity charged with murder! [D-Listed]
- What is Paz Vega wearing? [Go Fug Yourself]
- New bachelors on The Bachelorette [Reality Tea]
- Goodbye to The Office [Pajiba]
- Bachelor Sean's fiance cheats on him [Evil Beet]
- Britney Spears out with her man [Popsugar]
- Nina Dobrev works it [Popoholic]
- Cindy Crawford needs to lay off the 'tox [Celebslam]
- Who said it: Carrie Bradshaw or The Dalai Lama? [Buzzfeed]
93 Responses to "Megan Fox steps out with Brian Austin Green: does she look preggers yet?"