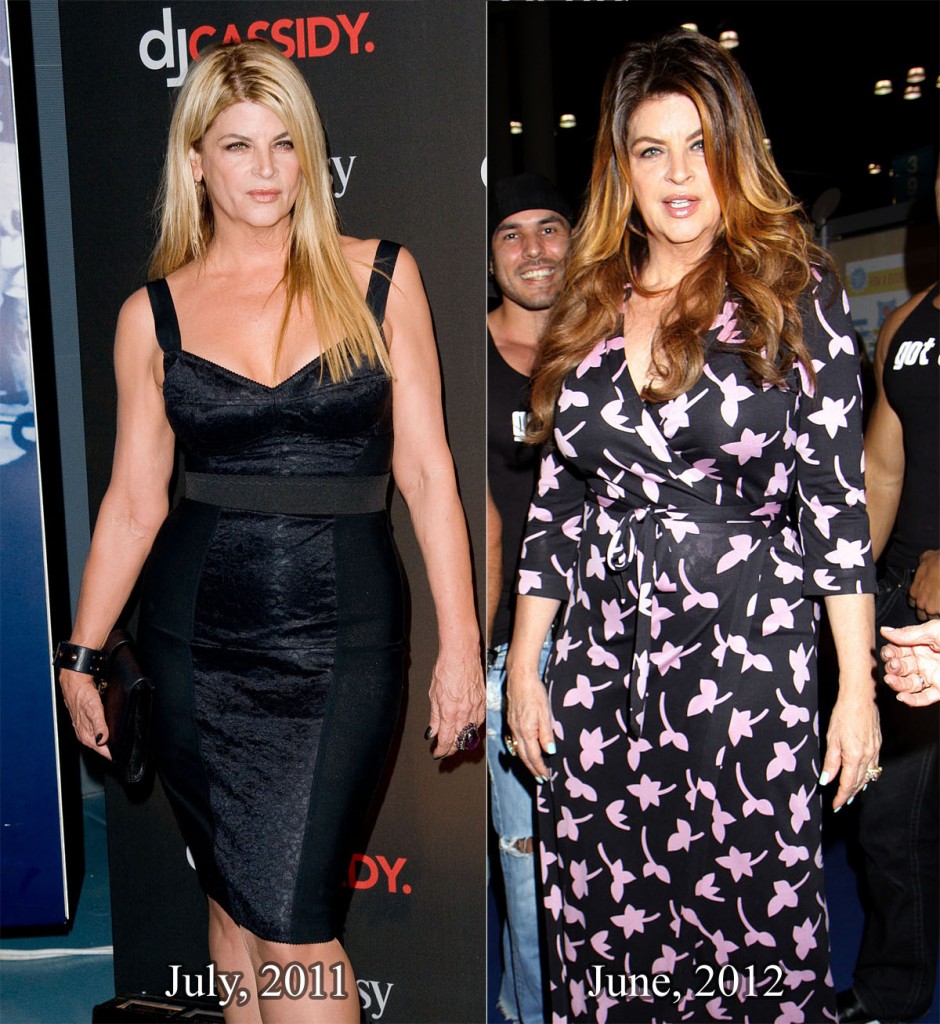 It's hard to recap all the times that Kirstie Alley has gained and lost weight again, but I'll try to give a general overview. Kirstie lost weight as a Jenny Craig spokesperson as part of an endorsement deal with them that began in 2005 and ended with her being fired in 2008 for gaining the weight back. Then she did this whole media blitz in which she said she was going to start her own weight loss brand (she eventually did, two years later in 2010) but prior to that she admitted that she'd gained something like 83 pounds, although it was probably more. Then she went on Dancing with The Stars, lost weight, started a Xenu diet brand of overpriced vitamins and juice, (not necessarily in that order) and made a bunch of whack statements about how she was a size 4, weighed 130 pounds, and had a 22 inch waist.
Since all that went down in 2011, Kirstie has gained some of the weight back again and is no longer a "size 4." So supposedly Jenny Craig is asking her if she wants to lose weight with them again as a spokesperson.
Meanwhile, executives at Jenny Craig are apparently willing to let the past be the past and help the chubby Cheers star drop the 25 pounds she's regained!

Jenny Craig dumped Alley as spokesperson in early 2008. But they've now offered to welcome her back as a special guest sponsor.

"The Jenny Craig brass keep tabs on their former celeb­rity spokespersons, and just like the rest of the world, they've watched Kirstie struggle with her battle of the bulge," a source told the National Enquier.

"They loved having Kirstie as their rep­resentative for three years because she lost 75 pounds by follow­ing their plan. Plus, she's so much fun that everyone loves her!

"Kirstie eats when she's un­der pressure, and that's exactly what she was do­ing while trying to finish her memoir.

"She's a classic binge eater and she can pack on the pounds faster than anyone. Kirstie is her own worst enemy — she knows she's fat and she hates herself for it, but that just makes her eat more. It's a vicious cycle.

"Jenny Craig wishes the best for all their clients, but they especial­ly want Kirstie to succeed. She's the classic yo-yo dieter, and because she wrestles with her weight in public, everyone roots for her. Hopefully, she'll figure it out before she faces serious health issues."
[From ShowbizSpy]
Didn't they learn their lesson with Kristie the first time? Can't they say that she yo-yos constantly and this isn't going to work out? I'm not ragging on Kirstie for yo-yoing, it happens to so many people and it's normal. I'm ragging on her for constantly making it an issue, one of the few things she's known for over the past handful of years, turning it into a business and then acting like it's our fault for focusing on it. That said, I don't think Jenny Craig wants Kirstie back at all. I think that she's leaking this news to make it seem like she's still a desirable spokesperson when she's not. She's got a new book out and she needs to stay in the press. Plus her L.Ron juice is a big conflict of interest. There were stories last year that Jenny Craig honchos were super pissed about that. She can't shill that stuff and still claim that Jenny Craig is what's working for her.