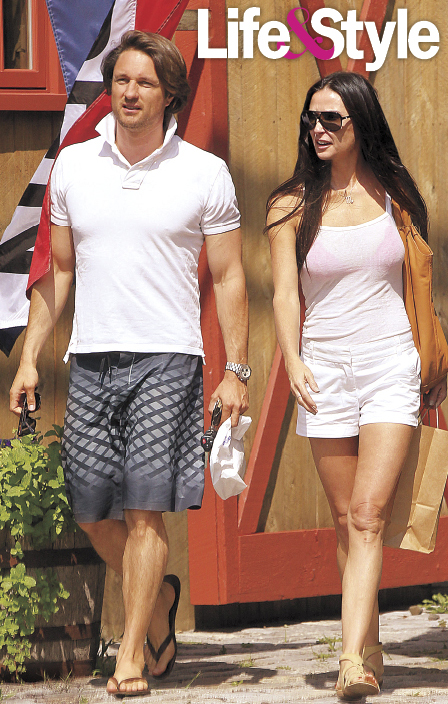 Oh Demi. The celebrity press has been dominated with news about Demi's daughters cutting her out of their lives because she's been annoying them with needy incessant messages. We've heard that Demi is in deep despair and "heartbroken" over her estranged husband Ashton Kutcher's new romance with Mila Kunis, and that Demi was holding out hope for a reunion. We've seen multiple paparazzi photos of Ashton and Mila together, including some recent ones in which they were making out. So what does Demi do? She goes and gets herself a new piece, an out-of-work actor who no doubt needs the publicity, and makes sure there are photos of the two of them together along with a narrative about their breezy, romantic getaway. This is Demi's playbook, and it's getting as stale as her plastic surgery denials. Here's more, including exclusive photos, thanks to Life & Style, which has more in their upcoming issue.
Life & Style can exclusively reveal that Demi Moore, 49, has been secretly dating New Zealand–born actor Martin Henderson, who is 12 years her junior.

Life & Style has obtained exclusive photos of the couple on a romantic Connecticut getaway. On July 19, Demi and Martin went to lunch at Nine Main Bakery and Deli in New Preston, Conn. "She was in line and a Colbie Caillat song came on — she started singing along and dancing in a playful, flirty way," shares a fellow diner. After lunch, the two went grocery shopping together, then drove back to the house where they stayed on their vacation.

"They were very comfortable with each other," notes a fellow diner.

Three days earlier, they'd enjoyed a lobster dinner at a friend's house, followed by a two-hour hike at Steep Rock Preserve the next morning. Later that night, Demi and Martin, 37, joined pals for a casual outdoor barbecue. "They just kept chatting and laughing," reports a guest.

Notes another insider who saw the actress on her romantic getaway, "She looked great — chatty, healthy and happy."
Martin, an Australian TV star, appeared in Britney Spears' steamy "Toxic" video in 2004. He previously dated Phone Booth star Radha Mitchell, with whom he starred in 1999′s Kick.

For more on Demi and her new man, pick up this week's issue of Life & Style, on newsstands now.
[From Life & Style]
Kaiser remembers this guy from The Ring, and I barely do now that she's reminded me. That movie was so creepy that I tried not to pay attention and fast forwarded through a lot of it. I don't think this relationship is real. I mean, I would like it if Demi moved on and wasn't the sad sack popping ADHD drugs that she's been made out to be following her overdose. To me that means focusing on herself and feeling better, not finding a new guy and burying her sorrows in a new relationship. I've been rooting for Demi, but it seems so predictable the way she's rolling out some new guy in the press. Demi's tired PR narrative has her as sexy, desirable, and so carefree she's jamming out to music spontaneously. We've heard this before, but the reality is not as rosy.
Note that Demi didn't score the cover of Life & Style, even when the mag got exclusive photos and details straight from her PR people. That honor went to Kourtney Kardashian's ongoing relationship drama. Does she think that this is going to make Ashton so jealous he dumps Mila and comes crawling back to her? I do think that's her plan. Demi needs a few hobbies.