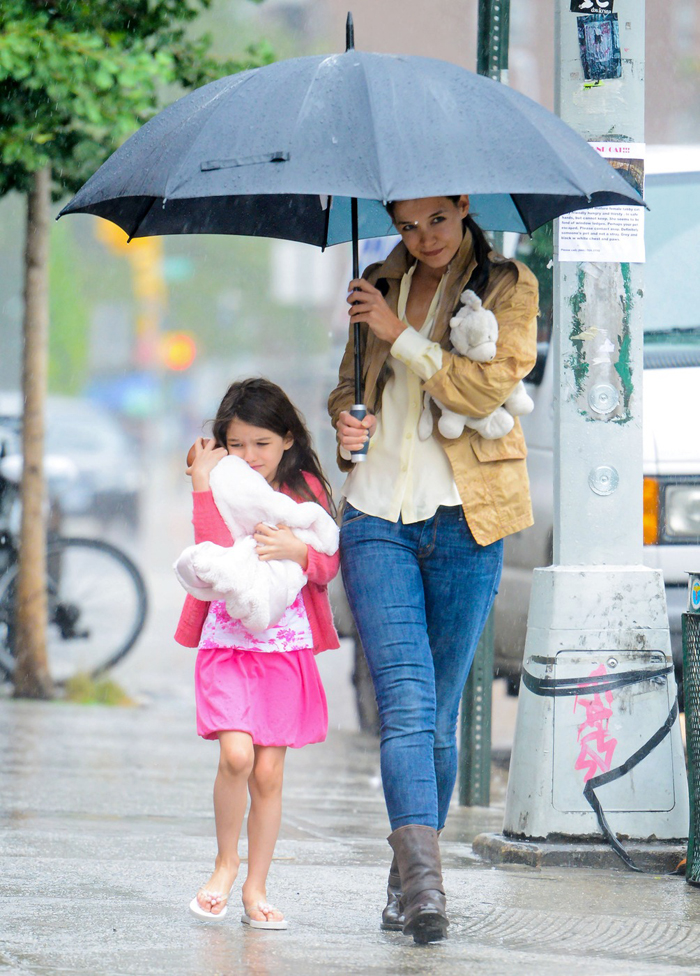 Over the past several days, there has been a dearth of new Katie Holmes and Suri "out-and-about in New York City" photos, but there's a good reason for the girls' brief sabbatical. That is, both of them paid a visit to Katie's hometown, Toledo, Ohio, where they were spotted at the mall and swimming in a country club pool. We don't have access to the photos of them at the airport, so we're making do with some photos from last week of Katie and Suri with their umbrellas in the New York City rain. The knowledge that both of them are present and accounted for is something that has become a comfort for those of us on TomKat divorce watch because, as Kaiser has already pointed out, these photos not only help sell Katie's newfound freedom from Tom but also serve as protection for as well. Protection from the CO$, of course.
Now a new (and lengthy column) from Vulture suggests that Katie orchestrated the entire divorce (and possibly the marriage to Tom as well) as a means to volley her own career into the stratosphere. The evidence? Katie's near daily pap walks, which the author (whose cousin is one of Katie's neighbors) insists are completely unnecessary because there are other exits in the apartment building. Somehow, these pap walks also lead to the bizarre conclusion that Katie is totally jealous of the acting career of her former "Dawson's Creek" co-star, Michelle Williams. The author further assumes that Katie is making sh-t up about Scientology and is only using the cult's bad rep as a convenient excuse for leaving her marriage. Never mind that Katie really has blown the CO$ wide open and left because of legitimate fears involving Suri's indoctrination and because CO$ handlers wouldn't let her discipline her own child. Or that Katie herself lived in such fear of Tom that she felt the need to use burner phones to contact a divorce lawyer in the first place.
CB and I were talking about this, and we agree that while this Vulture article is quite engrossing and builds an interesting narrative, Katie simply doesn't seem savvy enough to set up this whole divorce from the perspective that it would do great things for her career. We both also think she was truly miserable in her marriage, just wanted out, and was fortunate enough to get help from her dad and lawyers. If Katie had really wanted out of her marriage to save her career, don't you think she would have left before making Jack and Jill, The Kennedys, and Don't Be Afraid of the Dark? Seriously. The full Vulture article is definitely worth a read for the curious, but here are the relevant excerpts: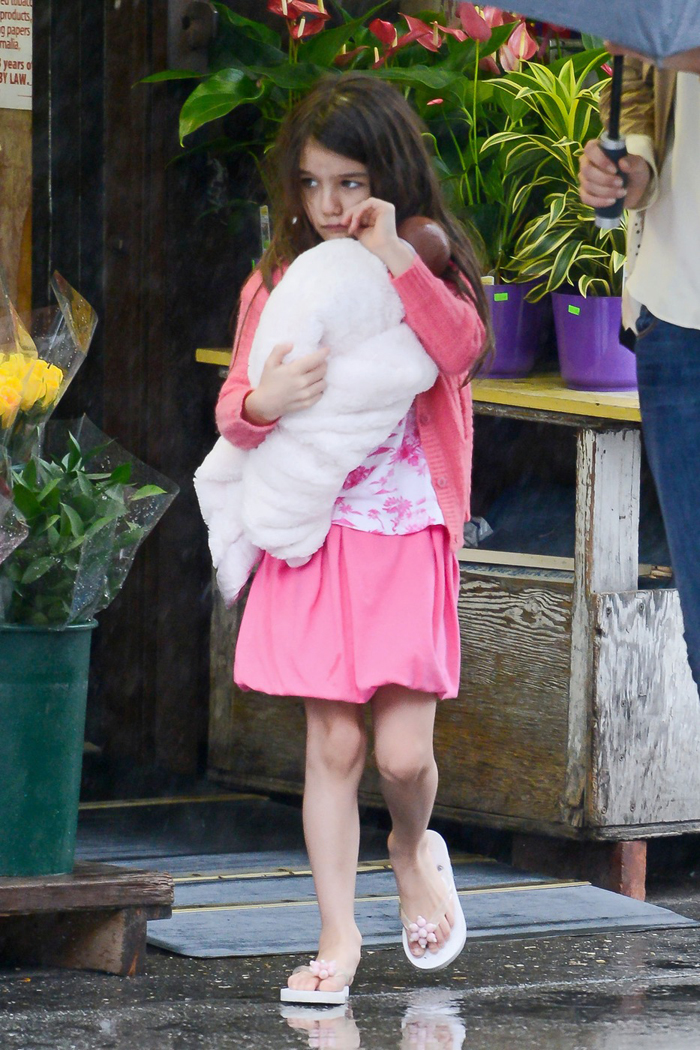 The building has a privacy-friendly underground garage, but so do dozens of other buildings in the city, and Holmes hasn't even been taking advantage of it. If she wanted, she could exit the garage in a car with dark windows, and paparazzi would never catch a glimpse of her or Suri. Instead, every day, when she's left the building for errands or meetings, she has promenaded out to a waiting car, in full view of photographers. Nor, when on foot, has she used the side entrance on 25th Street: She's been stepping out right into the paparazzi maw for the sake of trivial grocery shopping. How about FreshDirect? One night, cousin George and I rode the elevator to the penthouse, to what George was certain was her apartment–its previous tenants included Marc Jacobs and Nick Jonas. I expected bodyguards, but George scoffed: "This building is a sanctuary." We stood in front of the door for a minute, wondering how creepy it would be to knock, before we went back downstairs–and as it happened, Jonas still lives in the apartment; Holmes is on the eleventh floor.

"I'm convinced that she's the most fame-hungry person the world has ever seen," says someone who's worked with Holmes. Holmes's entire divorce M.O. suggests an alternative gloss on her great escape. It's implausible that Cruise's workaholic lifestyle, or the rigors of Scientology, came as any surprise to her. To embrace the portrayal of her as a victim is to deny her agency.

At the same time, unfavorable comparisons between her and fellow Dawson's Creek alumna Michelle Williams became painfully inescapable. As Williams became a figure of sympathy because of her partner (the late Heath Ledger), Holmes became a joke because of hers. Holmes is said (scout's honor!) to have been enraged by Williams's success. While Holmes was playing Jackie O. in a mini-series that ended up airing on Reelz–that's Channel 238 in the Time Warner NY cable system, if you're wondering–Williams was playing JFK's sometime-mistress Marilyn Monroe, in a feature film, en route to a third Oscar nomination.

But Scientology, or rather its terrible reputation, offered a way out. Holmes, unable to get the kinds of roles she wanted, realized she could cast herself in the part of a lifetime. Like Truman in The Truman Show, she finally grasped her ontological status as a character in a fiction, and that self-awareness propelled her out of the story and crashing through the fourth wall. She knew a good third-act twist when she saw one.

"It's not like she ever had a huge career to begin with. She was a rising star. Now she will have a huge career," says an editor at a leading celebrity magazine. Holmes, emerging from a seven-year, one-on-one apprenticeship with the world's most famous action hero, simply rewrote the script.
[From Vulture]
Like I mentioned above, it's an interesting story but just doesn't hold much water. Ever since Katie filed for divorce from Tom, there have been casual (and largely positive) comments in the vein of Katie being a better actress during the last moments of her marriage to Tom than everyone figured her to be. But honestly, I think most of these comments are meant hyperbolically and in a "You go, girl!" sort of fashion. Nobody really believes that Katie is an Oscar-caliber actress who's been keeping her talent cloaked for five years just so she could orchestrate some tabloid shenanigans and volley herself to rightful, A-list actress. I think Katie will stay busy and get some new work — she's already getting back into Broadway plays, but she's not going to set the acting world on fire or anything.
I also definitely don't think that Katie intentionally went into this marriage with her eyes wide open (remember her brainwashed W mag interview?) and with the well-mapped out plan of dumping Tom at a certain point as a means to a "good third-act twist." Obviously and in (at least) the last year of her marriage, Katie was miserable, and misery like this simply cannot be faked. What's important is that Katie's got her freedom now, and she's away from both Tom and Scientology. And hopefully, Katie will succeed in keepng Suri away from the CO$ as well. For Vulture to suggest that Katie purposely set herself (and Suri) up in an abusive environment just for the sake of an acting career is, well, ridiculous.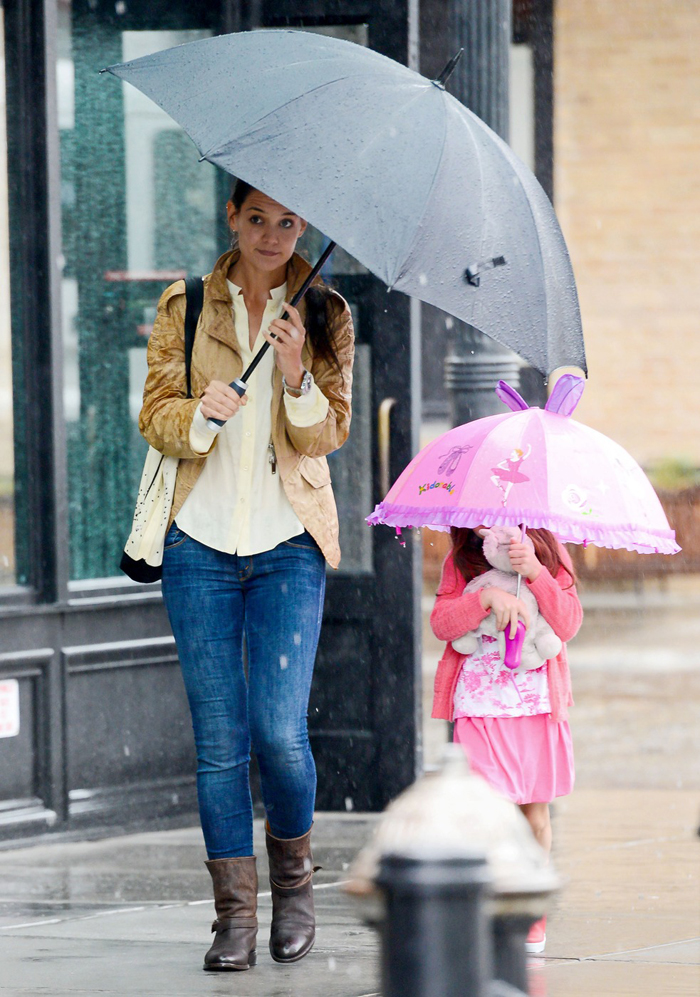 Photos courtesy of Fame/Flynet and Pacific Coast News