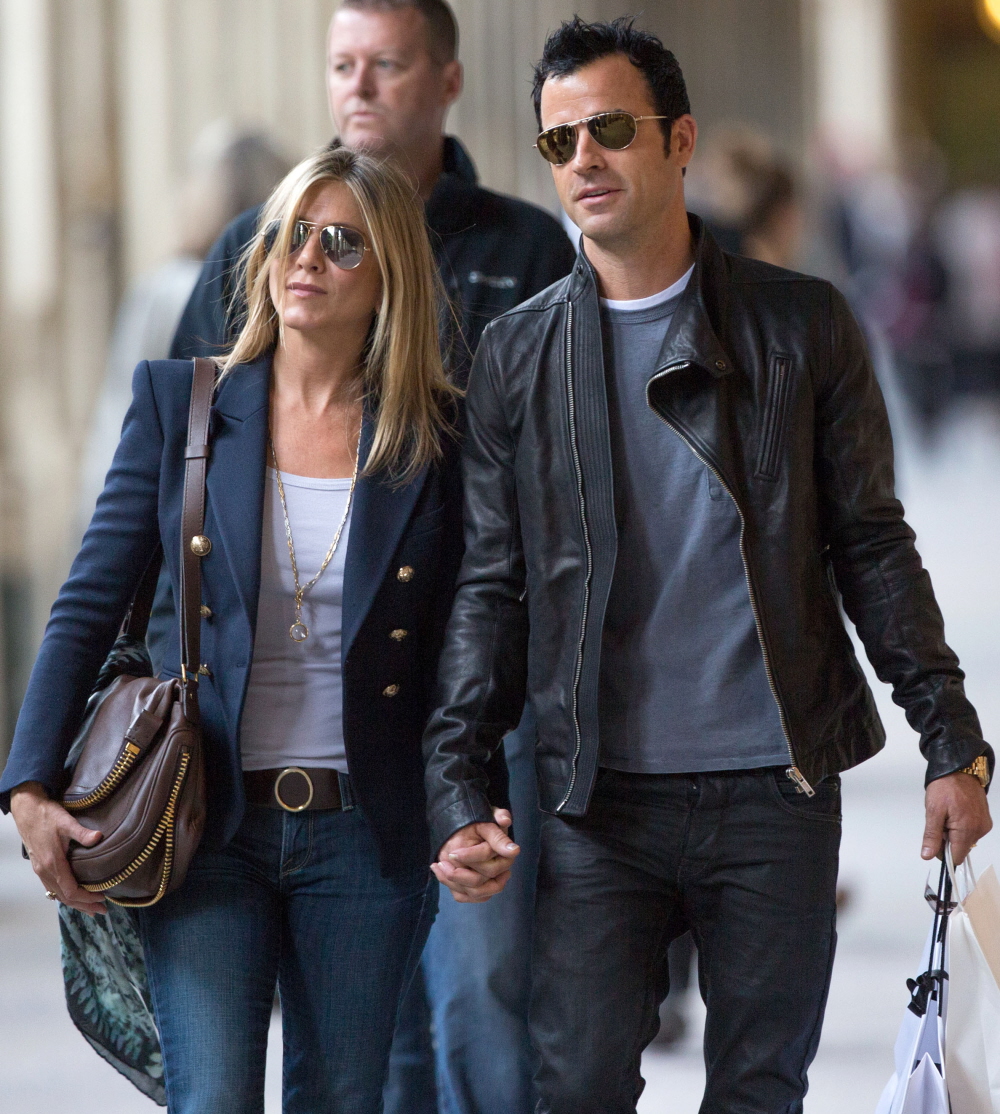 Sometimes I refer to Justin Theroux as Jennifer Aniston's "boy toy" or I allude to the idea that Justin is a "kept man". I do this for kicks and because I think there's a vein of truth to it. Which isn't to say that Justin doesn't have his own money – he does. He's a somewhat successful screenwriter and a consistently employed character actor, and I'm sure he considered himself a wealthy enough dude before he met Jennifer. But once he and Jennifer got together, I've just gotten the impression that she pays all of the bills, and that she spends her money however she wants, with little input from Justin. Will this continue? Will Jennifer protect her assets even though she's met the love of her life and they're preparing a destination wedding? I hope so. I hope she's the kind of woman who draws the proverbial line in the sand and says, "I don't care how good the sex is, I still want a prenup, bitch."
Jennifer Aniston accept Justin Theroux's proposal under one condition: that he sign an iron-clad prenup agreement, sources say. While Aniston is worth a whopping $120 million, Justin's bank account totals a more modest $10.5 million.

"Jen is determined to protect her fortune in the event that they split," said a close source. "She's working feverishly with her lawyers to hash out the prenup so she and Justin can marry by the end of the year. Then they plan to start adoption proceedings so they can bring home a baby in 2013."

"Jen has found her romantic happy ending at last," said a source. "But she's been around the block enough times to know that she has to be realistic. God forbid this marriage fails, but if it does, Jen at least wants the security of knowing she won't be wiped out financially."
[From The Enquirer, print edition]
As I said, I hope this is true. Now, several months ago one of the tabloids claimed that Jennifer had begun to give Justin more control over her business affairs – in fact, the claim was that Justin had basically been put in charge of Aniston, Inc. Which… was probably false. But it wouldn't surprise me if Jennifer did put Justin in charge of something, you know? Give him "something" to do.
Interestingly enough, In Touch Weekly – a tabloid firmly rooted in Jennifer's a—hole – claims that Justin is "very involved, almost controlling" when it comes to Jennifer's personal and professional life. A source says, "He has a strong hold on her life, he oversees everything, reads all her scripts, meets all her friends… it makes her feel safe and loved. So she's totally happy." OMG, I finally get it. 50 Shades of JustJen. It just clicked. Anastasia Aniston and Justin Grey, the real life 50 Shades.
Meanwhile, In Touch does have an interesting like sidebar on how Heidi Bivens is dealing with the news of JustJen's engagement. Apparently, Heidi was "devastated" and she "was very surprised… when they were in a relationship, Justin never wanted to get married." And now Heidi is The New Aniston too – Justin and Heidi spoke a few weeks before the engagement announcement, and an insider says, "Deep down, Heidi had hopes they'd get back together." Sad.
Last Aniston story, I swear: The Enquirer also claims that Matthew Perry "begged" Jennifer to appear on his new NBC show "Go On". But Aniston refused because "she's too busy trying to rescue her hit-and-miss movie career" and Perry is pissed off because Jen "gave him the complete brush-off" when he called her. I don't know… I don't really see Perry "begging" Aniston for her "help" especially considering that this is the TV show that he wanted to do instead of The Good Wife (where I hear they wanted him to guest for another season).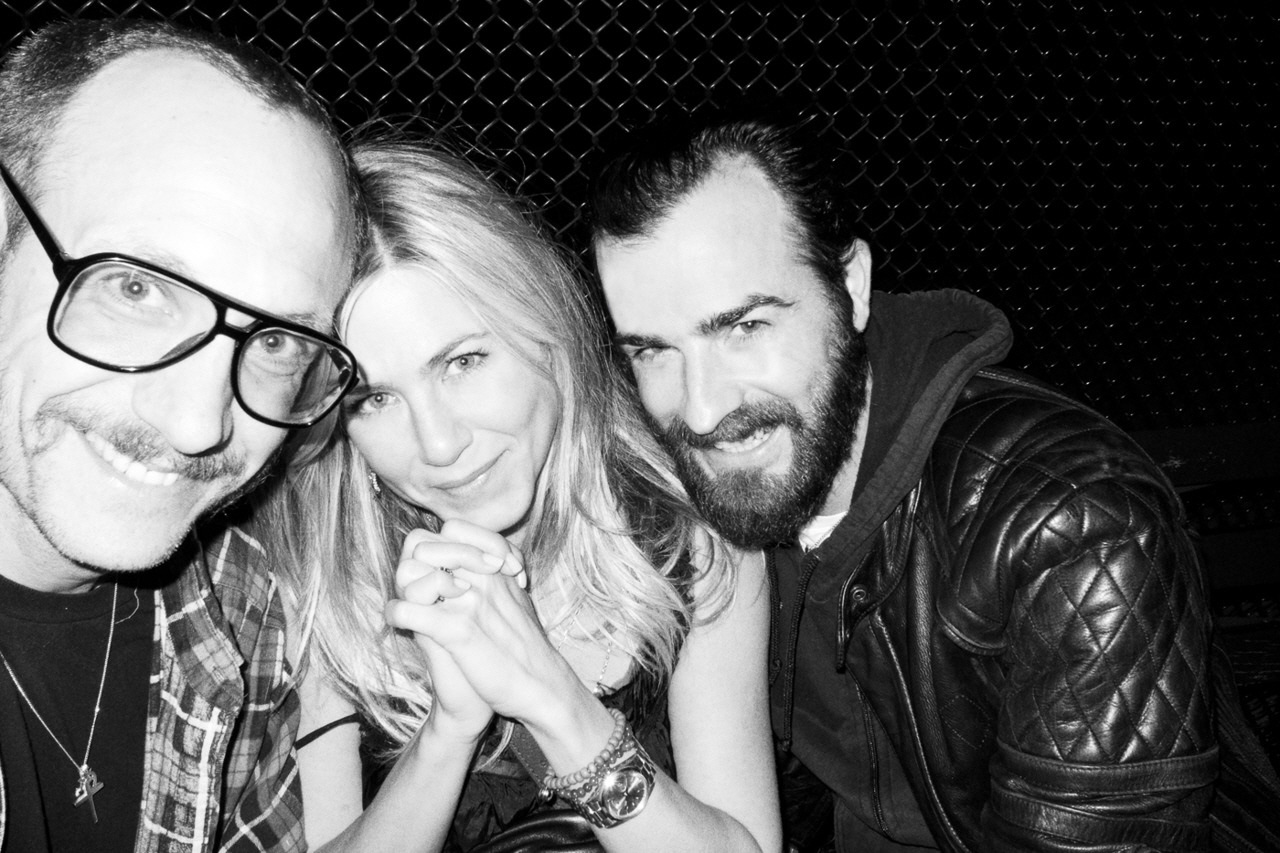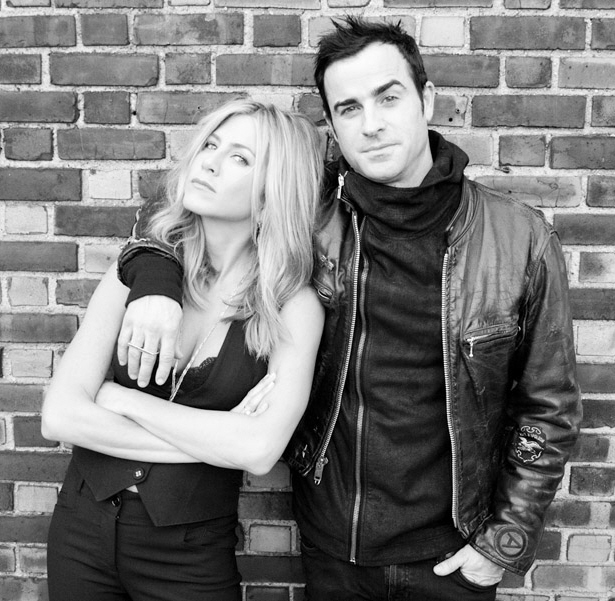 Photos courtesy of Fame, Terry's Diary.