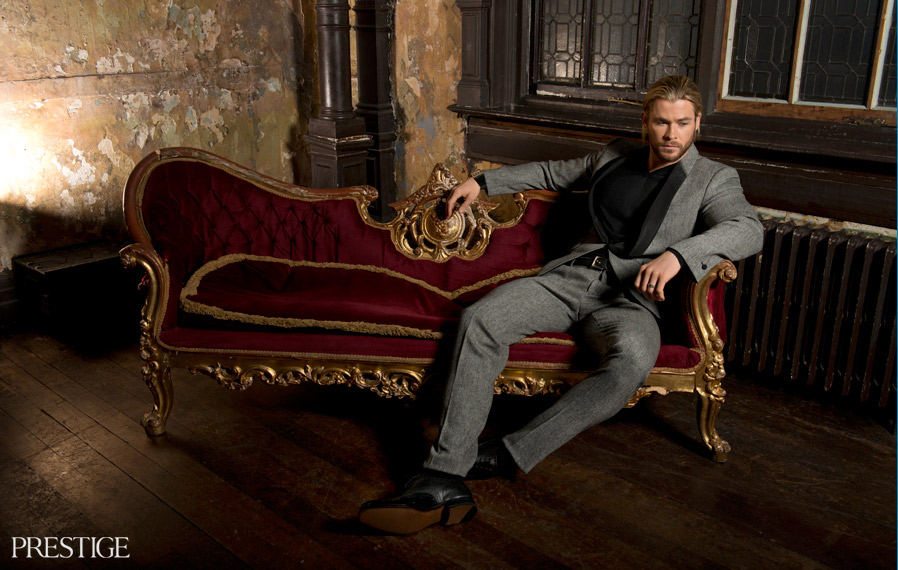 Chris Hemsworth covers the October issue of Prestige Hong Kong, which is the "Movers and Shakers" issue, and Chris is definitely shaking it in the photoshoot. Usually, I would so totally hit this, but even I'm a bit skeptical where these pictures are concerned. Most of them aren't bad, and I do appreciate that this isn't the standard beefcakey, GQ-type spread. The journalist also makes special note of the fact that the shoot took place in record time, which she states as unequivocal evidence of the "actor's easygoing nature." Sure, I'll buy that Chris is very laid back, but maybe he just wanted to get this crap over with too. Kaiser and I can't stop giggling over the fact that he looks like a pimp in this jacket on the left. Horrible, right? Here are some interview excerpts: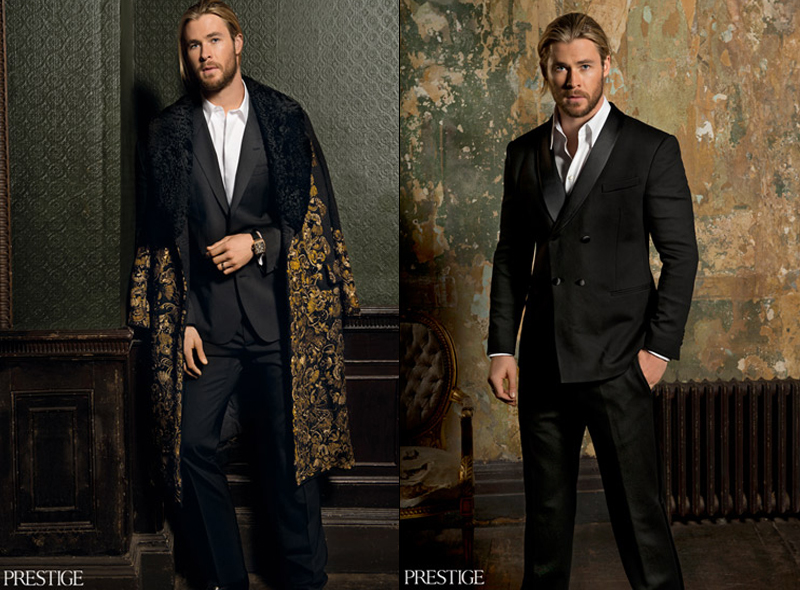 Working with "Game of Thrones" director Alan Taylor on Thor 2: "I love the way he adds an incredibly organic element to the fantastical world of "Thrones," and I think that's what Thor could benefit from. It's grounded in reality, no matter how mythical or science-fiction-like it becomes. There's a truth to it all. Certainly, working with him now, you can see he doesn't want Thor or the Asgardians to seem like some distant race or god-like. He still wants them to be relatable."

On juggling work & family: "It's tough, certainly. When you're all in one place, it's like a normal job. The hours can be inconsistent, but at least when you come home at night, the family's there. The toughest thing is the press tours and the travel, which fortunately is only a couple of times a year for a couple of weeks at a time. So the time I'm away from them can be minimal. What will become harder is if my wife and I are both working at the same time in different countries — that's what we're going to try not to do. But, sometimes there's an opportunity that arises for both of you which you can't say no to. At the moment we're lucky; it's early days for us anyway."

On adjusting to be fame: "The biggest change to be honest — I mean, yeah, people recognise you — but the most rewarding thing is being able to pick and choose who I want to work with. You have the opportunity to try and get in contact with people that you might not have had access to before. That's what you want; you want freedom and choice, in the industry and anything you do in life."

On being typecast as a shirtless beefcake: "It's funny, you have one scene in the movie [Thor] where you have your shirt off, then you do a press tour and it's like, 'So you spend the whole time in the film with your shirt off.' It was all of 10 seconds. So it can overshadow things. It is what it is, and that was what that character called for. But no, there's no complaint about it. It becomes a challenge because you then have to be smart about what you pick after that; you want to show range. I don't just want to do action films."

Why he doesn't do Twitter: "I think there's a danger of being overexposed with that stuff. The mystery of who you are is what keeps people interested in wanting to see you on the screen. Also, it's easier for them to believe you as that character if they don't know too much about you. It's hard not to be overexposed these days with the Internet, and especially when you do a tour for something like The Avengers or Snow White, where you're contracted to do an incredible amount of press. Besides, I'd rather be hanging out with my family than updating to people I don't know about what I had for lunch. Also, there are so many fake ones out there, which is pretty frustrating."

What does he do in his spare time? "At the moment, hang out with my little baby. It's fascinating watching her; every day there's something different. Now she's becoming more and more aware of the world and that's incredible. Also I surf, train and see movies: regular stuff. My wife and I are pretty outdoorsy and adventurous; we like to keep moving."
[From Prestige Hong Kong]
Chris sounds truly grateful for his success, and he doesn't complain at all about the trappings of fame, which would have been an easy trap for many actors in response to the same question. However, I am stumbling over Chris' claim that he and wife Elsa Pataky are "outdoorsy and adventurous," but he doesn't seem to realize that her idea of embracing the outdoors involves (allegedly) calling the paps. That's not a terribly nice thing for me to say about Elsa, and maybe all those photo ops are merely a case of the couple getting stalked by the paps. Clearly, that's what Chris thinks is going on, so I guess we'll just go with that. He's happy, so we should be happy for him, right?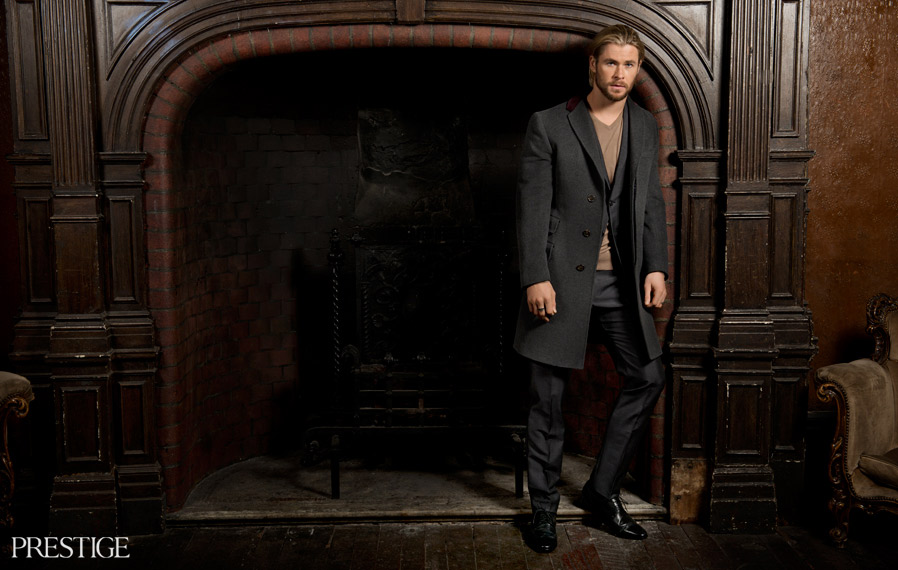 Chris also covers the latest issue of Prestige Indonesia too. No pimp daddy look here, thank goodness.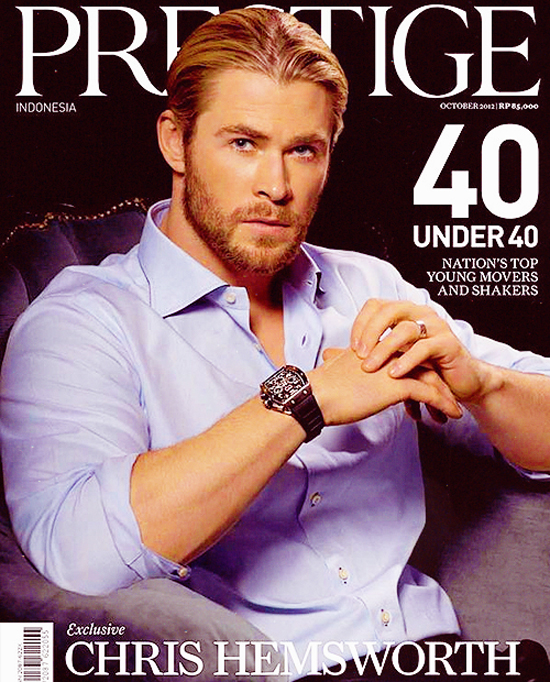 Photos courtesy of Prestige Hong Kong and Prestige Indonesia