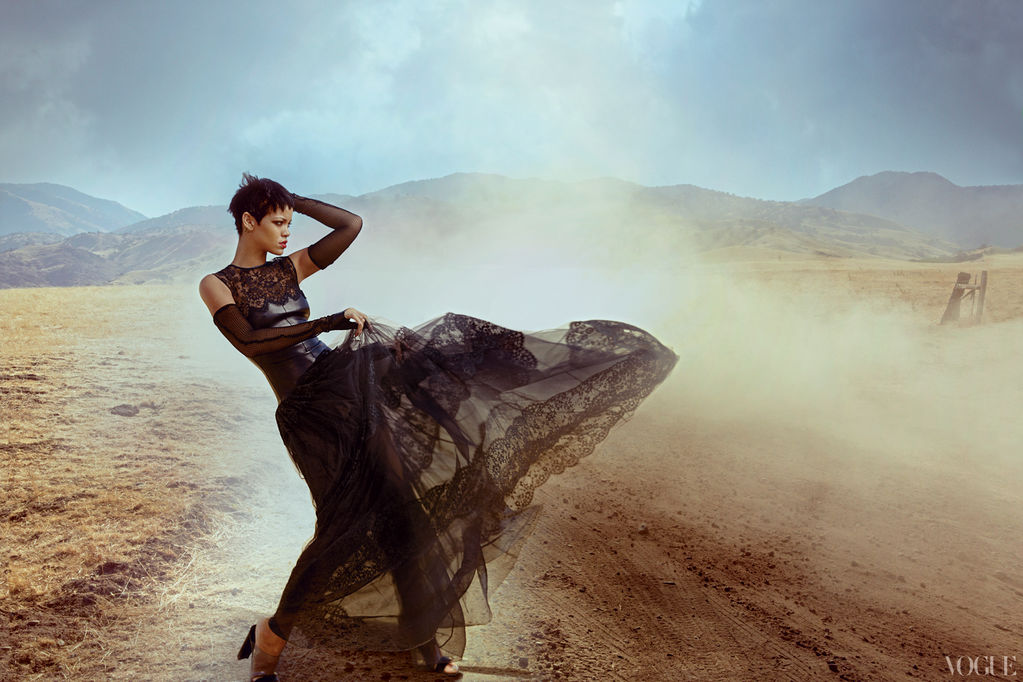 Yesterday, Kaiser covered Rihanna's "unapologetic," angry/fierce cover face preview for the November cover of Vogue to promote RiRi's upcoming album, Unapologetic. You do know what this means, right? More Rihanna music that I'll buy for the gym while hating myself. Great. In all honesty though, this will be Rihanna's sixth album in seven years. If it were anyone else, I'd probably claim that the girl needs a break, but she does manage to squeeze in her boozy Hawaiian vacations from time to time. I guess she'll just keep going until she runs out of steam and ends up in rehab. Her choice, right?
This American Vogue photoshoot is very unlike Riri's fashion-focused Vogue UK shoot from last year. This time around, Annie Leibovitz is behind the camera, and this spread quickly falls into the CGI-laden trap that Leibovitz has been employing for the past handful of years with her photos. Remember when Annie used to merely take great photos that stood on their own and didn't require computer-enhanced embellishments? I miss those days. Here, one barely even notices the clothes, but Rihanna does manage to grab a quick roll in the hay per her trademark posing.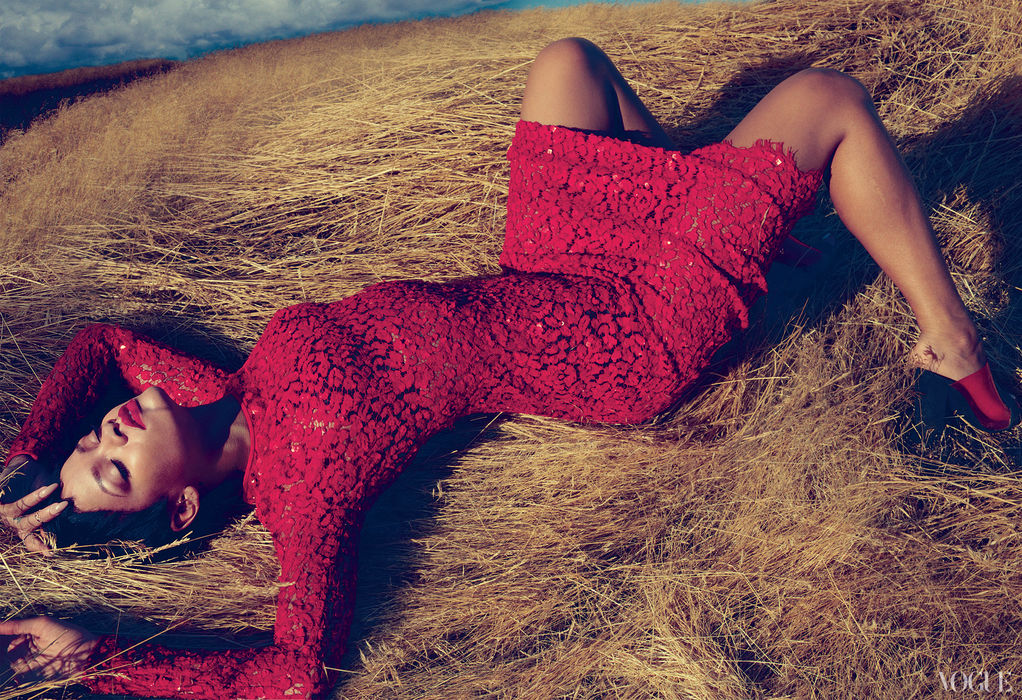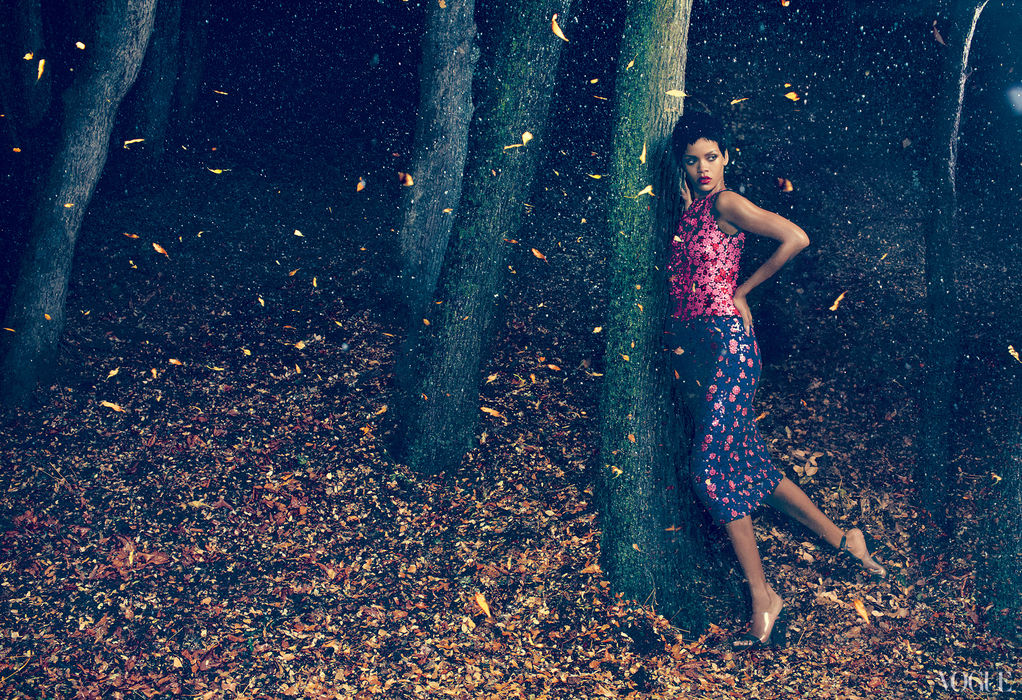 Rihanna's interview was conducted on the evening of the MTV Video Music Awards where she debuted her newly cropped 'do in white Adam Selman. Of course, I liked the new hair because Rihanna really has the face to pull it off; and like most famous starlets, she can always go back to hair extensions in a few months when she tires of it. Naturally, Rihanna talks about Chris Brown a great deal, and she claims to have been single even though that was the night where she locked lips with Chris in the auditorium for all to see. I think she's obviously been hooking up with him again for years, and they've only now just become "an official couple" again. Rihanna also addresses those rumors that she and Sparkles were sexting each other in the immediate aftermath of the Twihard cheating scandal. Here are some excerpts:
On her new hair: "Spur of the moment. My hair was supposed to be down to my ass tonight."

On those Sparkles texting rumors: "The most bullsh-t ever."

On time and space: Rihanna says she found herself one morning in a hotel room in Tokyo and had no idea where she was. "Jen, my assistant, was waking me up, and I was like, 'Whose room am I in? Why am I in this room?' I never know what day it is. Never, ever, ever." What day is today? Rihanna pauses. Her lips curl, and she begins to make an "S" sound. "Ooh, I went to say Saturday." She laughs and corrects herself. "It's Wednesday. Wednesday."

She [was] single: "I have not been on a date in forever. Like two years. Haven't gone to the movies, to dinner. Zero. I would love to go on a date," she says. "You don't think that? I'm a woman. A young woman, vibrant, and I love to have fun. And I have too many vaginas around me at this point. Seriously, all I want is a guy to take me out and make me laugh for a good hour and take my ass back home. He doesn't even have to come up. All I want is a conversation for an hour. No one asks. Trust me on that. I'm waiting for the man who's ballsy enough to deal with me. I'm going to wait, though. You always find the wrong sh-t when you go looking."

She never wanted to tweet: "I just thought, Who cares? Do I say, 'Getting in the car. Getting on the plane'? I was so distraught by the whole idea."

Jay-Z on Rihanna's tweeting: "It's the rawest form of freedom of expression, right? She has the right to express herself, and I know she's being playful. I know when she's being serious and when she's just having fun. What were you doing when you were 24? I mean, you've got to have fun. She's having fun. She's having so much fun."

Will she talk about Chris Brown forever? "To the world, I feel like there's no closure. There's some obsession that's continued even throughout when we weren't friends or couldn't be friends at all. Hated each other. The world hasn't let go. They haven't seen any progress in our friendship, because they don't see anything, really, besides the song."

The "Birthday Cake remix was her idea: "I didn't think it could be anything detrimental to my career. I was on a tour bus ride between two cities, listening to my album, thinking, Oooh, maybe I should make this into a duet. And I started coming up with a bunch of people, and his name crossed my mind. I thought, We haven't made a song in so long together . . . it could be a little shocking. So now it's a bit of a fascination, I guess. I don't know if people will stop soon, but I feel like as soon as they have closure to it, they will. But they're not on the inside. They can't see what I see, unless they're sitting in my point of view. I guess I'll learn to accept that."

Riding on her private jet: "Every time we come on one of these things, it's unreal. I'm in a positive space, but I do have my days. Everybody has their days."
[From Vogue]
Good god, I'm so tired of Rihanna claiming that her obsession with Chris Brown is our obsession. She has always been obsessed over him (and he with her); and ever since he beat her up, she's wanted him back. Now she's got him back, and she actually thinks that it's the general public's obsession, and not hers? Rihanna is so romantically deluded, but I guess she has truly found "the man who's ballsy enough to deal with me." Gross.
Here's the rest of the shoot, which is gorgeous, but it would be great to have it centered in more reality. Kind of like I'd prefer Rihanna herself.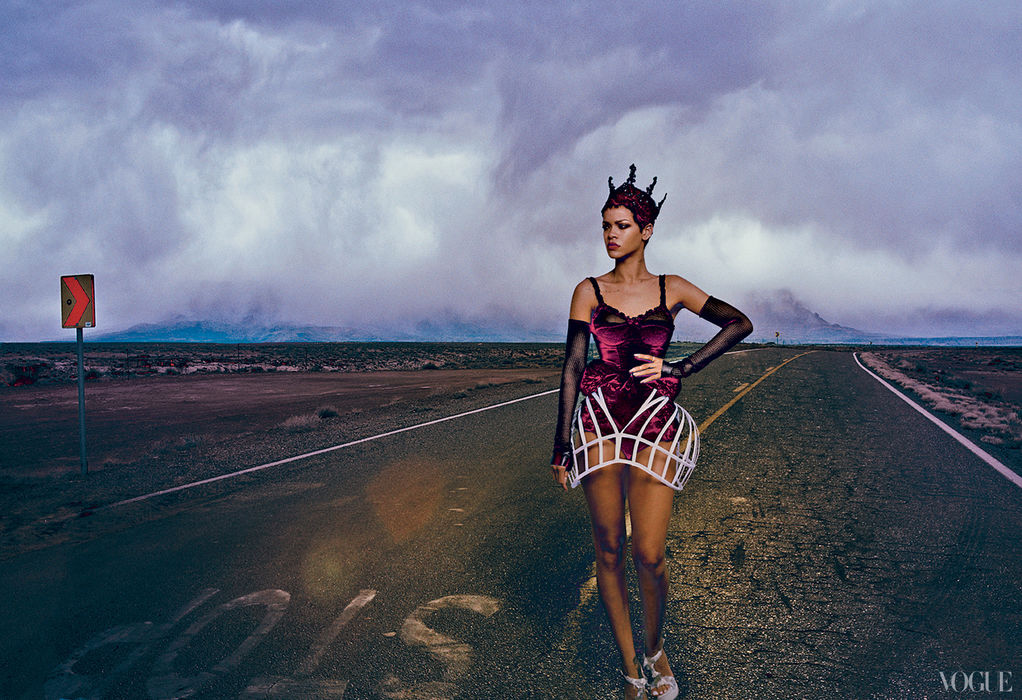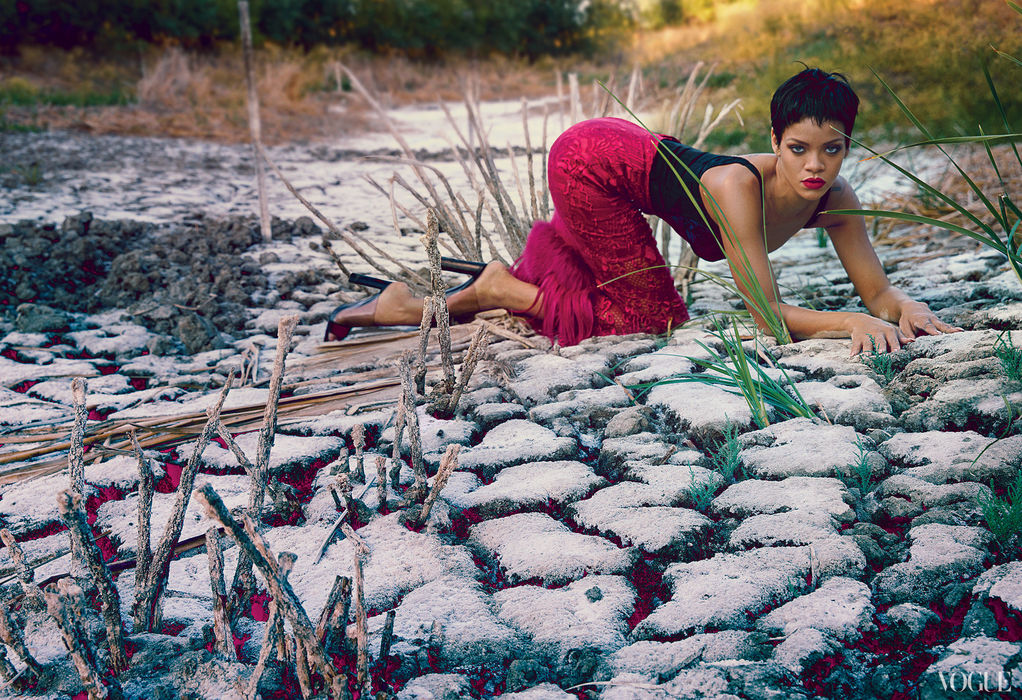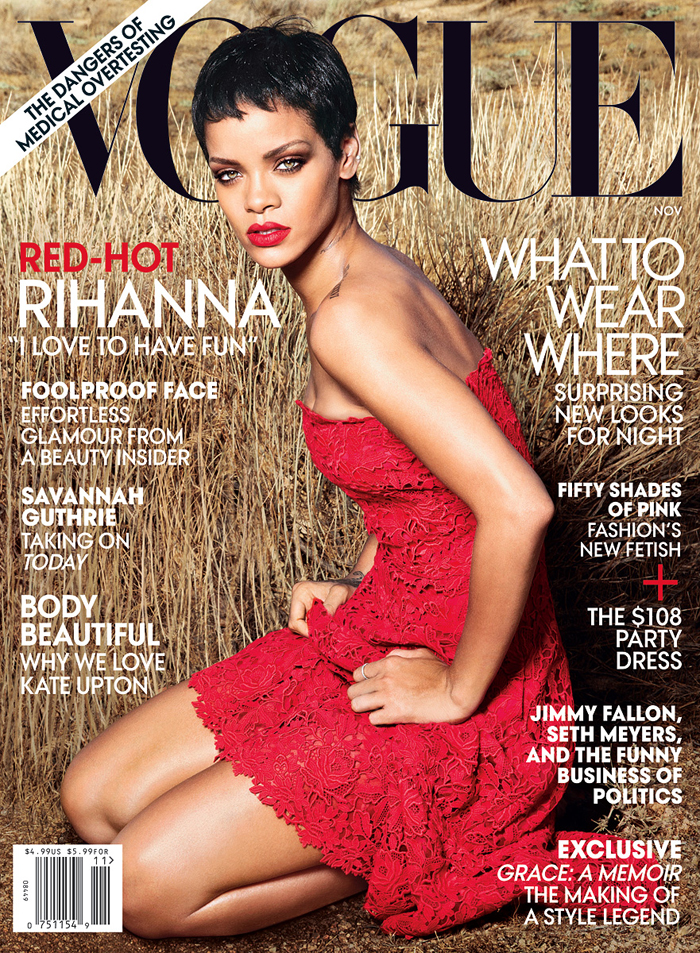 Photos courtesy of Vogue/Annie Leibovitz