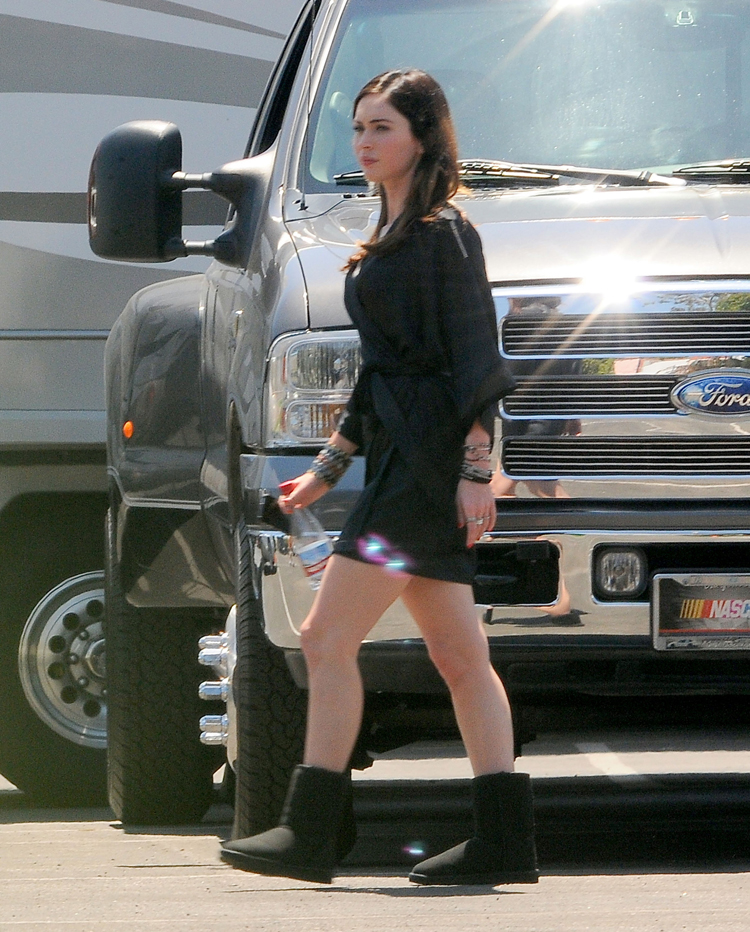 Megan Fox is still in self-imposed exile from the paparazzi since she gave birth to her first child, a boy named Noah Shannon, about a month and a half ago. I'm initially inclined to give her a lot of credit for not immediately doing a series of pap walks like many other celebs with brand new babies (ahem, Elsa Pataky), but I'm sure that Megan will hold an eventual photo-exclusive rollout just like she did in the case of her baby bump. For now though, there aren't any new photos of Megan so I'm using some older photos of her on the set of Judd Apatow's This is Forty (which is a "sort of" sequel to Knocked Up because it revolves around the married couple played by Paul Rudd and Leslie Mann) last August. Conveniently, this is the movie that Megan is currently promoting, so she's done a new interview with the LA Times. Here are some excerpts: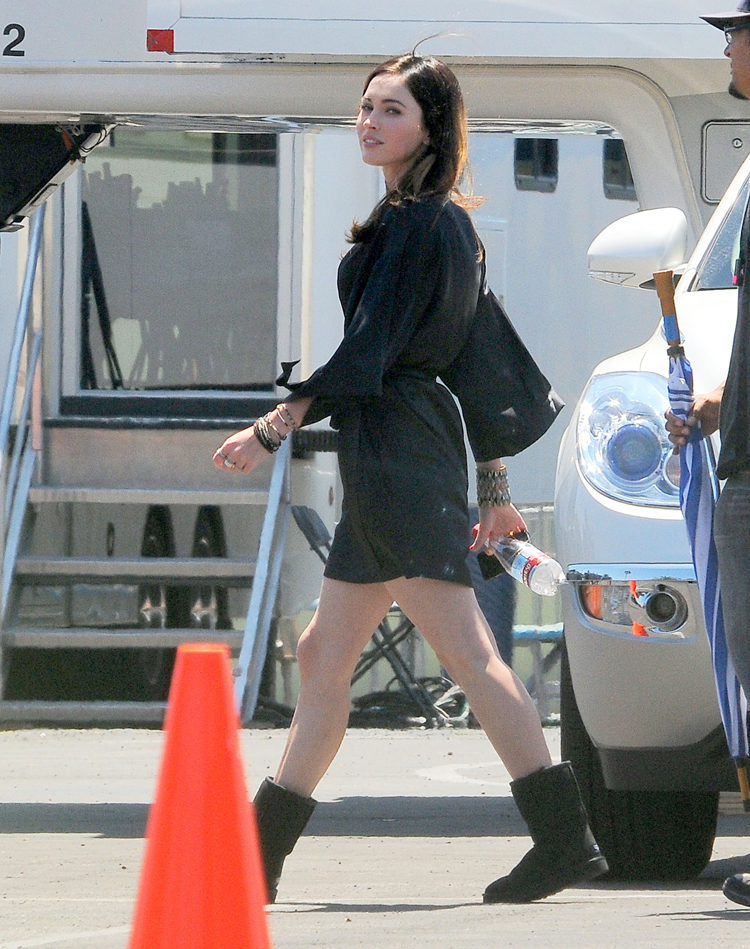 On Judd Apatow signature improvisational style: "Whatever comes to Judd, he yells it out and you do it. And it's funny or it's not funny. You just keep going. But I know I'm not gonna come up with anything better than the jokes he throws at me."

How Michael Bay handles improv: "Bay will yell out things for you to do with your hair or body or whatever. He yells out instructions while you're in the middle of the scene. Those are supposed to be more serious moments. It's sort of difficult to be in the middle of a scene when someone yells, like, "Say, 'No Bumblebee, we have to get Optimus to the Dagger's Tip now!'" and you're like, 'Ah … let me think about it first, it's not gonna come out of my mouth the right way.'"

She's surprised that no one knows she's funny: "It's weird to me that people haven't picked up on it yet that I have a sense of humor. When you read my interviews from start to finish, it's pretty obvious that there's a lot of sarcasm. The things that get chosen in sound bites, that run and seem literal and sound like they're very shocking, they were usually jokes, but people for whatever reason can't accept the idea that I could possibly have been joking."

Leslie Mann on how funny Megan is: "I was so surprised by how funny she was. She has an interesting attitude that's fun to watch. She's not actually trying to be funny. She just is. And then I had this little argument with a dad at school. He was an agent or something and he was talking about Megan saying, 'Those girls are a dime a dozen.' I got so mad! … I said, 'You're a dime a dozen!' People don't give her enough credit, just because she's beautiful."
[From LA Times]
This isn't the first time Megan has claimed to be funny, but has yet to prove her case thus far because her small roles in both The Dictator and Friends with Kids have gone relatively unnoticed. That's not entirely Megan's fault because neither one of those movies set the box office on fire, so maybe it will be a different case when This is Forty comes out. Or maybe not.
Also, did you notice how Megan managed to speak of Michael Bay in a diplomatic manner? They were both such tools to each other back in the day, and even though I'm inclined to believe that Bay was truly terrible to Megan, she still should have known better than to think that calling him Hitler could possibly be interpreted as sarcasm. The same goes for the rest of Megan's vapid, self-serving comments, but at least she's learned her lesson. Or she got a better publicist.
Photos courtesy of Fame/Flynet